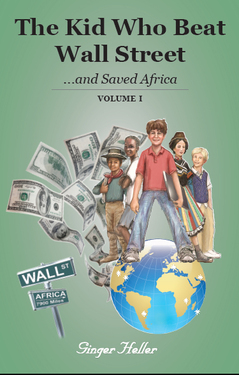 When I learned of Ginger Heller's new release, The Kid Who Beat Wall Street and Saved Africa, it piqued my interest... could a 12-year-old really play the stock market? I also appreciated Heller's global approach to young adult literature, which is in stark contrast to the genre's fantasy trend. As such, I reached out to Heller in her Connecticut home to dig a little deeper.
Q. The title of your book, The Kid Who Beat Wall Street and Saved Africa, piques interest. What's the premise?
A 12-year-old trading stocks on the internet and making over a half million dollars in the corn markets, I agree, sounds intriguing. But my young characters on six different continents communicate with each other about the plight of some desperate children in Africa. My characters are ordinary kids, they are good kids and they are moved by what they learn. They wind up coming to the rescue.
Q. Your audience is young adult (YA) readers, and you use middle school aged kids to address large-scale global issues. Do you think this age group is able to understand these complexities?

Middle school youngsters are of the ideal age to discuss big issues like hunger, lack of food, clean water and medicine, facing some of their counterparts in troubled countries. These pre-teens are mature enough to appreciate the magnitude of these issues and become incredibly engaged when given the opportunity for discussion. And yet they are young enough to be idealistic. They are not jaded and their first response is often, "Why did this happen, and then, how can we help?" Herein lies our hope for the future.
Q. Many ethnic groups are represented in this story. Do you feel this is something that's missing in YA books?
My use of different ethnic groups in my story was never a deliberate intent but rather it just seemed obvious and natural. As a former teacher, a stock and commodity trader, and a world traveler in my background, the confluence of these experiences just led me to write a story with a world view -- I couldn't imagine another. We are a global community and it is important to help children understand this, help them to know that young people around the world are just like them. They have dreams and wishes for a better world and each can make a difference, all it takes is one small step at a time.
Q. Can a 12-year-old really play the stock market?
Read, The Kid Who Beat Wall Street and Saved Africa and see how he does it!
Q. What is on the horizon for Ginger Heller?
I'm so excited about my new story, which takes place in India and the United States and connects, via the Internet, many of the characters from my first book, in particular my Australian boy. It is a story of adventure and intrigue, of children whose parents have died and run away as they did not want to be separated. It's a story of jewel thieves, of Interpol, of kidnappings and of the Maharaja and his palace. It also tells of the tragedy that occurred in Bhopal, India and of the descendants, the children born with deformities even to this day. The story though, ends with hope and wonder, and will leave my readers with a smile. I do so adore my Indian children and all my characters who live in my mind and in my heart.
Ginger Heller spent over two decades as a stock and commodities trader and at one point had her own commodity trading firm. Previously, she taught middle school. She has visited six of the seven continents many times. Heller's children are grown, yet she and her husband, along with two cats and a dog, still call Connecticut their home.
Related
Popular in the Community