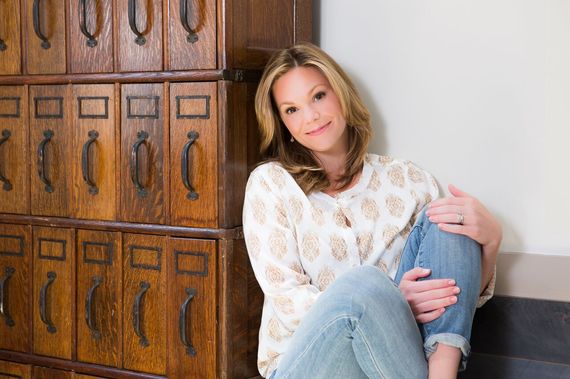 Our homes are our most intimate spaces. They are where we unwind, entertain, grow up, find sanctuary and connect with the people closest to us. From the tiny, old studio apartments of New York City to the large suburban homes of New Jersey, Sandra Funk's East Coast-based design firm House of Funk creates beautiful designs that are both inspiring and inviting. Celebrating 10 years of beautifying homes with a full company re-brand from Funk Design Studio to House of Funk, the Funk team continues to pour all of their passion into every project, giving each client the care and attention they deserve. In this interview, we discuss her inspirations, creative process, favorite projects, new e-design service and more.
What are some elements that changed in your re-brand between Funk Design Studio and House of Funk?
Sandra: We updated our brand to better reflect our outlook and to incorporate the tenets of our business: authenticity, beauty, honesty, and simplicity. One thing that hasn't changed is my focus on philanthropy and on supporting organizations and businesses that share in our vision of leaving things better than we found them.
House of Funk now incorporates two strategies: eFunk, our online interior design service and our classic, full-service interior design. Lastly, with our transparent outlook, we've updated our pricing to be hourly only with no income tied to product sales. This feels very fresh and simple. Clients only pay for our expertise.
I usually cover California designers. Are there some discernible differences between East and West Coast design?
Sandra: Yes. Many of our clients have lived in the city or currently live in NYC. There's a refined element there. The look tends to be rooted in a more traditional point of view. It's not as casual and laid-back as I think of the West Coast. Scale is also very different as East Coast spaces tend to be smaller, both due to the value of real estate and the age of the homes. Of course, our suburban clients often have larger scale to play with.
What have been some of your favorite projects?
Sandra: I have to fall in love with each and every project in order to be able to design them. It's the 'getting happy with it' stage, a line borrowed from one of my favorite movies Something's Gotta Give. It's when the truth of the space becomes apparent and I can't work on anything else until I capture the essence of the design.
But of course, there are favorites. A great example is a recent project in Glen Ridge, New Jersey. The residence is a colonial revival style house built at the turn of the century. We collaborated on the design of the kitchen, powder room, and basement. One of the foremost reasons that it's a favorite project is the amazing clients. We worked very collaboratively to a stunning end. The clients are a brilliant lawyer and an accomplished architect. What could have been quite intimidating, was actually an amazing experience. We had wonderful meetings-of-the-minds over strong coffee on Sunday mornings throughout the project.
In addition to the renovations, we placed over 100 pieces of art throughout the home. That, of course, was a highlight for me. To curate and display that much art that had been collected over generations was pure joy.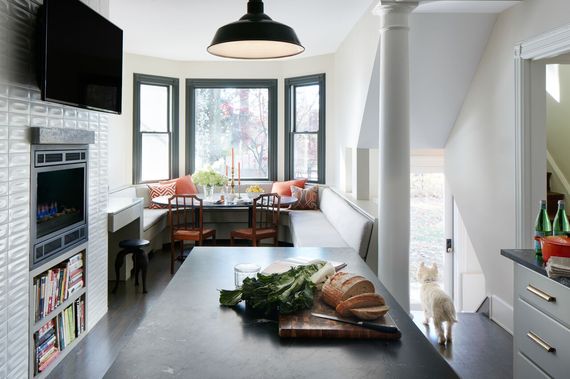 What have been some of your most challenging projects?
Sandra: I find the most challenging element to be indecisiveness. I am a professional decision maker, so I find it unsettling when a client is waffling. But, that's the job -- for me to provide enough information and inspiration to engender trust so that we can move forward with decisions. Change can be scary and I ask our clients to make changes every single day.
How does your e-design service work?
Sandra: eFunk is based on the long distance interior design I've been doing for friends and family for years. We've created a detailed measuring guide which has clients send us all the measurements of the space and anything staying, detailed pictures, paint colors, as much information as they can gather and email. Then, we have a comprehensive questionnaire that walks them through what they want to change, why, how they want to use the space, and, always my favorite question, how they want to feel in the space. I gather inspiration images to clarify style preferences since one person's transitional may be another's contemporary.
At this point, we review everything and are ready to dig in on the design. Communication is all online, and the customized design is delivered within six weeks. The design includes a floor plan, elevations, inspiration images, and each and every selection to complete the room. Our detailed directions -- from rug placement to art heights to how to make a great bed -- enable every client to execute great design on their own. The clients choose the pace at which they purchase and update their space.
What and/or who are some of your design inspirations?
Sandra: Clodagh and Bobby McAlpine are my design heroes. I find their work soulful, interesting, bold, yet somehow quiet and restful, energizing, sexy, and very, very deep. I aspire to their purity, depth, and soulfulness. I'm also in love with all things Roman and Williams, specifically their irreverent take on bad architecture. I freaking love their Facebook posts -- hysterical.
What makes you stand out among other designers?
I want to make things better. The streets I walk down, the rooms I hang out in, the state of the world, my abs -- I am constantly striving to improve. I bring this to every project. I approach design from a soul level. I take in the space, the architecture, the clients, their family, the dog, their preferences, how they want to live, how they use the space, what they are drawn to, and I let it all marinate.
I sleep on it. I wander around it, circling it like a fighter trying to take the measure of the man I'm about to go up against. Then, I wait. I wait until the inspiration comes. So far, it always has. Design is art. It cannot be forced. I'm shy, but once you get me going, I have the loudest laugh in the room.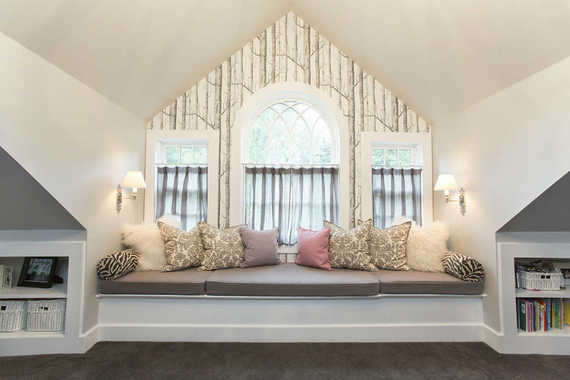 Related
Popular in the Community