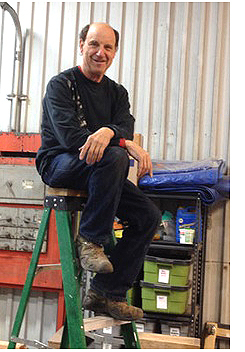 Jeffrey Breslow's artistic expression erupted at the age of 15, when his high school art teacher inspired him to pursue his own artistic creativity. His first interest was pottery - he built his own kiln and potter's wheel - and soon realized his deep interest (which he terms his "obsession") in form and fabrication.
Jeffrey credits his University of Illinois Professor, Edward Zagorski, for helping him to develop a clear sense of Design, as distinct from "shaping and making." Jeffrey calls Design "the secret operator behind everything-automobiles, furniture, appliances, toys..."
Jeffrey's natural enthusiasm led him to design children's toys and games, and after graduating with a BFA from the University of Illinois, he found work with Marvin Glass, whom Jeffrey recalls as an "independent Chicago-based toy genius."
Jeffrey's own genius was recognized soon after Mr. Glass passed away, as Jeffrey became CEO of Marvin Glass and Associates, serving from 1976 until 1988, when he, Howard Morrison, and Rouben Terzian founded their own design company which evolved into Big Monster Toys. Their enterprise soon became one of the largest and most successful toy design studios on the globe, and all three were honored by induction into the Toy Manufacturers of America Hall of Fame in February of 1988.
After 20 years with Big Monster Toys, Jeffrey decided to pursue his sculpture, full-time. He began with figural bronzes, mixing bronze elements with wooden ones, a hint of what was to develop. His work in bronze developed from small pieces to larger abstract ones of mixed solid materials, and he soon became known for his mixed materials sculptures of granite and steel.
Interviews from the "Bolder & Boulder" Willis Tower Sculpture Exhibition
April 23, thru October 30, 2015
Twenty-seven of his sculptures (six large and twenty-one smaller) are currently on a six-month exhibition ("Boulder & Bolder") at Chicago's Willis Tower -- which runs through the end of October 2015. Jeffrey utilizes the brand management skills of Aria Gannon of aPR.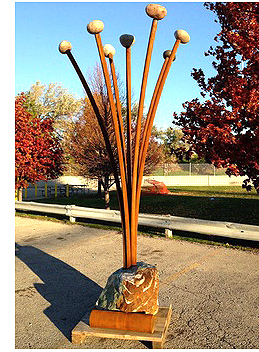 The Jeffrey Breslow Gallery, which will have its formal opening on September 19, 2015, is located in the West Loop of Chicago, on the ground floor of a three-story building which serves as his residence, as well.
His studio is located in an industrial area of Chicago's south side, only 15 minutes away from his residence and Gallery.
(right - Bouquet of Dreams - 2013)
In addition to Jeffrey's sculptures, the Jeffrey Breslow Gallery will also exhibit "flat works" -- photographs, drawings and paintings -- of other artists whose two-dimensional works compliment his own.
I like showing flat work of artists whose work I like and compliments mine. I will still look for gallery representation in cities other than Chicago. I have to be careful that the Gallery doesn't take time away from my sculpture. The Gallery means a great deal to me.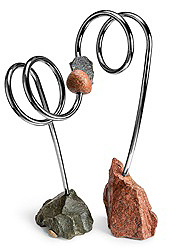 Jeffrey was born in Chicago in 1943 and has been a lifelong resident. Throughout his life, Jeffrey has relished adventure and nature - whitewater rafting and hiking are two of his passions. He considers himself a Sculptor first, a Creator second, and an Artist third -- "Pragmatist" comes in as a last choice. Jeffrey and his wife, Ginna, (their honeymoon was riding horses for two weeks in the rural Kenya) are Chicagoland residents, who also enjoy a home in Vermont. Jeffrey has three grown sons, Marc, Michael and Joey, and three grandsons, Oscar, Jax and Brooks.
(left - A Touch of Love - 2015)
Jeffrey views his work as conversational...
I create contemporary abstract sculptures as conversations between human creativity and the natural world. I begin with an extraordinary granite boulder, and then let its shape inspire my steel structures. When I unite them, the stone connects the steel to the earth, and the steel gives to the stone its reach.

The organic forms of the boulders are given extension by the machined steel, even as time and the elements tame and color the steel with beautiful, unpredictable patinas. This sustained interaction of the materials imparts the work with a sense of life. And it is my hope that the scale of my sculpture will stir within the viewer an appreciation for our connection with nature and our power to shape our world.
Jeffrey sees great beauty and vitality in the ageless materials he uses...
When these beautiful granite boulders thousands of pounds and millions of years old are placed in dialogue with freshly created steel forms, I find that energy irresistible. And that, I hope, will resonate with the viewer.
Your sculptures appear to establish an intentional tension between materials, even though for the most part you are using steel and granite, both severe materials. Can you enlighten us as to the source of this tension ?
The tension is established by connecting stones and boulders that are hundreds of millions of years old with newly manufactured, bent and sometimes painted steel. I don't alter what nature took so long to form. I feel the angst of the stone when I drill it to attach the steel and always respect the stone that has been on our planet before any form of life. Even though there is tension, I do try to make my material get along.
Your sculptures also seem to be infused with whimsy and subtle humor, which also appears to be intentional. What was the source of this intention to use hard materials to evoke humor ?
Humor has been a big part of my life and I try to position the stones and steel to anthropomorphize the sculpture to make the viewer smile. I enhance this experience with my titles such as, "A Touch Of Love" and "We Have To Stop Meeting Like This". To suggest the stones are in love or these stones are having an affair certainly evokes humor, especially for me.
How would you characterize the art scene in Chicago, are there any specific themes or threads which are currently in evidence? How does your work fit within the art community in Chicago ?
The Chicago art scene is vibrant and spectacular. We have great public art starting with the giant Picasso in the 60s and now Cloud Gate by Anish Kapoor in Millennium Park along with Frank Gehry's Pavilion, to mention only a few. October 17th is the opening of ExpoChicago which has grown into the most high quality important public art show in the U.S. I don't think there are themes or trends, just work that is unique and fabulous such as the current Charles Ray show at the Art Institute.

Chicago is the best art city in the country. The positive public reaction to my six month solo, indoor/outdoor show at Willis Tower where 12,000 people every day enter the building signifies that my work fits into the Chicago art community.
Has your sculptural work always been on a grand scale, as many of your current works are ? Related to that question, does a difference in size or scale affect your sculptures' impact ?
My work hasn't always been on a grand scale and I do smaller pieces. Size and scale in art as well as other things in life does matter. I like working BIG. The challenge of engineering and putting large pieces together is thrilling.

I'm doing a sculpture for a small town in Vermont where they dug out a boulder while building a new bridge. The boulder weighs about 44,000 pounds. That's 22 tons. Doesn't compare to Levitated Mass by Michael Heizer at LACMA which weighs 340 tons. Now that is a GRAND scale!
Tell us about your experience as a toy and game designer and inventor.
My first and only job after I graduated from the University of Illinois with a BFA in Industrial Design was a toy designer. I did one toy design in college and was hooked. I was hired by Marvin Glass in 1967 and spent 41 years running three different toy design companies. Left the toy business in 2008 to devote myself full time to my sculpture. Designing toys was a creative, joyful, wonderful career as is sculpting.
Do you see a relationship between those experiences designing toys and games and your current work as a sculptor and artist ?
I see a huge relationship between my work in toy design and my sculptural work. Working in the field of fine art prepares and teaches one it's OK to fail. Failure is a big part of this world. But, as I continue to work and create, I continue to improve. The success and notoriety I acquired as a toy designer has transitioned to my career as a sculptor.
To what degree do you work the surfaces and textures of the steel and boulders which you use ?
I answered this a little bit with question #1. I never reshape any of the stones, just grind a little where the steel is attached so you don't see the connection. I coat the stones and boulders with a clear sealer to bring out the natural colors. The metal is rusted, painted or plated.
Do you have a sense of how your sculptures will age and patinate before the work is completed ? Asked another way, is natural aging part of your artistic expression ?
I'm doing fewer pieces that are rusted. Once the rust has completed, I seal the steel and rust so it doesn't "bleed" on the stones. The aging (rusting) is more natural to steel than painting and I will continue to do pieces that are rusted but enjoy the color of painted ones as well.
What was your inspiration for starting your boulder and steel series ?
My early sculpture career was doing realistic bronze figures mounted on pieces of trees and branches. Doing bronze figures working from models wasn't very creative for me. It's mostly about execution. I loved the forms of the trees and branches transitioned from working in bronze and started sculpting by attaching stones to the ends of the branches and mounting the trees on boulders. However, I couldn't protect the wood if the sculpture was exhibited outdoors. To solve the issue, I introduced steel as a material in my work. It has given me more creative options in creating form and has allowed for my outdoor art to be sturdy and weather proof.
Do you see your work evolving in materials and concepts ?
I enjoy what I'm doing now, but I know enough to know that my work will keep developing. My inspiration, my use of material, the forms in which I sculpt are ever evolving. As an artist I have to be open to what is next. I always allow myself to grow, and growth means change.
Calling all HuffPost superfans!
Sign up for membership to become a founding member and help shape HuffPost's next chapter