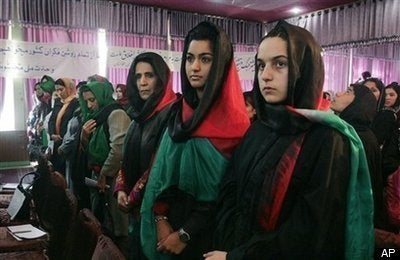 I recently sat down with Karen Sherman, Executive Director of Global Programs at Women for Women International, to discuss organizational growth, strategy, service expansion, and the role of men in playing a leadership role in advancing women's rights.
Rahim Kanani: Over the last several years, what are the ways in which Women for Women International has evolved?
Karen Sherman: Our commitment to the women is the same as it's always been, if not deeper, in the sense that we've made a concerted effort to strengthen our core program offering over the last couple of years. So I believe there is an even stronger commitment on the part of the organization's leadership to really focus on the needs of the women we serve.
We've brought in new leadership in the form of a new President and COO and that has really helped to strengthen our management infrastructure and position us for further growth. As you know, the organization has experienced a tremendous growth trajectory over the last several years. As a result, we have made a concerted effort to strengthen our leadership team to be able to support and deliver the programs as effectively and efficiently as possible. That has been a commitment for the organization.
Rahim: And in terms of some numbers, how much have you grown recently?
Karen: Last fall, our work in the Democratic Republic of Congo was highlighted on Oprah, and we grew from approximately 28,000 women being served to nearly 45,000 women in our programs. So that's just one aspect of our growth, but the trajectory has been tremendous.
Rahim: With regard to growth, and to use your example about the doubling of services for women in the Congo almost instantaneously following Oprah, what are some of the challenges associated with such rapid expansion?

Karen: Making sure that we have the resources and manpower necessary to absorb this kind of growth in our field offices, which is staffed exclusively by local nationals. Our Congo program, which is our largest program, is serving 12,000 women this year, which is a tremendous accomplishment. And with that comes certain challenges.
For example, if you consider the fact that we're still dealing with relatively insecure and unstable environments like Congo, Sudan and Afghanistan, the growth is even more challenging, but our staff in the field are absolutely amazing in terms of what they are able to accomplish. And so this commitment to strengthening the management and infrastructure is about making sure that we are focused on both increasing our services to women, and also increasing our support to the field offices.
Rahim: Explain a little bit about the Congo program so we get a fuller picture of the efforts, programs and services.
Karen: Women for Women International has a core program offering and we recently rolled out our new/revised curriculum in April this year. It's a 12-month program centered on four key outcomes:
1. Women are well, meaning they have a basic level of physical and psychological wellness.
2. Women are decision-makers, meaning that they contribute to family and community decisions.
3. Women have rebuilt social networks and safety nets which are especially important post-conflict for women who, by all accounts, have suffered horrific violence. A lot of them have lost their husbands and family members, and as such are left as single heads of the household, so the opportunity to come together and build these support networks through our program is absolutely critical.
4. Lastly, our efforts help women sustain an income through market-based vocational skills training linked primarily to local market opportunities.
Rahim: I understand you're also working in conflict areas in the Middle East, such as Iraq, how do the programs and services offered vary from country to country?
Karen: In Iraq as in all countries, we provide rights awareness and leadership training, business and vocational skills training, linked to the market. Currently, we are offering a variety of traditional vocational skills in the Iraq program, such as tailoring, embroidery and hairdressing, as well as non-traditional skills such as date canning and silk screening. In some of the African countries where we work, the majority of women we serve are rural, so we tend to focus our skills on agriculture, livestock and agro-processing. We really try to align our skills-training with income generation opportunities specific to each country.
Rahim: Walk me through the process of what happens from when you decide to work in a country to how you go about reaching out to women and introducing your services.
Karen: Part of the key to our success is the fact that we work with and through local staff in each of these countries. In all the countries that we're currently active in, our offices are staffed and run by local nationals. They lead our outreach to community, village and tribal leaders, describing our program offering and what it means to have Women for Women International in their communities. And they're also talking to the women in those communities about their needs and what Women for Women International can offer to address those needs.
More formally, we have a defined community assessment process that we use to help determine where we work in a specific area. As you may know, community support is really critical to our success because if a community decides that, for whatever reason, they can't support our work or don't want us in their community, it doesn't really make sense for us to begin work there, especially when the need is so great in other places.
Rahim: How does Women for Women International harness its work to achieve advocacy, policy and legislative outcomes?
Karen: What we focus on is bringing the voices of grassroots women to the forefront, and in particular socially excluded women. Much of our work is done through reports and surveys reflecting what women think about particular issues that impact their lives.
For example, we recently released a report on Congo based on a survey we had completed with 2,000 respondents, half of whom were affiliated with our program and the other half unaffiliated. This Congo report highlights the impact of our program as well as the key issues that directly impact women's lives.

Rahim: What are some of the issues you face when you decide to work in a particular conflict environment, and how are you able to build those relationships?
Karen: I think one of the hallmarks of our program is that we're not political. We represent and work with socially excluded women in each of the countries where we are active to help them improve their lives. In countries like Rwanda and Sudan local and regional leaders are very supportive of our work. Local officials come out in support of our work and have provided donated resources, such as land, to launch organic commercial farming in multiple countries.
Rahim: In all of the countries in which Women for Women International has services, you're working with populations who have suffered, as you mentioned earlier, horrific violence. How do you establish those relationships and gain their trust such that they tell you their stories?
Karen: Great question. First, we listen. We have trainers/social workers, if you will, who spend a lot of time not just teaching, but listening to the women and encouraging them to tell their stories, many of whom are opening up for the first time.
I think what's unique about the program is that women are able to find their voice, and because we provide a safe space for them they feel comfortable speaking out. I was amazed when I was in Iraq recently, my first visit to the country. I met one woman whose vocational track was candle making, through a partnership we have with Prosperity Candle. The woman told me that before she joined Women for Women International, she had actually tried to commit suicide. Her life was really a mess. Her parents were getting divorced; the war was tearing everybody apart and she was just at the end, desperate. She took some pills and ended up in the hospital. While she was in the hospital, her aunts came to see her and asked her if she had heard about the Women for Women International's programs. She hadn't, but she decided to give it a try and since then, her life has been changed for the better.
Now she's earning money for herself and her family. She is making candles and she also secured a job as an assistant in a medical clinic. She looked more beautiful and confident, and I think her ability to earn an income was a great source of pride. She was able to afford things not just for herself, but for her whole family. Her transformation was amazing to witness.
Rahim: So the rebuilding process is about services and programs as it is about self-esteem and confidence.
Karen: Absolutely, the confidence is half the battle, because you're not just providing skills, you're changing mindsets and attitudes and giving women a sense of hope for the future, that their lives can be different. So it is about the combination of acquiring new skills and gaining the confidence to believe that they can change their life for the better.
Rahim: And they in turn serve as a kind of ambassador to the program.
Karen: Exactly, this is why we end up with waiting lists of women who want to join the program. A graduate of our program is often our strongest advocate and she is telling her family, friends and neighbors that this is a program they should be involved in.
So, it's hard to turn women away, but the way the program works is, the number of women we can serve is related to the number of sponsors, who help to support the women as they go through the program. Right now, we have about 44,000 sponsors in the program. So if we had 80,000 sponsors, we could serve 80,000 women.
Rahim: From a country standpoint, how do you choose which regions to work in?
Karen: We have specific criteria to help us determine where our program can be most effective, For example, we look at where women have been disproportionately affected by war or conflict, key health and social indicators for women, women's role in decision-making in a given country. We also look at a potential location in terms of our ongoing work to see where we can leverage resources for greater efficiency and effectiveness.
We're actually doing a feasibility study for Liberia early next year to make a decision about whether we should launch operations there sometime next year.
Rahim: And in which countries are Women for Women International currently working?
Karen: We're working in eight different countries now. Four in Africa: Congo, Rwanda, Nigeria and Sudan. Two in the Balkans: Kosovo and Bosnia and Herzegovina and two in the Middle East: Iraq and Afghanistan.
Rahim: What would you need in terms of resources, awareness, or otherwise, in order to scale your efforts even more, and what are some of the barriers to further expansion?
Karen: We need more people on this side of the world to know about Women for Women International and how relatively easy it is to make a difference in the life of an individual woman who in turn can change her family's life and contribute to her community. I think if people knew just how little it really takes to make a difference in a person's life, we would have a phenomenal number of sponsors, and that would allow us to do more, expand our impact as well as programming.
We've been making and continue to make significant investments in expanding our field capacity to enable us to serve greater numbers of women.
Rahim: Over the next few years, what's next for Women for Women International? And what are some of the programs or efforts we should be on the look out for being developed or rolling out.
Karen: Very good question. On the program side, we've talked about expanding the length of our program, offering services to program graduates and working more at the community level. Right now we provide individual women with a core set of services over a 12-month period. In the future, we would like to provide additional services, both for women as well as men. For example, we have found that working with men through our Men's Leadership Program is very effective in places like Congo and Afghanistan where men receive training on how they can provide greater support for and leadership around women's rights, including issues around gender based violence.
We'd also like to have more sponsorship offerings that appeal to different types of customers on this side of the world. We'd like to be able to deepen the sponsorship experience so that it is even more meaningful for women and their sisters.
Rahim: Speak a little bit more about the Men's Leadership Program and what that means and how it works on the ground.
Karen: We've been working with men's leaders. It's a train-the-trainers approach where we take community leaders -- they might be religious leaders, military or civic leaders, village elders -- and we take them through an intensive program to build understanding of the issues affecting women in their communities and how they can model and promote behavior change among other men in their communities. This is especially important in a place like Congo where you have an epidemic of rape. In such an environment, we need men to step up to the plate and really own their responsibility to stop the mass rapes in these communities.
So we sensitize men through this leadership program so they in turn can help other men to be advocates on behalf of women.
Rahim: For someone entirely new to the work of Women for Women International, and for someone who wants to make a lasting difference in the world with relatively little money, how would you explain your work in 30 seconds?
Karen: I would say that of all the development interventions that I've seen in my 25 years of work, this one to one connection -- building women's capacity to then affect change in the family and in the community -- is perhaps the most effective.
And for $27 a month, you can sponsor a woman and launch her on a path to changing her life.
REAL LIFE. REAL NEWS. REAL VOICES.
Help us tell more of the stories that matter from voices that too often remain unheard.