We met by chance at the opening reception for Live in the Vineyard, a twice-yearly music, food and wine event that was happening in my part of the world--Napa Valley. Jason was hanging out with some friends of mine from New York City and I teased him about his ripped shirt, unaware that this hipster look was part of the fashion collection of the hot designer Christian Benner, who happens to be his business partner. Like a good Jewish mother, I admonished Jason for his holey clothing not knowing who he was or how unbelievably impressed I would soon be.
As head of a record label, Jason Flom already gets a certain amount of rock star credibility. The man has signed music greats such as Katy Perry, Lorde, Jessie J, Hayley Williams, Kid Rock and Matchbox Twenty to name but a few. However, his current role as CEO of Lava Records was not what ultimately grabbed my admiration and interest.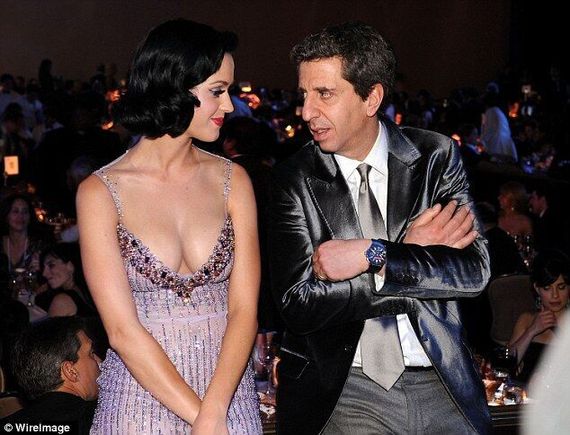 A few days after we met, I sat Flom down for an interview to discuss some of the other ways he spends his time and money.
You have several ongoing passion projects right now, the Christian Benner clothing line, the Innocence Project, Families Against Mandatory Minimums, the Bronx Defenders Bail Fund and your latest love, The Church of Rock and Roll. Where do you find the time for all of this?
I have been in the music industry since 1979 and I remain passionately devoted to it. When I served as Chairman and CEO of Atlantic Records, Virgin Records and Capitol Music Group the demands on my time were intense. Lava Records has a much smaller roster and staff which allows me time to focus on other passion projects, most importantly my charitable endeavors. I'm very fortunate to be partners with the best label in the business, Republic Records which in turn is a division of Universal Music Group, which is the number 1 music company in the world.
Let's talk about all of these projects a bit. Your true love of all things rock and roll has no limits. What is this new Church of Rock and Roll idea all about?
The Church of Rock and Roll is a movement which allows people to connect around shared values of personal freedom, inclusion, creativity, art, music, rebellion and irreverence. We started just a few weeks ago but we already have a website and Instagram account @thechurchofrockandroll. We welcome people from all faiths and all walks of life. Our core beliefs are that people should be kind to themselves, others, animals and the Earth--the church is designed to be an antidote to intolerance and prejudice. Religion at its best motivates people to be their best and to help others and that's what we stand for. The Church of Rock and Roll is a place for those that don't have something that they identify with or want to join. We are just getting rolling but we see a future with music festivals, pop up events and lots of weddings--all kinds of them! And we plan to give back by donating to good causes.
When I met Christian Benner he was working in a basement on the Lower East Side making his clothing in a workspace that was half the size of a ping pong table. I was amazed that without a publicist or any promotion his clothes were being worn by some of the most important figures in pop culture--it all happened organically from his Instagram account! Christian is a gifted artist and an extraordinary person so I jumped at the chance to partner with him and together we opened a store on Front Street in the South Street Seaport. The Christian Benner store is truly a rock and roll oasis.
Jason, you created the Joseph Flom Special Counsel position at the Innocence Project to honor your father's memory. Not too many people get to give a 1 million dollar gift. That's a big statement. Obviously, the Innocence Project is a cause you are fully committed to heart and soul. Why give so much time and money to this cause?
My father, Joseph Flom, came from very modest roots. He instilled in me from a very young age the importance of helping those less fortunate. As a founding board member of The Innocence Project, I am very proud of our work--we have gotten hundreds of wrongly convicted people out of prison using DNA testing to accurately and positively determine guilt or innocence. This work assists some of the most vulnerable people in our society and in many cases we have been able to identify the real perpetrator. It's incredibly gratifying and humbling work.
You also mentioned another project in the field of criminal justice. Several years ago you and your Dad developed a bail fund to help people post bail who can not afford it.
Yes, this bail fund works with the Bronx Defenders, a holistic public defender office located in the South Bronx. In 2007 I became aware that thousands of people were being sent to Rikers Island for months or even years because they were unable to post bail for "nuisance crimes" such as trespassing or drinking in public or smoking a joint. Many of them served months or even years without ever being convicted of a crime. The poorest people were being penalized unfairly. It's worth noting that when bail is posted by the Freedom Fund, 97% of clients return to court. Of those, over 1/2 of the cases are dismissed outright once they are out of jail. In this way the bail fund levels this inequity. It's my hope that this initiative will be replicated in cities all across America.
Is there anything else you want people to know about you?
My favorite color is green, my lucky number is 22, and I'm secretly in love with my bull dog.
Calling all HuffPost superfans!
Sign up for membership to become a founding member and help shape HuffPost's next chapter