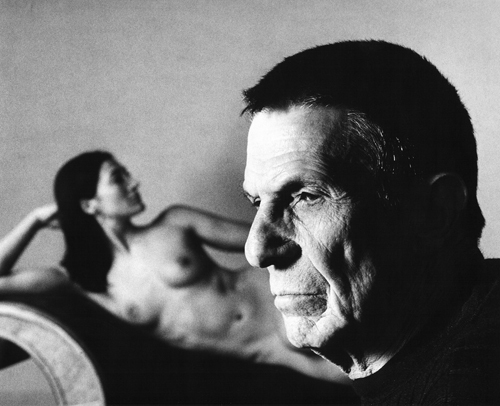 Jason Landry: Where does Leonard Nimoy the photographer go for inspiration?

Leonard Nimoy: It pops up. I don't go to any particular place looking for it. It has to arrive. It's the kind of thing that has to touch something in me when I read or see or hear something that's relevant.
It's unpredictable, as it should be. I try not to force an issue because then the work feels forced, too intellectual, and not spontaneous -- not out of the subconscious or the unconscious. I'm working very hard at trying to be in touch with the creative process rather than the intellectual process.
JL: From what I have read, you started making photographs as a teenager and built a darkroom in the family bathroom. At what were you pointing your lens back then?
LN: Family members, mostly. I still have a photograph that I did of my grandfather on the banks of the Charles River. I shot it with a camera that I still have, a bellows camera called a Kodak Autographic. It was one of these things that used to flop open when you pull the bellows out on to the track. These cameras were made with a little lid on the backside that you could open and inscribe something on the back of the film as a kind of a memory of what the photograph was. I never used the autographic feature, but I did use that camera to take pictures with, then I built an enlarger using that camera as the heart of it. I found a suggestion for that idea in a Mechanix Illustrated magazine: how to build your own enlarger using a metal lunchbox. For the light housing, I used one of those lunchboxes that had a dome-shaped top and I put a sock in there and a seventy-five-watt light bulb and cut a hole into the bottom of the lunchbox, mounted it onto a make-shift wooden frame, mounted the camera onto that, and then used a couple pieces of glass for the negative holder. I was able to take a photograph with that camera and then enlarge it with that camera.
JL: Going back to Robert Heinecken, was there anything specific that he taught you or might have said to you that left a lasting impression?
LN: Yes. As I mentioned, he was very strong on "theme," and if you wanted to be a photographic artist, you should not be just shooting pictures willy-nilly, and at anything you just happened to see or come across, but stick to his or her thematic thrust. And as an example, he said if you are walking down the street with your camera, and you see a person falling out of a high building, you don't shoot a picture of that falling person unless the theme of the work that you're working on has to do with the affect of space on the human figure. If you simply shoot it because it was happening, you have moved to photojournalism.
JL: "There's poetry in black and white." You said that in an interview once when describing black and white photography. Is the use of black and white a nostalgic thing, or a way that photographs should be displayed based on the subject matter?
LN: It has to do with nostalgia and subject. I grew up doing my own printing. Always enjoyed it, always enjoyed going into the darkroom and experimenting with a print. I did not move into developing or processing color. I stayed with black and white. I still think to this day that I prefer to work in black and white if it has to do with poetry or anything other than specific reality. I have worked in color when I thought it was the appropriate way to express the thought that I was working on. My Secret Selves project had to be in color. It was so specific to the individual and what they were bringing to the portrait session. Color is more specific and black and white is more poetic.
JL: For many years you were on the other side of the lens. How does it feel to be behind the lens directing your subjects through photography?
LN: It's liberating for me. I don't have to perform -- don't have to take on other identities. It's using a different part of my creative process, which I enjoy. It's refreshing.
JL: What is the most important lesson that you've learned through photographing people?
LN: How to make a subject or model comfortable in front of my camera. The other is that people come in all shapes and sizes in their psyche, and not just in the physical and metaphysical sense, but in their psychological condition. And it's a search -- you are searching constantly to find out who this person is. What is it that you want to extract from this person? There was this wonderful video of Richard Avedon taking a portrait of an actor, and he said to his subject (paraphrasing), "think of nothing...just let your mind go totally blank." And he takes the picture. And then I asked myself, what is Avedon looking to show here? Is he thinking that by telling this person to think of nothing that something wonderful or something special is going to emerge? Thinking of nothing could also make for a very dull picture. It could also create a blank canvas for people to project into. Every photographer has to find their own way into this territory. It's a life-long search. I don't think anyone every perfects it and is done with it. It's a work of art and it's never complete.
JL: If you were advising a young photographer today, what would your words of wisdom be?
LN: Stop worrying about the nature, design or qualifications of your equipment. Master your equipment so you know how to get the shot you want, but above all, search for the reason to be taking pictures. Why are you taking pictures? Why do we shoot pictures? I say the same thing to actors who want to develop a career as an actor. You must master your craft and then put it aside and concentrate on the more difficult aspect of the work. What is it that you want to do with that craft? What do you want to express? What do you want to explore? What do you want to find out? What do you want to present to people? Those are the issues that you have to search for.
(Portrait of Leonard Nimoy with Shekhina. Courtesy the Artist and R. Michelson Galleries.)
REAL LIFE. REAL NEWS. REAL VOICES.
Help us tell more of the stories that matter from voices that too often remain unheard.