Daniel Talbott is an accomplished New York-based actor, director, playwright, producer, literary manager, and artistic director whose play Slipping will open as the inaugural production of Rattlestick West on April 6, 2013. The play is described as follows:
Slipping follows the emotional trajectory of 17-year-old Eli, after the violent suicide of his beloved father. Alone, numb, and friendless after this tragedy, the jaded high-school senior moves with his English professor mom from San Francisco to a fresh start in Iowa. A new relationship with a boy at school exposes Eli again to the possibility of closeness and the danger of being swallowed by it.

The cast features Seth Numrich (Golden Boy, War Horse, The Merchant of Venice on Broadway; Iphigenia at Signature; the New York production of Slipping), MacLeod Andrews (Slipping in New York; Too Much Memory at piece by piece/Rising Phoenix Rep), Max Hamilton (professional stage debut; UCLA productions of RENT and Neon Boneyard), Wendy vanden Heuvel (Resurrection Blues by Arthur Miller at the Guthrie Theater; Counting The Ways/Talk To Me Like the Rain... at the Magic Theater; A Movie Star Has To Star in Black and White at Signature).

Slipping is your first play -- can you talk a little about how you started writing and what advice you have for other first-time writers?
Slipping is definitely my first full-length play, but the first play I ever wrote was this really young, pretty much just bad, super earnest, and hopefully huge-hearted one-act called Dillon. Expanded Arts did it in their incredible storefront space down on Ludlow (which is sadly gone now), with Michael Chernus in it. I love that crazy little play so much and we all worked our butts off on it and took it really seriously, and Michael was so brilliant in it and wonderful about the play, and it was just an awesome all around experience. I was so young and so crazy inexperienced, and again I'm just really lucky that I had such a kind, open, and nonjudgmental group of artists to work on it with. I was so scared to try to write, and I think that if a bunch of people had told me how bad it was, rather than being so unconditionally supportive and game, I don't know if I would've ever had the balls to try again. Those are my favorite type of theater artists. Folks that just say yes and have an open heart and willingness to try anything without judgment, and try to tell the greatest, most active, human story possible with what they've got. I love the simple magic aspect of theater, and I remember having so much fun with all those actors rehearsing in a parking lot, and just jamming on that play and trying to tear it up. No bullshit or ego, just play, laughter, hard work, and love.

Slipping was the first full-length play I tried to write, and it came out of reading an article in The New York Times about Sarah Kane, and her life and work. I had never seen or read any of her plays at that point, but I just loved so much how she talked about experiential theater and why she attempted to write plays, and something just popped in me and I was like, "I want to try this." A play called The Canvas came out, which was done at the Royal Court as part of its Young Playwrights Festival. That experience was one of the greatest I've ever had, but I felt that version of the play was hiding. That is was very afraid of the love, the sexuality, the animalism in the play, and with the support and love of David Van Asselt I feel I started to get brave enough to simplify and start to physicalize the sex as well as the danger and desire, and that slowly it became Slipping. Growing up in the extraordinary theater community in the Bay Area and watching theater at companies like Berkeley Rep, Shotgun Players, Encore, The Magic, New Conservatory, and ACT, I knew that I loved acting but I never wanted to solely be an actor. I always knew I wanted to try to have a small company one day, and that I wanted to direct and try to write as well. I always wanted to be a theater artist, and to me that meant doing as many different things in the theater as possible.

I still think of myself so much as a beginning playwright, so I feel weird offering any advice to other writers cause I just feel so wobbly and beginner-ish myself, but the big thing I think is just start and write, and don't let anyone or anything stop you. Theater is all about bravery, sharing, vulnerability and risk... it's an attempt. And with anything in the theater, you have to just have to stand up and open your eyes and heart, and begin to play, share with others, and respond. We're all so afraid all the time that we constantly shield ourselves by having an opinion about everything; we have constant judgment about others and their work. More and more, I am trying to be very clear about knowing that being inspired by work, and by what I love in the theater and in life, doesn't mean that it's great theater or art, it's just my taste. We all are moved by different things and drawn to different forms for many reasons, but our taste is just that--it's ours, and I don't think that my taste is better than someone else's. I'm saying all this because I think that in order to write and to be an artist you have to kind of just say fuck it, and write and share what you love and are in every way. Some people are going to get that, and/or maybe no one will ever get you or your work, but I think the important thing in the end is that you're working and constantly creating theater and putting your work out into the world, and trying. Constantly standing up butt-naked, shaking, frightened, or not, and saying, "This is me and all of me," and putting all your imagination in context to the world and people around you and starting to let those stories loose so they can act themselves out. Just do it. Just write. Stop judging, and when you think you've shared all you have, you're just beginning. I think that's the advice I would try to give.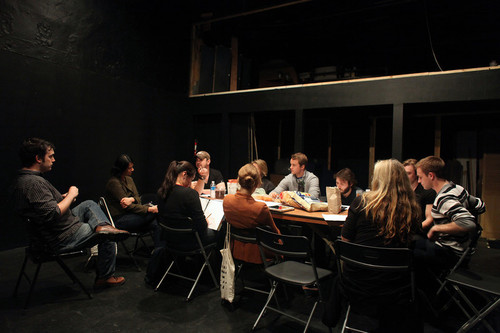 A rehearsal for Daniel Talbott's "Slipping" the first Los Angeles production from New York's Rattlestick Playwrights Theater held at the El Centro Theatre on Tuesday, March 5, 2013 in Los Angeles, Calif. (Photo by Garrett Davis/Capture Imaging)

Rattlestick is an Agent Provocateur of the New York downtown theater world, boasting they present edgy plays that the audience may not always like but that are thought provoking. How do you define your personal brand of edgy and how is that reflected in Slipping?
I so don't think I'm edgy in the least. I think I'm pretty fucking vanilla and boring. I love to hang with my friends and family, walk around places, go to the ocean, watch movies and tennis, and work. With stuff I'm writing, I just try to make it as personal as it can be, and hopefully as honest to the circumstances of the play as my experience and/or imagination will allow. I try to write what's in my heart and head at the time, and again to dig as deep as I can into it. I love fear, and I'm afraid of so many things. I think my work when it's strongest is when I'm able to hold hands with fear and walk forward -- embrace it and try to understand and jump into it wholeheartedly. I was very afraid of Slipping and my own struggles with depression, and my love for my best friend and how painful and terrifying that relationship was, and how horrible it was to lose it. I really hope the play has a huge heart and that in the end it's about love, struggle, and vulnerability. I find vulnerability so much more radical, dangerous, and edgy than what I think usually passes for it.
I also want to address the mission that Rattlestick has to challenge the audience. Can you talk about the type of work you create in relation to your audience?
I love Rattlestick so much, and I feel so lucky to have it as one of my theater homes and to have David Van Asselt, Brian Long, Denis, Julie, Eugenia, Brian, Sanford and the rest of those guys as my family. And I think all theater, when it's extraordinary, challenges us by having us live in space with each other and allowing a floor and place for pure, unadulterated action. The work at Rattlestick, and the company itself, is very action-based. When David gets behind someone, he doesn't talk about his love for their work and do endless readings of it, he does it, and even if that work falls on its face the first time, he does their work again. I think his dedication and action are challenging in such a beautiful way. It challenges Rattlestick's audience to be loyal, to never expect the expected, and in fact to embrace the unknown and surprising. And it asks for the audience's undying trust in the theater and in artists, which can be challenging.
I don't think I consciously try to write or make work for a specific audience, unless that's part of the play or project I'm working on. Like, if I'm commissioned to write a play for GayFest in Philly, I know that the theme has to be in some way hopefully for and part of the gay community, but outside of something that specific, I really again just try to write and create something as personal and exposed as possible. And I always hope that there will be something human enough in it to resonate with the folks that have taken their time and moolah to come and see the play. I don't think there's theater or a story without the audience to share it with, but If I'm just sitting down to write something and I have no idea where it's going to find a home or land, I just try to write it as openly and to be as true to the action and people I'm writing about as possible.
Talk to me about bringing a play, to the nation's hotbed for TV and film production. Are there aspects of crossover between the mediums in terms of style of writing or execution?
I'm so excited to be out in my home state for a while I can't even say, and to be near the Pacific Ocean. I have such a blast in LA whenever I'm there, and so many of my favorite people in the world live there as well as a couple of my best friends, so I couldn't feel more lucky to be getting to work and spend some time with my theater fam in the West for a bit. I really hope people dig what we're trying to do out there, and that we get to be a part of the wonderful community in Los Angeles and are able to keep coming back. We've met so many truly extraordinary theater folks from Black Dahlia, IAMA, Boston Court, The Taper/Center Theatre Group, The Geffen, REDCAT, etc., who are kicking ass and doing wonderful, wonderful work and incredible plays, and everyone who we've met has been so kind and generous to us.
I also love film and movies, and I think there's a lot of great work happening in television, and I hope that I'm lucky enough to work in all three ways. I love intimacy, and work that doesn't allow you to escape or let you off the hook, and I love that the three different mediums accomplish and play with that in both similar and different ways. I think there's a lot of film influence in my plays, and also vice versa if I'm ever lucky enough to make films too, I think there will be a lot of theater influence in how we go about doing that, as well as in the actual work itself. In the end, I think it's all about storytelling, sharing, collaboration, and action, and however best you can tell the story you're trying to, you do it. Whether it's a single actor sitting cross-legged in the middle of an empty room, or a barrage of moving images and sound and no dialogue, you do what you have to to be vital, to connect, and to hold hands with action and honesty.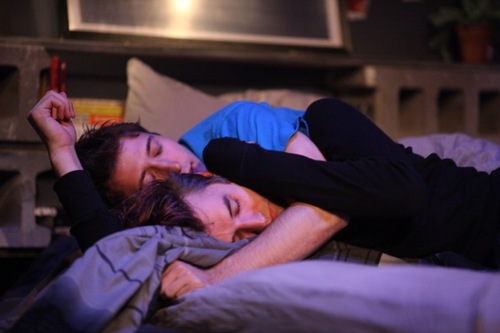 Slipping a scene from the New York production of Slipping. Pictured: Seth Numrich and MacLeod Andrews, photo by Paula Court
Slipping and your play Yosemite were both previously produced at Rattlestick (East), and now Slipping will be the inaugural production at Rattlestick West. What has it been like working at both Rattlestick venues and additionally, being a bicoastal artist?

I seriously couldn't feel more lucky. To have Rattlestick as a home and to get to work with family means the world to me, and I always wanted to be able to work on both coasts, and not just on the coasts, but hopefully everywhere in between and over the ocean too. I just want to be working, hopefully doing great work, and working with people I love and respect, and who hopefully feel the same about me too, and to be able to support my family. I love New York so much, but I feel just as lucky to be a part of the LA theater community, and the Bay Area and Baltimore and Chicago theatre communities too. I think theater is theater, and great theater can happen anywhere, under any budget, and if you start to get caught up in any of the bullshit of this job, or thinking that working one place is more important than another, then you're not concentrating on the work itself anymore. And Rattlestick LA has the same feeling to me, and heart, as Rattlestick in New York. It's just home, family, we're all trying to support each other, laugh, and work as hard as possible with as much love as possible, and do the best theater we can, and then get back up and try to do it even better and go deeper, open up more and more, the next time. I know we all have to make a living and that we have to make choices, but when "career" starts being more important than people and relationships, I don't know how you can honestly, truly do work anymore.
Slipping plays Thursday, April 4 (opening night April 6) through Sunday, May 5, 2013, at Rattlestick @ Elephant Stage's Lillian Theatre, 1076 Lillian Way, Los Angeles, CA 90038
Ticket prices will vary up to $34, with discounts available for theater artists, students and seniors. For tickets and more info, please visit: http://rattlestick.org
*Slipping was originally workshopped and developed at The Royal Court Theatre and Rattlestick. It was given its world premiere in Chicago by The Side Project, directed by Adam Webster. In New York, the play premiered at Rattlestick Playwrights Theater under the direction of Kirsten Kelly.