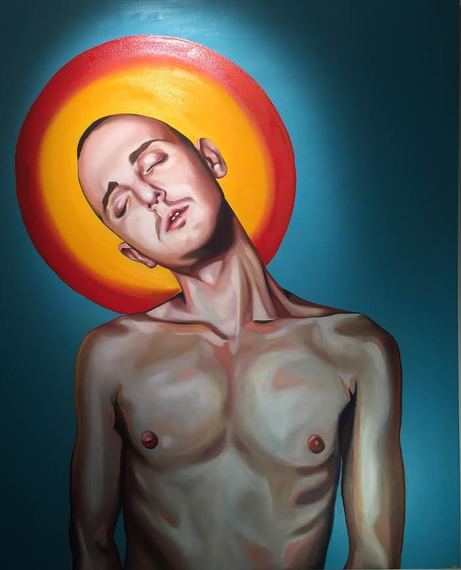 Kansas City, like many cities in the Midwest, is in the midst of a blossoming of queer art and culture. Ryan Wilks, a painter born and raised in the region, is focusing on this evolution with his newest project, a series of portraits and interviews called "Gender Treason." When I came across Ryan's story, I knew it was something I had to share. While it's wonderful that a lot of queer media focuses on the great things going on in big cities, there is far too little attention paid to the smaller communities, many of which are still experiencing serious growing pains.
Take a look at why Ryan had to say about "Gender Treason," his experiences a part of the queer community of Kansas City, and how his circumstances have contributed to him growing as an artist.
When you first started making art, what kind of pieces were you making?
I was painting my female friends, because I was always really fascinated with femininity and I was surrounded by beautiful women. I started with that, and then as time went on I started painting other women, Vogue images, and stuff like that. It didn't really have any context to it at all; it took a long time to find my voice in my painting.
What is the most surprising commonality between the queer community in Kansas City and the queer community in other cities you've lived like Chicago and San Francisco?

I think there are a lot of similarities in the queer culture of Kansas City to both of those places, in that there's a lot of partying. Generally what I've experienced in gay culture has been partying. Especially in the Midwest, bars are one of the few places we as queer people can gather, so a lot of social interactions as gay men take place at a bar. The pride is similar too -- the self loathing I experienced as a young man is definitely lifting, especially in San Francisco.
When you first began to envision how you were going to put together "Gender Treason," did you know that you wanted to include interviews along with your portraits?

I did. I wanted to have a narrative with the paiting, so that I could allow people to stare into the eyes of a subject, and then couple that with their story to create a more intimate interaction with the piece. However, I didn't know how I was going to go about framing the interviews. Something I've learned at this point in the project is that I cant have any premeditated questions. It has to being with simply stating, "Tell me about your queer experience in Kansas City." From there I'm able to navigate and ask questions that I think are not typically asked questions. I think a lot of times people ask questions, especially to trans people, that centralize around their sexuality and genitalia, which is not a great way to learn about a people. I like to talk to them about what it's like to transition, how they feel, what that process has been like for them and how liberating it has been. I like to focus on the positives, because queer people have been demonized and sexualized in the media to a degree that there isn't really any normalized perception of queer people. This project, more than anything, is allowing that normality to be shown.
Do you think you would have had the drive to put together a project like "Gender Treason" in any other place you've lived?
Kansas City is part of the core idea. I don't think I would have done this project had I still been living in San Francisco, because there wasn't really a need for it. People there are pretty open minded, and they don't really care what other people do. When I moved back to Kansas City, I felt small again. I felt like I was put back into that box that I tried so hard to get out of by moving to San Francisco and moving to Chicago. I was put back in a culture where holding hands with a partner might be dangerous, or a hate crime might happen outside a bar again. These are very real fears living in this area, and in a lot of the Midwest. Kansas City is relatively progressive, it's the 30 miles outside of Kansas City that can be almost threatening to queer people.

What's something you don't think that many queer people from bigger cities understand about being queer in a smaller, more "bible belt" community?

I think people in larger cities probably have the opinion of queer people in the Midwest that they are surrounded by narrow-mindedness or having a bigger struggle. That's true, but there are beautiful things happening in a lot of cities, like St. Louis and Kansas City -- even Denver. There is a cultivation of acceptance happening. We have a lot of really positive representation within the queer communities, and it's just starting to trickle out to the outer areas. There's a lot of progress being made, but in the Midwest we are largely playing catch-up.
Back in 2014 you were involved in planning a protest of the Kansas State House Bill 2453, which was a bill that essentially allowed legal discrimination based on perceived sexual orientation. What was it like protesting on the side of queer rights in Topeka?

It was terrifying and exhilarating and liberating. We had a couple hundred people show up, and they all had signs and were voicing their opposition to this bill. It was really important -- we did it on the stoop of City Hall, and it was important to have visibility in front of the people making the decision so that they could see that there really were people that were affected by that bill in a frightening and negative way. We had people come down from DC to help organize the protest, and we wound up on tons of news channels -- it was great to be a part of something that became bigger than just a Facebook post, and it was wonderful to be able to really use our voices.
You've said in previous interviews that you moved back to Kansas City because you felt like it was something you needed to do. How did the move affect your art? Did you already have the kernel of the idea of "Gender Treason" before you moved back?
I had no idea where my art was headed when I made the decision to move back to Kansas City. I decided to move back because I felt a deep calling to create in a city where the arts scene was booming, and it seemed like a soft place to start. Because the arts community in Kansas City is accelerating at such a quick rate, I knew I didn't have to leave the Midwest to make a name for myself and create art that has substance and meaning, and really made a difference. I didn't know what kind of art that would be, so for a while I was creating art and having shows that benefited charities. I wasn't quite at a point where I could make a statement with my art, but I wanted to do something good with my art so many of my shows since I've been back have had portions of their proceeds go to charities. I had a show at LIKEME Lighthouse, a really great queer resource center, and was able to donate a good amount of money to them which felt really good. It wasn't until I started working on "Gender Treason" that I realized that my art could be the gift, too.
What's your favorite part of the queer community in Kansas City?

I love that literally every kind of queer person on the spectrum that could possibly exist does within Kansas City's walls. It's a really diverse, amazing community. Along with that there is a lot of separation, just like there is in the bigger cities, but the sense of community is different. I've seen a lot of people move to Kansas City seeking refuge from small towns or suburban life, and they find it. It really is a good place to live, it just still has work to be done. In the state of Missouri, there is no legal protection against employee discrimination for queer people, no protection against discrimination in public accommodations, no laws protecting against anti-gay bullying in our school systems and no protections for trans residents from insurance exclusion. Missouri as a whole has a lot of work to do in creating a safe space for queer people. You can legitimately be fired from a job in Missouri because your boss doesn't like that you're gay, and that's it. I've met people at some of the jobs I've had who knew our boss had issues with gay people, and kept their sexuality secret to avoid being fired.
How do you envision "Gender Treason" impacting its viewers?
I'd like people to come away from it with an understanding of the normality of queer existence, and the relatability of our human experience. We are normal people, and we go through different avenues for self realization, and that something every human being has to go through -- we just channel it differently.
For more about Ryan, check out his website , and to learn more about how you can contribute to"Gender Treason," click here.
Calling all HuffPost superfans!
Sign up for membership to become a founding member and help shape HuffPost's next chapter