To catch everyone up, Raphael Saadiq was the former lead singer for Tony! Toni! Tone!, earned a #2 R&B smash with "Ask Of You" from the Higher Learning soundtrack, produced huge hits for D'Angelo and Joss Stone, and contributed as a songwriter to or collaborated with Whitney Houston, Mary J. Blige, The Roots, Lionel Richie, John Legend, Macy Gray, Erykah Badu, Babyface, Earth, Wind & Fire, The Bee Gees, Snoop Dogg, Q-Tip, Ludacris, and many others. He even played Anthony Hayes in the Shia LeBeouf breakout flick Disturbia, those acting chops again on display in his retro music clip "Let's Take A Walk." Though his latest album The Way I See It was released back in September 2008, Saadiq still is touring and promoting the project pretty much non-stop. He took a quick break from his schedule for the following interview.
Mike Ragogna: Your album The Way I See It sounds like it was inspired by Motown and great R&B recordings. And your latest video seems to pay tribute to sixties and seventies soul singers such as Smokey Robinson, Marvin Gaye, and The Four Tops. Were you inspired by those old recordings and performances as you made the record?
Raphael Saadiq: I was more inspired by traveling and seeing what people were listing to, and that music never went away through all these generations. It's definitely something I wanted to be a part of, it's something I've been listening to my whole life. I figure if I'm going to spend my life doing something, it should always be something I really enjoy.
MR: So is this the style you're sticking with for future recordings?
RS: When I did it, I didn't give it that much thought. But now that I'm working on the next album, I think so. It's something that I want to expand on, I want to do a better job on it, and it's something I want to take further.
MR: You have some interesting collaborations on this record, like Stevie Wonder and CJ Hilton on "Never Give You Up" and Joss Stone on "Just One Kiss." What's behind the team-ups?
RS: Joss Stone came because I worked on her record Introducing Joss Stone. She was around when I cut my record, and we always talked about doing a record together just as friends. We found a perfect song for her with "Just One Kiss," and it just kind of worked out that way. The Rebirth Band was on a song about Katrina, and so I titled the song "Big Easy" because I had friends who lived there and my family's from Louisiana. I love Second Line bands and marching bands, so a friend hooked me up with Young Spodie and we became good friends. I thought we should do something with this record, so we ended up putting Rebirth on it ("Big Easy"), and that's how that came up. And CJ did "Never Give You Up." After we finished our version, we heard this space and we said, "Man, you know what would be nice on this record? A Stevie Wonder harmonica solo!" Then we also have people like Jack Ashford from the Funk Brothers who plays percussion, tambourine, vibes...and we have Paul Riser who did a lot of string (arrangements) for Motown. He came and did all my string arrangements and really made the record complete. So it's like I was building a team for the future, you know?
MR: The album is a nice blend of classic meets modern, and it's especially reverent and knowledgeable of the music that you're obviously loving.
RS: That's what I try to explain to people. It wasn't like I jumped on some fad that people were doing right now, it just happened to be that people were making these (kinds of) records, like Amy Winehouse and Duffy on the European side. I just think that sound is always in the air 'cause it's a great sound, it's never really left.
MR: But The Way I See It really isn't a tribute album as much an application of classic soul elements to your music, right?
RS: I think every artist pays homage to something since we're all inspired by something, and I was inspired by great music, not just Motown, but all the Isleys records, all the Stax records. And I'm definitely inspired by a lot of reggae music...you name it, from Jimmy Cliff to Bob (Marley). All of them have some type of reference that you can hear from the Baptist church or gospel to blues and Albert King. So I'm just inspired by a lot of stuff. Like after I was in twelfth grade, I was inspired by so much funk and by playing with so many different bands.
MR: Are you surprised you made this type of album at this point in your life?
RS: There are so many things in your head you want to get out. It comes at a weird time, and this is the time it came out. One of my best friends, Brian Grant, he played for the NBA for about fourteen years, and it wasn't 'til I started hanging out with him that I really sat down and listened to Dark Side Of The Moon. I knew about it and heard about it, but he said, "No, you gotta sit down and listen to it like this." So different things come at different times in your life.
MR: The visuals in your "Let's Take A Walk" promo clip firmly connect with the sound of your album.
RS: I just wanted people to know that's me. You know, it just takes some time to find out what you really do. When I was a kid, I wore suits and ties all day long, probably from when I was three years old, so I finally got back to it. When you're loving and having a respect for the music and your audience, then people know that you're serious about what your doing. That's also what I want to convey, it's something that's missing from the industry that used to be there. When a band showed up in town, you felt their presence.
MR: You've worked on many D'Angelo recordings, I imagine you guys also are close friends?
RS: Oh yeah, for sure, definitely. When I went on tour, he was in my studio for a couple of months recording. We didn't get to have much hang time. Yeah, he's the kind of guy who loves music, he's a very talented person and I believe in him. He'll come out and do something great, he's just that good.
MR: There's so much feel in his records. The guy became a superstar, but he kind of disappeared from the music scene right after his big hits.
RS: That's what happens when you become a superstar that fast and you don't have a lot of people around you. For me, I always had people around, like my brother and cousins when I was with the Tonies. But when you come out and there's nobody but you, it's hard to grab a hold to what just happened that fast.
MR: As a producer, you've worked with a lot of acts beyond D'Angelo. Will you be working with any of them again, like Joss Stone?
RS: We're definitely always going to work together. We haven't started doing anything, but we've been talking about writing together.
MR: As far as touring, you've been all over Europe, but are you going to swing back around to the States any time soon?
RS: Yeah, we're talking about a Fall tour. The Way I See It's been out since September of last year and we're coming up on September now, but it's one of those records that people are just now catching on to. I've been working every day since this album came out, and since the day it dropped, I've been on the road. It's the most I've ever toured since my early Tonies days. So we're going to take it where it needs to go. Right now in Europe, it's crazy. I opened up a show for Seal over there, and I've done big shows with Duffy and Joss. I just have to convince everybody and I sort of knew going into this record that it wasn't going to be easy. But you know, anything easy is not good. If you want to make a splash, it's got to be a big splash, you've got to do something different and go against what's (already) out. Maybe I'm crazy, but I always like to do something that's "me" and take that risk, and I think it's going to pay off.
Rapael Saadiq - The Way I See It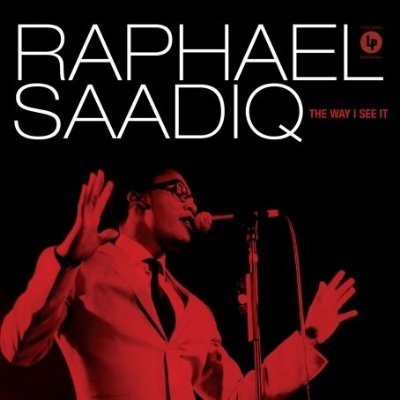 Tracks:
1. Sure Hope You Mean It
2. 100 Yard Dash
3. Keep Marchin'
4. Big Easy - with The Infamous Young Spodie & The Rebirth Brass Band
5. Just One Kiss - with Joss Stone
6. Love That Girl
7. Calling
8. Staying In Love
9. Oh Girl
10. Let's Take A Walk
11. Never Give You Up - with Stevie Wonder & CJ Hilton
12. Sometimes
...and here's Raphael Saadiq's latest video, "Let's Take A Walk":
...oh look, we have a couple more videos for ya!:
NEW AUGUST 18TH ALBUM RELEASES:
First off, Third Eye Blind's forthcoming album Ursa Major has leaked and the band is hot very happy about it, especially since it was the wrong version.
"Wow! I leave the country and my album ends up leaking," says Stephan Jenkins. "I was in Jakarta performing for the fine citizens of Indonesia after their devastating terrorist attack--I can't speak more highly of the country. I am asking for all those downloaders who illegally downloaded our new album, please donate some money to your local charity. And to those leakers who posted the wrong album, well, shame on you for being lazy. You guys know the lyrics and presentation are important to us. Rock on!"
The official version is streaming on MySpace at: www.myspace.com/thirdeyeblind
Ursa Major's release date will now be pushed up a day to Monday August 17 instead of Tuesday 18th.
Herb Alpert - Anything Goes: Herb Alpert & Lani Hall Live
The Antlers - Hospice
Brendan Benson - My Old, Familiar Friend
Terence Blanchard - Choices
Breathe Carolina - Hello Fascination
Broadway Calls - Good Views, Bad News
Cascada - Evacuate The Dancefloor
Clan Of Xymox - In Love We Trust
The Cult - Love (expanded edition reissue)
Joey DeGraw - Say Something Strong
The Doors - Morrison Hotel (gold disc reissue)
The Doors - Soft Parade (gold disc reissue)
Carol Duboc - Burt Bacharach Songbook
Groudation - Here I Am
GWAR - Lust In Space
Colin Hay - American Sunshine
Joe Henry - Blood From Stars
Hiroshima - Legacy
The Hot Club Of Cowtown - Wishful Thinking
Inward Eye - Throwing Bricks Instead Of Kisses
Stan Kenton - Live From Canada
Ledisi - Turn Me Loose
Madmen - Music From The Series Volume 2
Maxwell & The Original Bunny Gang - White Rabbit
Delbert McClinton & Dick50 - Acquired Taste
Reba McEntire - Keep On Lovin' You
Monster Ballads - The Ultimate Set
Mungolian Jetset - We Gave It All Away...Now We Are Taking It Back
MUTEMATH - Armistice
David Nail - I'm About To Come Alive
Christopher O'Riley - Out Of My Hands
Otep - Smash The Control
Ann Peebles - Part Time Love (reissue)
Rasheeda - Certified Hot Chick
Jay Reatard - Watch Me Fall
Jackie Ryan - Doozie
Brady Seals - Play Time
Dan Siegel - Sphere
Simean Mobile Disco - Temporary Pleasure
Sister Hazel - Release
Soulsavers - Broken
Stix - Late For Soundcheck
Sugar Red Drive - Sugar Red Drive
The Rolling Stones - Jump Back: The Best Of The Rolling Stones '71-'93
Sean Paul - Imperial Blaze
Third Eye Blind - Ursa Major(out on August 17th, see above)
Richard Thompson - Walking On A Wire: Richard Thompson (1968 - 2009)
Loudon Wainwright III - High Wide And Handsom: The Charlie Poole Project
Music DVDs:
Crack The Sky - All Access
Old Crow Medicine - Live At The Orange Peel And Tennessee Theater
EXTRA: THE VILLAGE: A CELEBRATION OF THE MUSIC OF GREENWICH VILLAGE
Lucinda Williams, Bruce Hornsby, Matt Nathanson, Shelby Lynne, Mary Chapin Carpenter, Rachael Yamagata, Los Lobos, Rickie Lee Jones, John Oates, Cowboy Junkies,
Rocco DeLuca and Others Record Heartfelt Musical Tribute To A Special Era--
The Village Of The '60's
429 Records has brought together a stellar roster of artist for a project titled THE VILLAGE: A CELEBRATION OF THE MUSIC OF GREENWICH VILLAGE--a musical homage to an influential scene that thrived during an incomparable era in the history of rock music. The Greenwich Village neighborhood of New York City in the 1960's was ground zero for a musical, political and social evolution-- McCarthy and the Red Scare era was over, the Vietnam War was simmering and poised to explode, and the civil rights movement was gaining steam just as singers like Peter Seeger, Bob Dylan and Odetta were hanging out and composing fierce and fearless songs that reflected the social conscience of a generation. The neighborhood was symbolic of a shared inspiration with artists worldwide gravitating to the vibrant streets and clubs and as such helped change the course of popular music. With THE VILLAGE, modern day artists look back and pay tribute to the artists and songs that helped nurture and shape them as successful musicians in their own right. Shelby Lynne gives a musical shout out to Dylan with her version of "Don't Think Twice, It's Alright," Cowboy Junkies perform their heartbreaking version of Tim Buckley's "Once I Was" and Bruce Hornsby checks in with a stunning version of The Lovin' Spoonful's "Darlin' Be Home Soon." THE VILLAGE: A CELEBRATION OF THE MUSIC OF GREENWICH VILLAGE will be released worldwide on November 3rd on 429 Records.
Says Susan Rotolo author of the recent bestseller "A Freewheelin' Time: A Memoir of Greenwich Village in the Sixties" and writer of THE VILLAGE liner notes: "The performers from that time, and the songs they wrote, made a notable contribution not only to the legend of Greenwich Village but also to music in general. No one who is young, making music and hanging out, thinks in historical terms, but the passage of time allows for such a perspective. Cultural history was made."
Adds participating VILLAGE artist John Oates (of Hall & Oates): "Greenwich Village has meant a lot to me over the years. Not only did I live there for a long, long tme, but many of my pop songs and the things that I did with Daryl Hall have been inspired by living in the village. It have a unique ambience and atmosphere--such a magical place!"
Says Steve Vining, President of the Savoy Label Group: "It's been gratifying to pursue this project and find so many artists who felt compelled to be a part of THE VILLAGE because the music from that time had such a strong impact on them creatively and as individuals. It's been a labor of love for all of us and we're extremely proud of the result."
THE VILLAGE artists and songs:
Lucinda Williams Positively 4th Street (Dylan)
Rachael Yamagata Both Sides Now (Mitchell)
Mary Chapin Carpenter Violets of Dawn (Andersen)
Shelby Lynne Don't Think Twice, It's Alright (Dylan)
Marshall Crenshaw Didn't Want to Have to Do It (Sebastian)
Amos Lee Little Bit of Rain (Neil)
Cary Brothers Something on Your Mind (McNeely)
Rocco DeLuca Ballad of Hollis Brown (Dylan)
Cowboy Junkies Once I Was (Buckley)
Sixpence None the Richer Wayfaring Stranger (Traditional)
Rickie Lee Jones Subterranean Homesick Blues (Dylan)
John Oates He Was a Friend of Mine (Traditional)
Mikey Powell Hard Rain's Gonna Fall (Dylan)
The Duhks It's Alright Ma, I'm Only Bleeding (Dylan)
Los Lobos Guantanamara (Diaz)
Bruce Hornsby Darlin' Be Home Soon (Sebastian)
Jesse Malin I Am a Rock (Simon)
Matt Nathanson I Ain't Marching (Ochs)
THE VILLAGE will be released on November 3rd on 429 Records and be distributed by Fontana in the U.S. and E1 (formerly Koch) in Canada. The European release will also be on November 3 via SLG's agreement with Proper Music Distribution and the Australian release via Universal will take place on October 30th. A comprehensive press, radio, viral and traditional marketing and retail advertising campaign will be launched in each of the key international territories.
EXTRA: MEWSEUM: A SONIC EXPERIENCE WITH MEW

Special Performance Event to Celebrate Mew's New Album, No More Stories...

Columbia Records presents Mewseum at Zune L.A. which will consist of a six day still and cinematic installation and a special performance event on August 31st. The Danish art rockers are internationally renowned for their visually and musically captivating experience filled with originally produced animations and layer upon layer of dreamy melodies, bass and percussion.

Special Performance Event: On August 31st, Mew will perform an intimate show, as well as, premiere a video trilogy for their first three album singles created by award winning director Martin De Thurah. This will include the world premiere of their videos for "Repeaterbeater" and "Beach."

Gallery Information: Mewseum hours will run through the dates August 29th until September 3rd and admission is FREE to all. For hours see below:

8/ 29 Sat: 12pm - 10pm
8/ 30 Sun: 12pm - 6 pm
8/31 Mon: 4pm -10pm - Special Performance Event 7pm - 10pm
9/1 Tues: 4pm - 10pm
9/2 Wed: 4pm - 10pm
9/3 Thurs 4pm - 10pm

The gallery will showcase the Martin de Thurah videos all week long as well as videos from the bands past releases. Images and stills from the current album and videos will also be displayed and a limited edition will be available for purchase along with the cd and vinyl.

Location: Zune L.A. Space on 8275 Beverly Blvd. (at Sweetzer) Los Angeles, CA

In other Mew news, check out Mew's No More Stories... in full on MySpace this week: http://www.myspace.com/mew The Danish trio is premiering their album in anticipation of the August 25th release of their long awaited follow up to And the Glass Handed Kites.

EELS OFFER FREE DOWNLOAD TO FANS UPON EXCLUSIVE VINYL RELEASE
The MySpace Transmission Sessions is featuring a performance by EELS leader Mark Oliver Everett aka "E." Watch footage of E being interviewed and performing 5 songs, and download the audio for all 5 songs FREE for a limited time right now, right here:
http://www.myspace.com/transmissions
The complete session including a 6th song, "The Longing," is being released on limited edition 12" vinyl Sept. 1.
EXTRA - (RED) / LIVE NATION CONCERT DATES:
(RED) AND LIVE NATION ANNOUNCE NEW DATES FOR (RED)NIGHTS, THE CONCERT SERIES TO HELP ELIMINATE
AIDS IN AFRICA

NEW SLATE FEATURES CONCERTS BY BUILT TO SPILL, THIEVERY CORPORATION, BRANDI CARLILE AND MORE

FOLLOWS SUCCESSFUL FIRST ROUND OF SHOWS BY FALL OUT BOY, KATY PERRY, SANTIGOLD, AMONG OTHERS

"As the lights dimmed before [Matisyahu and K'Naan] came on, the only light still visibly shining was the (RED)NIGHTS logo illuminated on the walls, a symbol that even amongst something as bleak and devastating like AIDS and HIV, there is still hope." James Boyce, Huffington Post

(RED) and Live Nation today announce new dates for (RED)NIGHTS, an innovative series of 26 concerts in the U.S. to generate money and awareness for the ultimate goal of eliminating AIDS in Africa. The new set of shows will feature concerts by (RED)NIGHTS artists Built to Spill, Thievery Corporation, Brandi Carlile, Ingrid Michaelson, Joshua Radin and Sondre Lerche at venues such as The Fillmore in San Francisco, The Paradise in Boston and the House of Blues in Chicago.

The new (RED)NIGHTS dates follow a successful first round of concerts, which earned attention in Rolling Stone, The New York Times, NME, Time Out New York and the Dallas Morning News. For the first set of shows, Fall Out Boy, Katy Perry, Gomez, Santigold, O.A.R., Lisa Hannigan, The Veronicas, Matisyahu and K'Naan each turned one of their concerts (RED) to bring the (RED) experience to life in a new way. At each of these shows, (RED)NIGHTS and the community of acclaimed artists aimed to inspire fans to participate in (RED)'s mission to eliminate AIDS in Africa by pausing to highlight the many ways to get involved and encouraging those in the audience to share the message and experience with others.

"I believe no person deserves to suffer from a preventable, treatable disease simply because they can't afford medicine," said Marc Roberge of O.A.R. "If bringing awareness to what (RED) is doing helps one person receive antiretroviral treatment and live a healthy life, we have accomplished our goal."

Ultimately, it is the goal of (RED)NIGHTS to build a community--of artists, concertgoers and music fans everywhere--that is passionate about helping to fight AIDS in Africa. A portion of the proceeds of each (RED)NIGHTS concert goes directly to the Global Fund (theglobalfund.org
June 12 The Veronicas @ House of Blues New Orleans, LA

June 16 Matisyahu w/ K'Naan @ The Wiltern Los Angeles, CA

June 18 Santigold @ House of Blues Dallas, TX

June 19 Lisa Hannigan @ Gramercy Theater New York, NY

July 28 Katy Perry @ Hammerstein Ballroom New York, NY

August 2 Gomez @ House of Blues San Diego, CA

August 13 & 14 O.A.R. @ Bank of America Pavilion Boston, MA

August 19 Fall Out Boy @ The Pageant St. Louis, MO

September 12 Ingrid Michaelson @ The Paradise Boston, MA

September 13 Sondre Lerche @ The Paradise Boston, MA

September 24 Joshua Radin @ House of Blues Chicago, IL

September 25 Brandi Carlile @ House of Blues Chicago, IL

October 3 Ingrid Michaelson @ House of Blues San Diego, CA

October 4 Thievery Corporation @ House of Blues Dallas, TX

October 9 Thievery Corporation @ The Fillmore Miami, FL

Oct. 31 & Nov. 1 Built to Spill @ The Fillmore San Francisco, CA
EXTRA - YONDER MOUNTAIN STRING BAND TOURING WITH DAVE MATTHEWS BAND
Following their headlining album-release show at Red Rocks this August 28th, the pioneering acoustic alchemists of Yonder Mountain String Band will join Dave Matthews as openers on four dates this September. Their first date with DMB, Sept. 1 in West Valley City, UT, coincides with the release of their new album The Show . Following that, they head to the Gorge Amphitheater in George, WA for three more dates with Matthews.

It's a fitting pairing; the St. Paul Pioneer Press notes that in fusing rock, bluegass, and more, Yonder Mountain "create original tunes that allow for lengthy interweaving improvisations and soaring solos on banjo and mandolin. It's nice to have a folk band that believes in long-form live experiences. And even better that they've developed such a following."

And while the quartet are more than comfortable performing on a bill with a Dave Matthews or Jon Fishman (of Phish), they're equally at home with bluegrass legends like Bela Fleck, Hot Tuna, Sam Bush, The McCoury Brothers, Darol Anger, and Mike Marshall, all of whom they've shared a stage with in their decade together.
Their new album The Show is out September 1.