Someone dies from gun violence every 16 minutes in America.

YOU CAN DO SOMETHING ABOUT IT is a series of frank interviews with passionate men and women who are leaders, activists and influencers on the subject of gun violence in America. Some have been my teachers, champions and support system on this very complicated and emotional journey and some I have admired from afar for their bravery, audacity and indomitable commitment to the cause. Although our backgrounds, experiences and the challenges we face in our work are as complex as the causes and the solutions to this epidemic, all have shown that there is more that can be done to end this senseless loss of human life. I am proud to introduce you to each of them and excited to share their insights into how all of us can be a part of the solution to "Raise The Caliber" of our communities.
Interview No. 10 Meet U.S. Senator Richard Blumenthal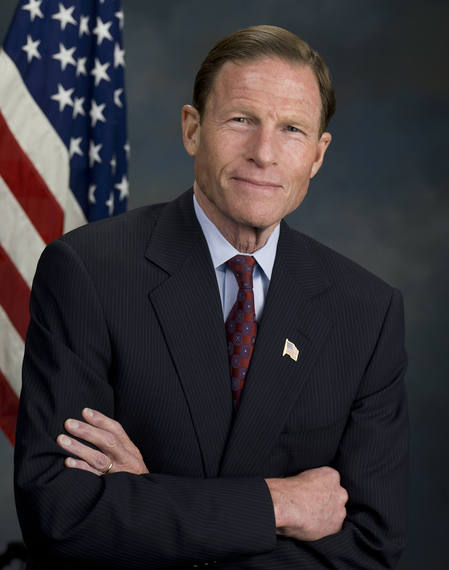 Occupation/Title:
U.S. Senator
Age: 70

Race/Nationality: Caucasian
Where do you live?
Greenwich, CT
What quote do you live by?
"Ask not what your country can do for you. Ask what you can do for your country."
- President John F. Kennedy
What are you most proud of about your work/life?
My wife, Cynthia, and our children.
What is the biggest challenge you face in your work?
Working for bipartisan solutions and overcoming polarizing political contention, to achieve solutions on gun violence prevention, jobs and economic growth, and other critical issues.
Why do you think we have such a problem with gun violence in America?
A problem as serious and complicated as gun violence will always have multiple causes. One key cause is Americans' easy access to firearms without background checks that would keep firearms away from criminals and others. Any serious solution to the problem of gun violence must begin by addressing this fact.
What do you think is the biggest misconception about why we have such a problem with gun violence in America?
Americans have been told for years that the people cannot beat the gun lobby. The power of the NRA has generally been untested, but when Americans feel strongly about gun violence - as they did in the early 1990s, when the Brady Handgun Violence Prevention Act and the assault weapons ban were passed - their representatives in Congress respond. We will discover in the coming years that the gun lobby is beatable. When Americans stand up and speak out for commonsense reforms, we will win.
Do you think there a law that the government could enact that would really make a difference in reducing gun violence and building safe communities?
Several proposals in a gun violence prevention law would make a meaningful difference, including universal background checks, a ban on straw purchases and illegal trafficking. Mental health and school safety must also be addressed. Universal background checks would be a game changer. But even smaller solutions could help. Shortly after the Newtown shootings, one of the Newtown parents testified before the Senate Judiciary Committee that something as simple as banning magazines that carry more than ten bullets would force a mass shooter to reload. The moment when a shooter is reloading is frequently the time when he can be disarmed. The 11th bullet--the bullet that a mass shooter never fires--could be the one to kill another innocent victim. Every incremental step in the right direction means lives saved. Dozens of proposals would constitute meaningful steps in the right direction.
What are three things the average American citizen can do to "Raise The Caliber" of their community?
Americans can follow your lead in helping to remember the millions of Americans affected by gun violence.
First, if you know somebody who has been affected, let them know you care.
Second, look out for individuals whose mental or emotional issues and anger could make them the next mass shooter. If we care enough to identify these people and try to help them find treatment, we can stop the next tragedy before it happens.
Third, participate in your democracy. Among the biggest enemies in the fight to pass commonsense gun laws are apathy and resignation.

Is there a must read book or article on this topic that has educated and inspired you?
In June of 2013, the Washington Post wrote an article titled "After Newtown Shooting, Mourning Parents Enter into the Lonely Quiet" by Eli Saslow. It's about Mark and Jackie Barden, who lost their son Daniel at Sandy Hook. It's not a particularly political article. It just documents how Mark and Jackie learned to cope with their loss, and how they channeled their pain into trying to do good for others. For many of us who know Mark and Jackie, the article is a reminder of just how impressive they are. But more broadly, the article shows us that behind the often political debate over gun violence, the goal for many is really about healing--helping families and communities and our country heal the horror and hurt from gun violence. The epidemic of gun violence, killing more than 30 thousand Americans every year, is a public health crisis that must be addressed with the same sense of urgency demanded by a devastating disease.
Jessica Mindich began the Caliber Collection in January 2012 as a collaboration with the Mayor of Newark, NJ, Cory Booker, as a way to turn illegal and unwanted guns from our cities' streets into jewelry. Their vision was to create a virtuous cycle by funding gun buyback and amnesty programs from the proceeds of the sales from the Caliber Collection. The jewelry is made with the serial numbers from illegal guns and the metal from shell casings. The Caliber Collection donates 20% of the net proceeds to fund voluntary gun buyback and amnesty programs in some of the toughest cities in America. To date, they have taken over 1,000 illegal guns off the streets and have raised over $100,000 for police departments in Newark, Hartford, the San Francisco Bay Area and Detroit from the sale of Caliber products to customers in over 85 countries.
From the success of the Caliber Collection, Jessica created The Caliber Foundation, which offers support to victims, families and communities who have been affected by illegal gun violence. The Caliber Foundation is the proud recipient of grants from MTV, Shepard Fairey/Obey Giant and The Serena Williams Foundation. Jessica is also the founder of the Raise The Caliber initiative, a National advocacy campaign to end illegal gun violence. Proceeds from partnerships under Raise The Caliber are donated to the Caliber Foundation.
Popular in the Community