The following is an interview with Shepard Fairey by Bruce Helander, presented as an informative adjunct to the recent article, "Good Shepard at Art Wynwood 2017" in The Huffington Post. Fairey's answers are verbatim and unedited. The interview was conducted via email in mid-February 2017, and originally was planned to be incorporated with the Art Wynwood piece as one article, but for the sake of clarity has been offered as a separate entity.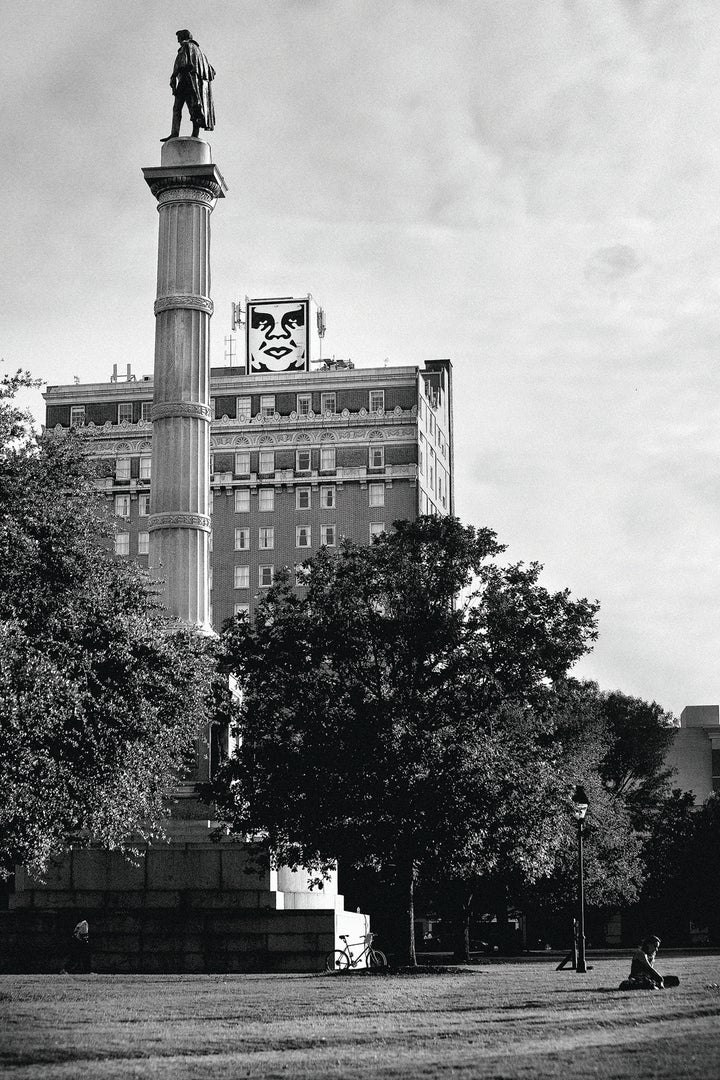 Bruce Helander: You were born in Charleston, South Carolina, arguably one of America's most beautiful and historic cities. Did growing up in that area and having an appreciation of the built environment there, influence your creativity and direction?
Shepard Fairey: Living in Charleston did influence my artistic direction in a number of ways. I think everyone is impacted by their environment. Initially, I was surrounded by more traditional and quaint art - things like landscapes, floral and wildlife paintings. For some reason, watercolors are very popular in Charleston. I grew up drawing and painting a lot of what was around me in Charleston, including historic homes. My parents started paying me $5 each to do pen and ink renderings of their friend's houses as Christmas gifts. Some of them bragged that they still have them and that they're worth $6-8 now. Eventually, though, what inspired my art about Charleston, was my reaction against the conservative structure of the place. I discovered skateboarding and punk rock, which gave me a rebellious, creative alternative to Charleston,A which was very therapeutic.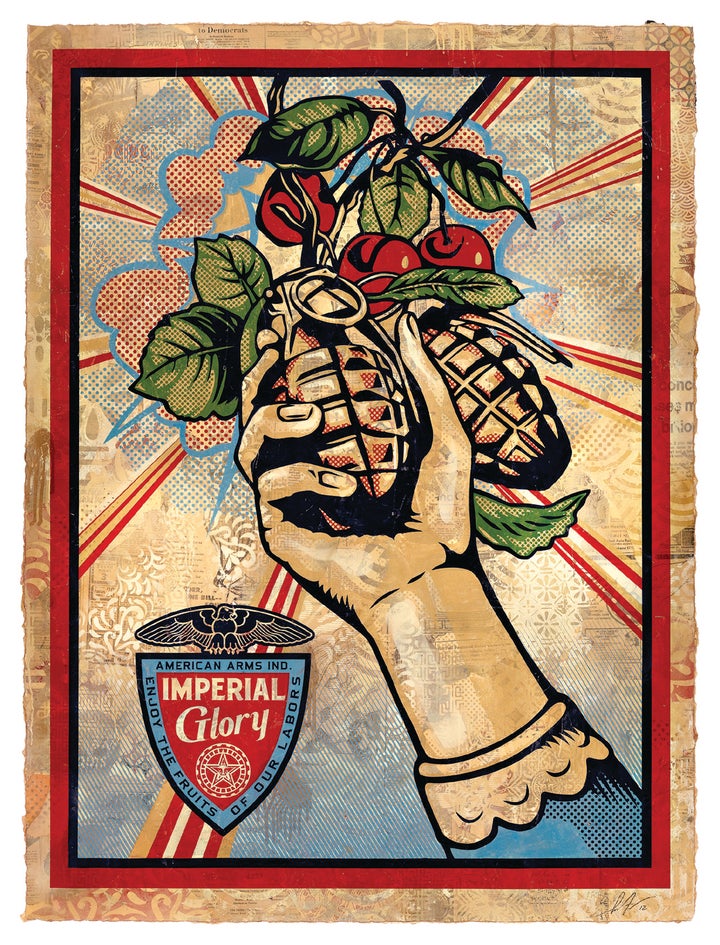 BH: We both attended RISD, which recently was again named the top art school in America, and Artsy also reported the highest earning graduates were from RISD based on auction records. Also at RISD, there was an incredible level of ambition and achievement in former students during my time there, such as Dale Chihuly, Martin Mull, David Byrne, Nicole Miller, Charles Rocket, and Jenny Holzer, among others. How did your RISD experience affect your direction and career and ambition?
SF: RISD is a school that gives you access to great facilities, very talented professors but most of all talented and competitive peers. The assignment load is very heavy, but the pressure to not look bad in comparison to your peers is a very intense driving force. When RISD said that the foundation is intended to both build important skills for any major but also weed out those who were less driven, I rolled my eyes until school started and I was only getting about 4 hours of sleep per night if I was lucky.
BH: Do you have a favorite place or a city to put up your art in the streets? From outside to inside, now showing in galleries and museums: has this changed in any way how you look at street art? What's coming up with your affiliation at Jacob Lewis Gallery, and what projects do you have in mind?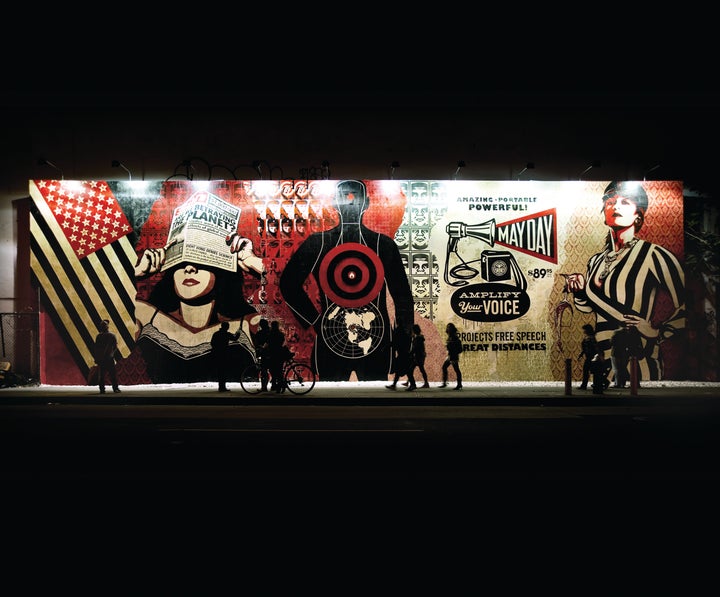 SF: For years, New York was my favorite because it's very densely populated. It's the birthplace of graffiti, and most people walk, so they actually have an opportunity to notice not only the big pieces of public art but even small things like a stencil or a sticker. New York has changed, though, it's much cleaner and much less open to bohemian types with more creativity than money. I still like New York, but I think somewhere like formerly East Berlin, has more of the spirit I used to like about New York.
I have an ongoing relationship with Jacob Lewis through his fine art gallery, as well as his involvement with Pace Prints. At the Wynwood Art Fair, I'll be showing works with Jacob including prints and originals. Jacob is helping to facilitate a museum show in West Virginia that I'm excited about. He is constantly facilitating projects for me based on his very thorough understanding of my history and philosophies.
BH: Who did you look up to in the graffiti world early on? As you were developing your images, did you get a chance to meet some of the graffiti artists? Were there collaborations early on?
SF: I loved Futura because he worked with my favorite band The Clash and also designed t-shirts and other merchandise that fell loosely into the skateboard and streetwear worlds. I met him pretty early on in New York along with some other legends like ZEPHYR and HAZE, all of whom were very friendly to me, I believe because they respected the amount of work I was doing on the street. On the west coast, I was really inspired by TWIST/Barry McGee from San Francisco who I saw up on the streets in San Francisco, in skateboard magazines, and in New York and Boston. TWIST was the first graffiti artist who I thought translated the energy of the street in the gallery environment in a way that succeeded at the highest level of installation of art and fine art. TWIST was very supportive of my work, and he was one of the main inspirations for me to feel I could develop my street iconography as a body of fine art also.
BH: Graffiti seems to be getting a lot more sophisticated, particularly as the broadside posters have come into the mainstream, and or even collectible, in some ways replacing spray paint. What changes do you see, and are there other artists that you respect who are following your lead?
SF: Some people define graffiti as only with spray paint, but I've always looked at any art done on the street without permission as graffiti. Merriam-Webster defines graffiti as, "usually unauthorized writing or drawing on a public surface," so I think that posters, stencils, mosaics, etc. all qualify as graffiti and that each artist should use the technique that most effectively translates their aesthetic and works with the practical constraints of time and context. To me, the moment a movement becomes rigid stylistically, it becomes anachronistic and nostalgic, not vibrant and relevant. It's a culture about pushing boundaries and rule-breaking, so it shouldn't be rigid, it should keep moving, and I'm always inspired to see the young innovators. I love what Vhils is doing chiseling into buildings, and ripping through layers of posters. I also think that what JR is doing with his photography, and massive poster installations is very exciting. Space Invader is not new, but I still find his hybrid of ancient techniques with a digital aesthetic very powerful.
BH: Your sensitive and appealing logo poster design for the Perry J. Cohen Foundation is compelling and inspirational. How did your interest evolved into this project?
SF: I met Perry's stepfather Nick Korniloff several years ago during Art Basel and liked him immediately. We stayed in touch casually, but when he told me about what happened to Perry, I think I was the only person who hadn't seen it on the news, and I was surprised and heartbroken for him and his wife, Pam. I have daughters who are fairly close in age to Perry, so it was easy for me to relate to the tragedy. Doing the logo was just driven by my empathy as a parent and connection to Nick as a fellow art lover. I think that if good can come out of tragedy in the form of the foundation, I think that's a great thing for the world and very healthy for Nick and Pam. (For more information about the Perry J. Cohen Foundation: PJFC)
BH: The Barack Obama HOPE poster became iconic, and a recognized symbol for his successful campaign. Now your latest poster design of a scarred women wearing the United States flag as a head scarf seems to be everywhere, at rallies, spotted on CNN—as an activist, you seem to motivate others with a great example of communicative art. What are your plans for the future in this category?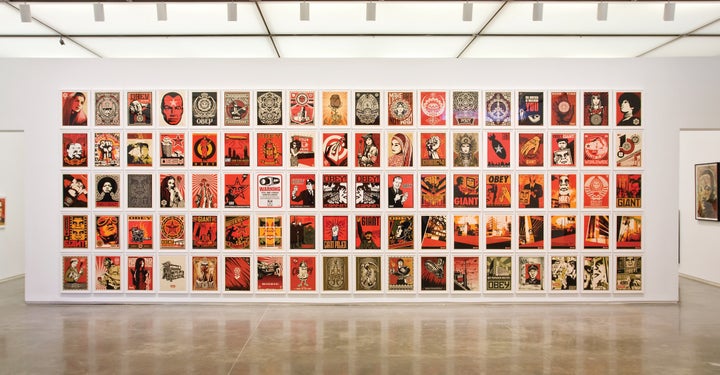 SF: The "We The People" campaign that launched for the Inauguration and the women's marches is an ongoing project. I'll be working on more imagery for the "We The People" campaign specifically, but in general, I'm always working on social and political art. The new administration provides plenty of fuel for new art pieces so even though I'm always activated, I'm especially activated right now.
BH: You are considered by many as the elder statesman of the graffiti movement, and along with that, the most successful artist in this genre in history. What motivates you to still get out there, perhaps in the middle of the night and climb a building, to attach your imagery?
SF: Everything that has happened for me as an artist has been a result of my willingness to take risks and put art on the streets in accessible places. It is important for me to make sure people understand that my do-it-yourself mentality is the same as it has always been, I just have more resources and more opportunities now.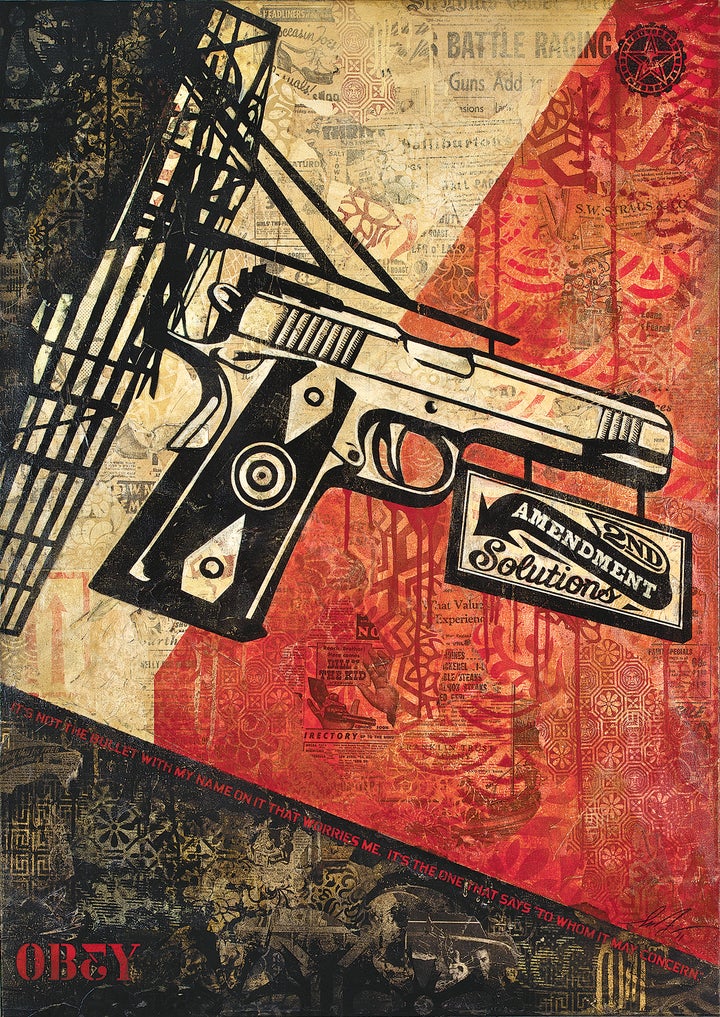 BH: COVERT TO OVERT, the title of your book is my personal favorite Bible for understanding the development of street art on a high-level. It's particularly impressive and memorable, as it ties all your projects together in one beautiful printed portfolio to form a clear and perfect vision of your style and approach. Is there another great book in the works, and how did this amazing document come together?
SF: Thank you, I'm proud of "Covert To Overt," but that book is only a four and a half year period of my work from mid-2010 to the beginning of 2015. I have become smarter about documenting my public art by bringing a good friend Jon Furlong to photograph and video the majority of the large mural installations. I was offered a book deal by Rizzoli, who are a fantastic publisher, and I enjoyed designing a book chronologically around the shows and projects from that period. I have an even larger book called "Supply & Demand" that documents the first 20 years of my career, published by Gingko which recently went out of print. I'm not working on a new book at the moment, but I am now in the habit of documenting my work in a way that makes it much easier for me to design a book when it's time. For my first couple of books, there was a lot of scanning, photographing and retouching that I had to do all at once, now I do that as I go.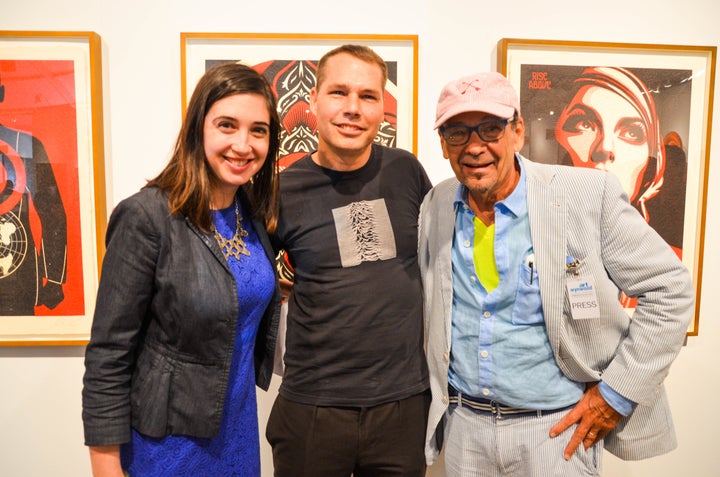 Support HuffPost
The Stakes Have Never Been Higher
Related
Popular in the Community