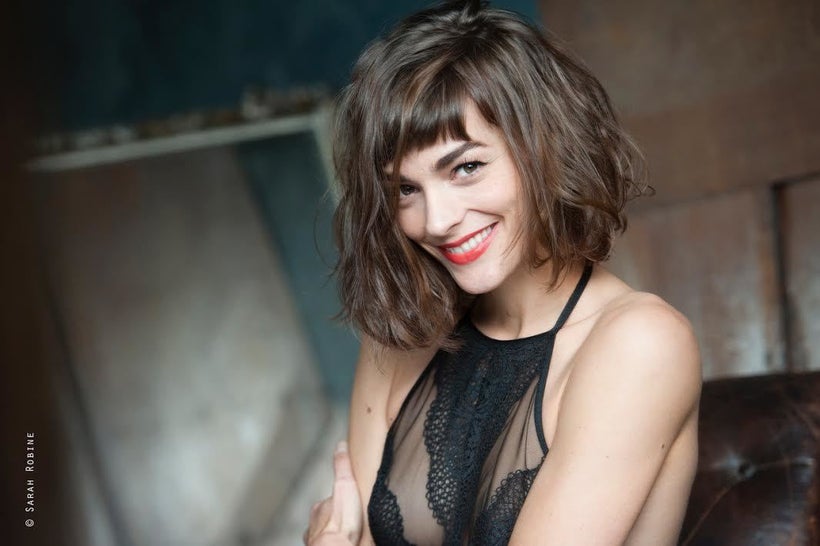 We recently caught up with one of France's most talented and popular actresses Romane Portail who shared some of her fondest memories performing with us, as well as some of the new projects she has coming up. As always, it was a pleasure to catch up with this incredibly talented actress, here is what she had to say:
Please introduce yourself to the readers and how and when did you first get into performing?
I'm a French actress, based in London and before that I lived in Paris for 10 years. Originally I was from a small village near Orléans where my mother runs a typical french restaurant known for « la friture de Loire ». My sisters and I lived above the restaurant which we adopted as our living room. We used to not only eat there, but we would go down to kiss our mother goodnight in pajamas. Because of this, I am used to being surrounded by strangers. I loved talking to the customers as I felt as though I was on stage performing. It was the beginning of getting that buzz! being observed by people and trying not to care so much about it. Going from the restaurant to the theatre or movie set wasn't such a big jump for me. I quickly realized how much I loved telling stories, so I took up acting classes at an early age and never stopped.
What else inspired you to get into the entertainment industry?
I have always been someone who needs freedom which further drew me to acting. This job can be challenging both psychologically and financially but we also have a lifestyle which people seldom have. No boss, no regular days -which can be frightening sometimes but this is something that I just love and appeals to my nature. If I'm being completely honest, I can get bored quite easily. Consequently, I always search for something new. This job was an obvious choice since I can experience new things all the time. Both at the emotional level by portraying many different characters and by meeting new people on set or on stage. Every movie or play is a new adventure to experience and I feel so grateful for that.
What kind of training have you had, if any?
I am passionate about training. As far as I am concerned, I feel like acting is a work in progress, an ongoing process. That's why I took up acting classes from early childhood. When I was 16, I auditioned for the Conservatory of Dramatic Arts of Orléans and I was lucky to be selected by the director, Jean Claude Cotillard (Marion's father!). After 3 years of training, I auditioned for one of the three most reputable acting schools in France, the ENSATT (National Drama School) and got in. I felt extremely lucky as the selection process was very tough. I was one of the 12 actors chosen out of 800 applicants. We were entitled to a 3 year scholarship paid by the French State. France is very supportive of the arts, which really is amazing. I have been so blessed to have had the best teaching possible, but in the end it's through professional work that I gained a deeper understanding of the craft.
What has been your favorite role to play so far?
I have had lots of roles that I really enjoyed but one of the most exciting ones was the lead role of Alix Altiverdi in Urban Jungle, a new format series consisting of ten 10 minute episodes. It was a horror series shot in Prague and I must say that it gave me my fix for new adventures! For instance, one day I was chased by crocodiles in the sewers of Prague and the next day chased by snakes, rats or cockroaches.. As you can imagine, it was a lot of fun!
What has been one of the most exciting achievements of your career so far?
I was shooting a TV movie and on the last day I got a call from Bernard Tapie, a very popular celebrity in France, asking me to meet with him the following day. He explained that the actress co-starring with him on stage had to quit due to a sudden illness and was convinced that I was the only actress who could take over the part. He then added that if I said yes, the play would open within seven days. It was a real challenge since that play was a two-hander which meant I was always on stage! Needless to say that those seven days were the craziest of my life. Thinking about it, I can still feel my knees shaking the way they shook the day of the opening! This was a real achievement for me as I was able to pull it off. I now know that I can do things under extreme time restrictions and pressure. Thankfully, it was a big success!
What projects do you have coming up?
Urban Jungle will be released this month and we'll soon find out if there'll be a second season. Also, later this month, I am in new series for channel one in France. I also have several exciting projects in the works , but I'd rather not talk about it yet as I am a bit superstitious (laughs).
Who would you most like to work with?
Directors like Darren Aronofsky and Tim Burton have always appealed to me. I love art that represents the world in a slightly kooky and absurd way. It reflects my own imagination. An actress that I have always looked up to and would of course love to work with is Marion Cotillard. Not only is she an extraordinary actress, but we grew up in the same city and her parents were my teachers - so she is someone I have always felt affiliated to.
What are your plans for the future?
I moved to London 2 years ago in order to develop an international career. I have an agent here in London and I've just signed with a great manager in LA. My plans are to continue working in Europe and continuing my career in the US.
What is your advice to aspiring performers?
I would say to take it step by step, this is a marathon , not a sprint. Don't let your passion be dictated to by others. Remember, you're on your own unique path and as Robert Frost says "there is no wrong road". so never compare yourself to others. Be true to who are and breathe!
Urban Jungle is now released on smart phones - be sure to look out for it!
Calling all HuffPost superfans!
Sign up for membership to become a founding member and help shape HuffPost's next chapter
This post was published on the now-closed HuffPost Contributor platform. Contributors control their own work and posted freely to our site. If you need to flag this entry as abusive,
send us an email
.