The transformational music festival has become a living organism that is continuously evolving, progressing, adapting and improving. Though fundamentally similar, each festival offers a unique adventure that changes depending on location, lineup, and years of experience (or lack thereof). What The Festival is yet another comfortingly familiar yet excitingly diverse event that has become one of the Pacific Northwest's most anticipated parties.
Located in the lush landscape of Dufur, Oregon overlooked by the towering Mt. Hood is What The Festival, a transformational and eco-conscious event taking place during the weekend of June 17th to the 19th. With an electronic and jam based lineup that boasts artists such as Thievery Corporation, Bonobo, Lettuce, Claude Von Stroke, Mr. Carmack, G Jones, French Kiwi Juice and many more, there are several sweet treats luring in patrons from all over the Pacific Northwest, California and beyond. Check out my exclusive interview with What The Festival's co-producer, Keely Montgomery, where we discuss its origins, mission statement and much more.
Morena: What is the history and core team of What The Festival?
Keely: Glen founded and sold a high tech company in the early 2000s and during his early retirement he fell in love with Burning Man. After years of running a theme camp there, he and his wife Tiffany wanted to start a business together. They both saw a need for an art focused music festival in the Pacific Northwest. After meeting Peter Clark, who was involved with many festival productions as well as running a music production company, the 3 decided to embark on the adventure of starting their own festival called What The Festival. I joined the team shortly after its founding, bringing with me a long history of event production skills and become the 4th pillar of the company.
Morena: Tell me about the venue. What are your favorite aspects of it?

Keely: Wolf Run Ranch is owned by the producers, which is a rare occurrence in the festival industry and allows us to put a personal touch on every aspect of the event. Wolf Run Ranch is 250 acres and just east of Mt. Hood. We are surrounded by national forests and have breathtaking views of both Mt. Hood and Mt. Adams. All of our walk-in camping is nestled in between oak and pine trees. A large portion of the property is used for what we call 'The Illuminated Forest,' where we curate both large and small art installations ranging from live painting to tech-art and immersive custom stages.
Morena: Sounds beautiful! What would you say is your mission statement?
Keely: Our mission is to move people: their bodies, their senses, their souls.
Morena: What makes WTF stand out among other transformational festivals?
Keely: One of the many things that sets us apart is comfort. We believe that no matter your age or economic bracket, you should be able to have an elevated comfortable experience at What The Festival. There are places to sit and relax everywhere. We also hand pick delicious local food and craft vendors but what truly sets us apart is that we have 8 different stages all curated for the diverse times of the day, including a daytime 'Splash Pool' for you and thousands of your friends.
Morena: Are there any new elements added to 2016's event?
Keely: We are always adding and fine tuning. This year you will see a third pool, more camping, new art, new themed bars, more food and craft vendors, and a new stage. We are also adding what we are calling the 'Easy Speak Talks.' These are workshops during the day that cover educational topics such as permaculture, sustainability, consent, and manifesting your dreams, just to name a few.

Morena: How does WTF bolster the leave-no-trace philosophy?
Keely: We are proud that a majority of our participants come from a pre-acculturated leave-no-trace community. We reinforce this by social media posts and again as participants arrive at the greeters station. Additionally, we offer free water onsite throughout the festival grounds, which dramatically reduces single use water bottles. We also have a reusable cup program that is available to participants.
Morena: What is the projected amount of people in attendance this year?
Keely: Last year we reached sell out at 5,000. This year our permit allows for 7,500 and we anticipate a sell out.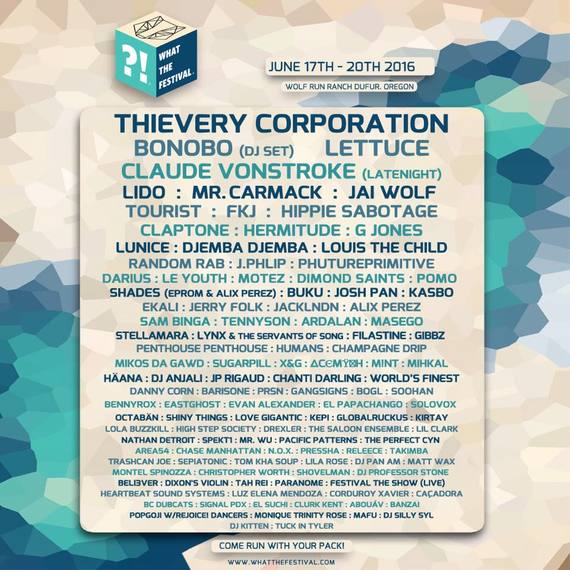 Calling all HuffPost superfans!
Sign up for membership to become a founding member and help shape HuffPost's next chapter