Atlanta based, local-anonymous social app Yik Yak has been growing rapidly, but with controversy, including a Change.org petition of over 70,000 signatures demanding to shut the app down. The company addressed concerns of bullying, with changes to their user experience in February. I spoke with co-founders Brooks Buffington and Tyler Droll prior to then.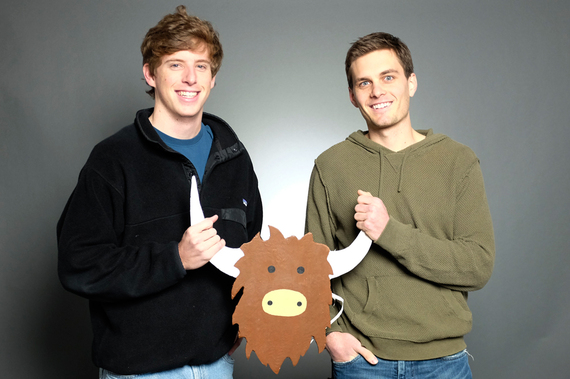 How do you categorize your app or explain it to a person who has never heard of it?
We'd call it a local, anonymous Twitter. We show you the 100 most recent posts within a 1.5-mile radius. But you don't have to friend each other or follow each other. It's an open network. It's like a bulletin board for your area.

Where did the idea for the app come from?
We saw a need to create conversations and build communities without prerequisites like prior relationships of connections. We also saw the importance of a localized forum that could be open to anyone to discuss events, issues and such going on in a particular area.

Apps like Secret, and Whisper, and your own, all give people an anonymous voice, where a lot of things people say come directly from their id. What do you see as an effect on culture this kind of concept has. What's good from it? What's bad?
We don't see too much of an effect on our culture. Anonymity has existed in some form or another since the dawn of mankind. We think that what's really happened is that people have gotten so used to the idea of your identity being attached to everything due to Facebook, LinkedIn, Twitter, etc., that a lot of people ask why you need to be anonymous. The easy response is why do you need to know who I am? For us, being anonymous means that everyone is on an equal playing field. That means that everyone's content is treated the same way, no matter who you are. The bad is that many people associate anonymity with bad behavior. It seems as though anonymous networks are sort of under the magnifying glass, but that's to be expected when you're in a new and growing space.

Where do you see yourselves in three years?
We see ourselves becoming the premier hyper-local app. A lot of people have tried to corner the local market but no one is going at it quite the way that we are.

YikYak has not been without its controversies. What is your biggest concern with the platform and what have you been doing to address it?
We recognize that with any social app or network, there is the likelihood for misuse from a small group of users, so we have put specific algorithms in place to prevent this from happening. We have geo-fenced almost all primary and secondary schools and turned the app to 17+ in stores to ensure the user base is age appropriate and parents can easily block the app on their children's phones. Additionally, the app monitors conversations and posts, and any negative or harmful behavior will result in the respective user being blocked, or altogether banned from future use. We continue to build out this technology to ensure positive interaction, but we are also finding that as more users sign up and start using the app, each community begins to self-regulate in a positive way.

Who seems to be the average YikYak user?
Right now our average user is a college student. Despite being active for less than a year, we're already ranked alongside Facebook, Twitter and Snapchat in the app store. We've become one of the fastest growing apps in the mobile space, primarily due to our active college user base. A year ago, we were just on a handful of campuses and now we're on around 1500 nation-wide and growing.

Are there plans for an IPO?
Our primary focus is on user experience so we can continue to grow and connect users with each other and their communities.

Do you have an API that you lend out to developers?
No.

HuffPO:
I have permission from their PR firm to use the below photos:
What kind of useful big data does an anonymous posting app have?
Our focus isn't really on data. All we care about is creating an incredible user experience.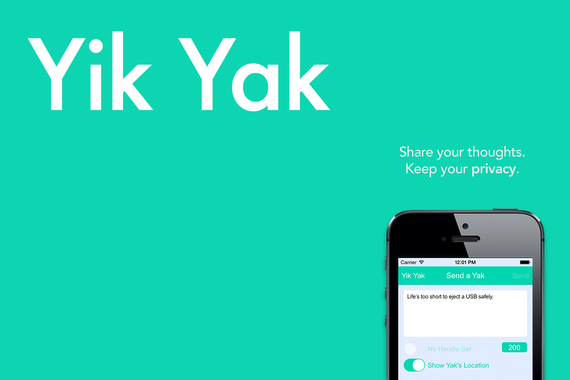 Will there ever be embedable yaks? Or Yak RSS feeds?
As we grow the app, there are a lot of features we plan to integrate in the future. Our focus is to bring the value of Yik Yak to more users and platforms. While we don't want to specifically announce features before they are ready, our users can expect a variety of exciting additions to the app in the coming year.

Is there anything else you'd like to share?

For us anonymity is secondary to location. The local nature of our app is what makes it so special and engaging for users. The anonymity helps to create an engaging experience but it is by no means the primary driver. Location is.
Related