"Many of the images that I have painted are now either gone or renovated beyond recognition. It is both very gratifying to know that I captured them, at least in paint, but crushing to realize that they are now gone."
These are the words of Max Ferguson, a renowned New York artist whose paintings of his father can be viewed until June 29 at New York City's Hebrew Union College Museum. This is Max's 13th solo exhibition of his oils that represent a melding of the sensibilities of Edward Hopper (with his calmness and sharp lighting) as well as Vermeer and other 17th century Dutch painters who Max found particularly attractive and intriguing.
Max depicts his dad, Richard Jacob Ferguson, a native New Yorker who would have turned 100 this year, in many iconic New York City sites, including Katz's Delicatessen, the landmark home to pastrami sandwiches; the city's subway system; the Empire State Building; and Fifth Avenue. His detailed images go beyond simply presenting an urban realism. Rather, each of his more than two dozen paintings in the exhibition convey a sense of intimacy, where his father -- often alone in the scene -- exudes a sense of isolation. (Perhaps it reflects the alienation one feels within the city's urban chaos.)
And, while the images forever capture the visage of his father and the city for all eternity, they also reflect on the passage of time. After all, many of Max's favorite subjects are, not just his father but other elderly folks, as well as old time, pre-chain stores -- tailors, clock and shoe repair shops, doll hospitals and dusty bookstores -- that all reflect a bygone era.
Interestingly, the backside of Max's canvases also provide a surprise: three of the ones in this current exhibition display a collage of photos, scraps cut from magazines, and notations that each reflects a playful chaos, something that you would never expect from Max's meticulously rendered paintings, which have been displayed in the Metropolitan Museum of Art, the New York Historical Society, The British Museum and many other prestigious institutions.
"My work is essentially autobiographical. ... The more personal you get, the more universal you become," Max says. On this Father's Day, viewing "Painting My Father" will give you a glimpse into the soul of this ever skillful artist that will likely move you to reflect on your relationship with your own dad.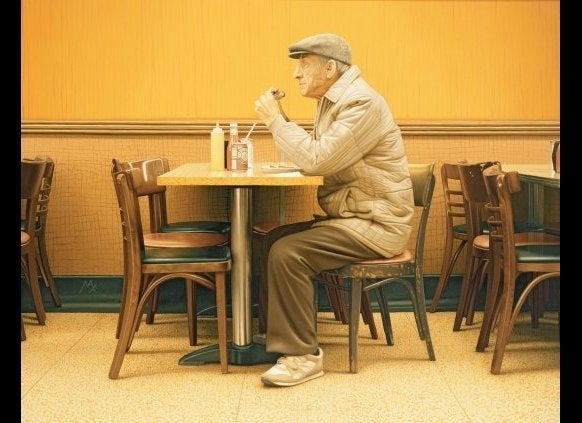 Related
Popular in the Community