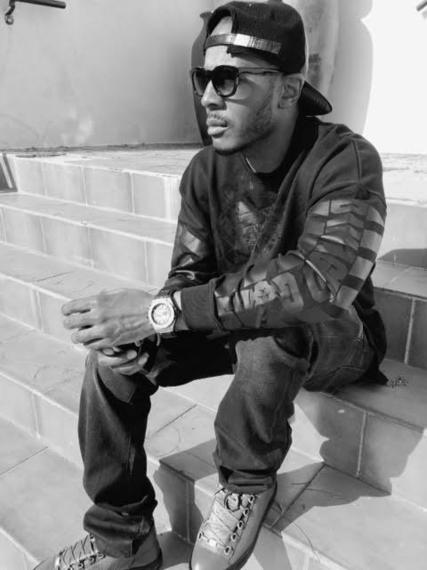 By now, anyone who is anyone already knows, if you see it on Empire -- it's gotta be hot! Week after week they premiere exclusive talent, new artists, trending fashion and music that hits the top of the charts over night. If it's on Empire, I want in. As the second season prepared to launch, the hype around the first episode and the new characters had the Twitter feeds blowing up.
I had the pleasure of chatting with Empire's newest musical genius, Sean Cross while the build up was intensifying. He let me in on some of his intimate memories with close friend and mentor, Producer Swizz Beatz, the importance of his lyrical debut on Fox's hit show Empire and what we can expect from him on Alicia Keys' new album.
We sat on NYC rooftop and he explained how he prepared for his role, how his Faith plays a vital role in his career and what we can expect next. His personality is full of depth and knowledge of his craft and he's anxious to start delivering the quality Hip Hop we've so desperately been waiting for.
Fulfilling the Empire criteria, Cross fits right in with America's favorite show and will touch your heart in this interview.
MM: So, Empire! The biggest prime time TV show has asked you to portray yourself. Sean Cross, tell me, how did that come about and what was your initial reaction to such a huge honor?
SC: I was flooded with emotions. I was like, "Wow, this is Lee Daniels." I didn't really even know what to say. Me and Swizz were already in the studio tweaking some of my music when he came in and was like, "Man, man, you're a genius. This is great. You know, this is man -- like -- you did that?" He was acting like it was extraordinary to him to hear this type of content coming from me.
SC: Yes, that's a great feeling. He said he loved the record that we originally sent to him and it gave him a feel of Gil Scott-Heron. But the content wasn't the direction he wanted for Season two of Empire.
MM: So was it back to the drawing board?
SC: I flat out told him, "We're going to write another one." Daniels quickly said, "All right. You'll fly to LA." Boom, I'm like, "Flying out to LA? Flying to LA for what?" He said, "You will fly to LA tomorrow."
MM: Was that the first time you were put on the spot like that?
SC: Yeah, but in my mind, I wasn't going to say that to him. I'm in compliance with what he's saying. So the next day Swizz and I flew out to LA and were in the studio when Mark Batson said, "Give me something, give me Troubled Man by Marvin Gaye." That's when Mark Batson did Born to Lose. That spawned Born to Lose and I felt it. Whenever I feel it, it's on. I felt it, and that's how I came up with that verse.
MM: So your verse is super descriptive, did you intentionally intertwine the plot with the obvious need to express what's going on in society?
SC: For me, I just want -- as an artist -- I just want my story to be heard on a musical platform, or any other person for that matter that can relate to my life. I want to be their voices in this millennial and beyond this millennial, for the future. Because this opportunity, and for Fox to let me have that platform and say those profound words that normally is not really said on prime time television. I'm already socially conscious and Lee wanted to address the racial injustices that African Americans are going through right now in America. And I think it's very important -- I have children, I've little brothers, I have cousins, I have little cousins -- it's important for me as a voice to use this platform as a steppingstone to get out that, "We can make it happen. We can do it. If I can do it, anybody can do it."
MM: What was your biggest musical struggle while preparing for this role?
SC: I had to build my lyrical content. It was like going back to school for this particular style of music that I'm presenting to the world now. Writing thousands of rhymes and enhancing my vocabulary to compensate words, to not use profanity. I had to slightly refraining from the N-word. It's still hood. It's still ghetto. It's still raw. It's still uncut.
MM: What is your goal with the success you'll gain from the show?
SC: Record deals and all of that la-la-la is nice -- but my ultimate goal is getting the music to the people so they can be receptive to what I'm saying and get to understand what I'm saying. We have party songs, we have love songs, we have pain, we have pleasure, we have happiness. We have all of these things, anger, hip-hop, rap, gangsta, hardcore, conscious. We have all these things embodied into my music. For me, just getting them to be receptive to me, I'm good with that.
MM: How are you preparing for the next wave of your career?
SC: I give all glory to the Lord. All glory goes to the Lord. So I prepare myself spiritually first. I'm spiritually connected with a higher power, and that grounds me and keeps me grounded and prepared. Swizz keeps saying, "You know you're not going to be able to walk around after this like you're walking around now."
MM: How has Swizz (Beatz) helped motivate you throughout the years?
SC: Me and Swizz, we're like a dynamic duo. We're ready, we've prepared, we are well-prepared. I call him the wizard. I call him Phil, the wizard. Phil Jackson, and I'm Jordan. He's calling the play, you know what I mean? In the last ten seconds of the game, you got to pass me the ball and I'll make the play. That's what he's doing, he's passing me the ball and I'm making the plays. He's the wizard. He's drawing it up. All I can do is implement what I've been taught.
I was explaining to one of my homeboys, "We all have gifts. Each and every human being on this earth is gifted. We just have to find that gift." Now, you have to train that gift, like Michael Jordan. Of course, he knew how to play basketball, but now he had to learn the game. That's what I had to do.
MM: So tell me more about how you contributed on Alicia (Keys) album?
SC: Well, the Alicia situation, again, we're spiritually connected. And that came from the creator and the ancestors, because that wasn't planned. Now, I have this record called The Gospel. Alicia, she's such a genius artist, prolific, profound, queen. She represents women to the third power and she's into empowering women, and just human beings period. She's truly one of the Lord's gifts to us.
MM: She truly is a blessing to music, women and society. Tell me how you eventually linked up on her project.
SC: I went to Harold Lilly. He's a part of a team called the Illuminaries that comprises of Swizz, Alicia, Mark Batson, and Harold Lilly. We were in the studio and they began to play music, I grabbed Harold and started whispering verse of a song I had just written. I can feel his body movement go crazy. So he started gesturing to Alicia, and then Swizz was like, "What the hell is going on over there, Cross, turn the shit down." And he was like, "Sis, um-um-um-um-um-um." And when I gave it to her, she said, "Cross, where does this come from?" I said, "Created in the ancestors." It's not me, I don't take no credit for none of this. I'm just a vessel, a tool to be used for a greater purpose. I take no credit for the lyrics of "Empire", all that goes to the creator that allowed me to have the brain to think that through. When she accepted that and said, "Cross, I want this." I said, "Sis, if you want that, you can have it. That's yours." And she took it, and the rest is history.
MM: What's your opinion of today's Hip Hop vs. the legends who inspired you?
SC: The direction of music today is la-la-la. I'm not knocking it, I love it. I love my country brothers that be spitting that crazy shit. Keep spitting. But we're coming back. We started hip-hop, and this is not about North or South or East or West. This is about us creating something that we all buy mansions off of, Bugattis, and all type of beautiful things. We invented this from pain.
MM: Last message to your new fans?
SC: Accept me, ride with me. I'm a spokesperson for you. Do what you do. Get money. Learn. Educate yourself. When you with me, if that shit can take you through your daily day, ride with it, listen to it. I'm not telling you to put all your music down but this is a good product. I stand by it like Pepsi. It's a named brand, I stand by it. So come fuck with me, man. I love you all, man. I love the people. Listen, I want the people to know that I'm for the people by the people from the people. I'm your baby. I'm what you all created. Out of all the trials and tribulations that we went through as people, I'm the spawn of that. S, I'm your representative, B. I'm a get you where you got the gift, I promise.
REAL LIFE. REAL NEWS. REAL VOICES.
Help us tell more of the stories that matter from voices that too often remain unheard.