November is /www.caregiveraction.org/national-family-caregiver-month/"}}">National Family Caregivers Month and to mark the occasion, HuffPost50 published a callout in September from our editor-at-large Rita Wilson seeking stories of inspiring caregivers. We were inundated with submissions, some from family members and some from the caregivers themselves.
In this second installment of a two-part series titled Unsung Heroes: The Faces Of Caregiving In America Today, you'll read about five of the many people across the country who put their own lives on pause to tend to friends and family members who have fallen ill. Another five caregivers were profiled last week. To read more about the state of caregiving in America today, go here.
Coby Budridge, 56, cared for her mother, 82, for two-and-a-half years.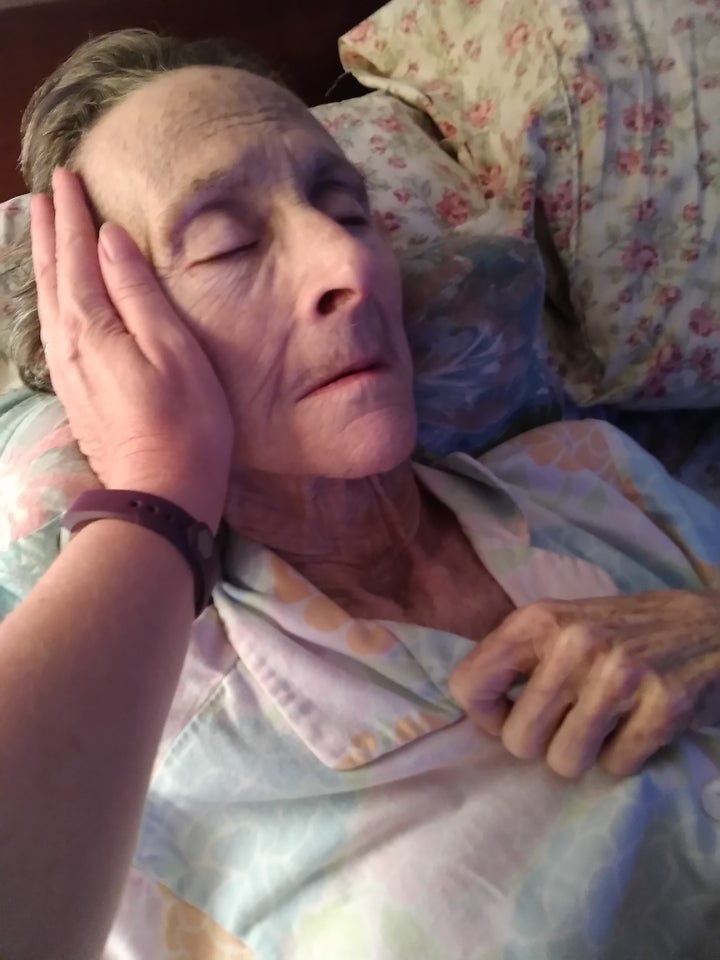 "It's totally unlike me to nominate myself for any accolade. But I learned while caring for my mother, for two-and-a-half years, by myself, that I am in fact an awesomely strong, caring, loving and capable woman. And I'd like to share my story. 
I can't tell you how many times I said, 'I can't do this'... and yet somehow I did. 
I 'had' to. My only sibling was estranged from mom and me. Dad was long gone. She begged me to stay with her at home, to keep her home, to never let 'them' take her away. I made that promise. 
Sleepless nights, when she was restless and in pain. The immense physical effort. The impossible schedule of constant appointments and errands and advocating. The lectures. The encouraging. The mental exhaustion. The awkwardness of bathing and toileting your own mom. The steady divesting myself of all personal opportunity ― school, job, savings, relationships. My own health declining. 
The loneliness. After a fall, a parade of nurses and therapists would come through, but never stayed. Just rapid-fired a bunch of directions at me and left. 'Call us, any time'... rarely an answer. The fear. Sleeping in bed with her, towards the end, watching her simply exist. No one to listen, with me, or to me. 
She stopped eating, because she'd given up. She was dreaming vividly of dad now, and he was telling her he'd 'race her home.' 90 lbs. 80 lbs. 70 lbs. The horror of seeing her so gaunt, almost inhuman. Wondering if she was dead or resting. Arguing with insurance companies and reps and social workers, anyone, for the kind of care that she needed, that I was somehow supposed to provide.
The day hospice finally came, and roughly loaded her on a gurney as she cried and railed at me that I was 'putting her away' ― and 'they' did. They took her away. From home. From me. From the house that had become a tomb.
That last afternoon, in a sparsely furnished hospital room, watching, intently, as her breath slowed from belly to chest to barely any movement at the throat. She didn't blink for the last 90 minutes before she died. Not once. And looked so terrified, by whatever she saw. No nurses. I found drops, to put in her eyes. I tried to close them; they wouldn't stay. The two, deep, agonal breaths, and then it stopping altogether. Nurses now filtering in, checking for pulses. None.
That was two months ago. I just recently stopped waking during the night believing I need to check on her. The feelings are still all there, though ― the frustration, the guilt, the fear, the sadness, the sense of failure, the unconditional love, the resentment, the anxiety ― the I Can't Do This, that defined me for the past two-plus years that felt like my entire lifetime. 
But I did do it. The last year required 24/7 care. There was a visiting nurse aide once every two weeks, which is when I'd go out to get a moment to myself, even if it was just to sit in the car and have a good cry.
I kept my promise, as best I could. At the end, I let 'them' get her. One of the last things she told me was how angry she was at me. That still rings in my ears, as the flurry of post mortem activities now occupies me: sorting through her belongings. Arranging cremation and burial. Estate matters. Family feuds. 
I did do it. And I will do now, what it feels like I can't: Redefine myself. Grieve. Heal. Make new plans. Rebuild from the ground up, at age 56. Believe and have faith that all will be OK again, somehow, some day. 
After this experience ― I don't believe there's much I Can't Do, anymore. 
And during National Family Caregivers  Month, I salute, with my overworked but blessed heart and soul, every other caregiver who knows exactly how it all feels ― and I remind them, You Can Do It. My hand is in yours."
Debbie Sprague, 63, has cared for an ill son, husband, parents and in-laws for more than two decades.
"My first caregiving experience began at age 40, when my son Aaron, 10, was diagnosed with an inoperable, malignant brainstem tumor. I was divorced, and faced with caring for Aaron (who required treatment 250 miles from our home), caring for my 7-year-old daughter, and keeping my job. Five months later, Aaron died at home, in my arms. Many lessons were learned during this time that changed who I am, and how I look at caregiving and my life today.
In 2000, I married Randy, a wonderful, caring man. In 2004, shortly after I turned 50 he began to change ― having nightmares, kicking, and hitting me in his sleep. He began having angry outbursts, depression, and physical pain. He began self-medicating with alcohol and morphine. He was diagnosed with PTSD, and health complications from Agent Orange exposure; a result of two tours of duty in Vietnam over 30 years before.
In 2005, Randy's mother was diagnosed with stage four-lung cancer. We brought her to live with us for her final months. After she passed away, grief took Randy even deeper into the darkness of PTSD. I found myself in that darkness right beside him. I finally sought professional help and I was diagnosed with PTSD. Two therapists advised me to divorce him; after all, I was still young (at 52) and had a full life ahead of me. I chose to honor my marriage vow 'in sickness and in health'.
The past 12 years have been devoted to caring for Randy, whose health has progressively gotten worse. I also began caring for my parents in 2014. My father, 87, began having serious health problems, dementia, and declining physical functioning, and my mother, 86, has dementia. (My father passed in June 2016.)
My time as a caregiver has provided the precious gift that comes with family caregiving, and an opportunity to learn, grow and to be of service to others. I have had experiences and accomplishments that I would have never dreamed possible. I have been blessed to be able to bring knowledge and experience gained in my life, and to give back not only to my family but also to caregivers across the nation in the following ways: 
―- Starting and facilitating a local caregiver support group.
Robert Weaver 78, and his wife Maggie, 68, have been caring for Maggie's brother, Jimmy, for 10 years.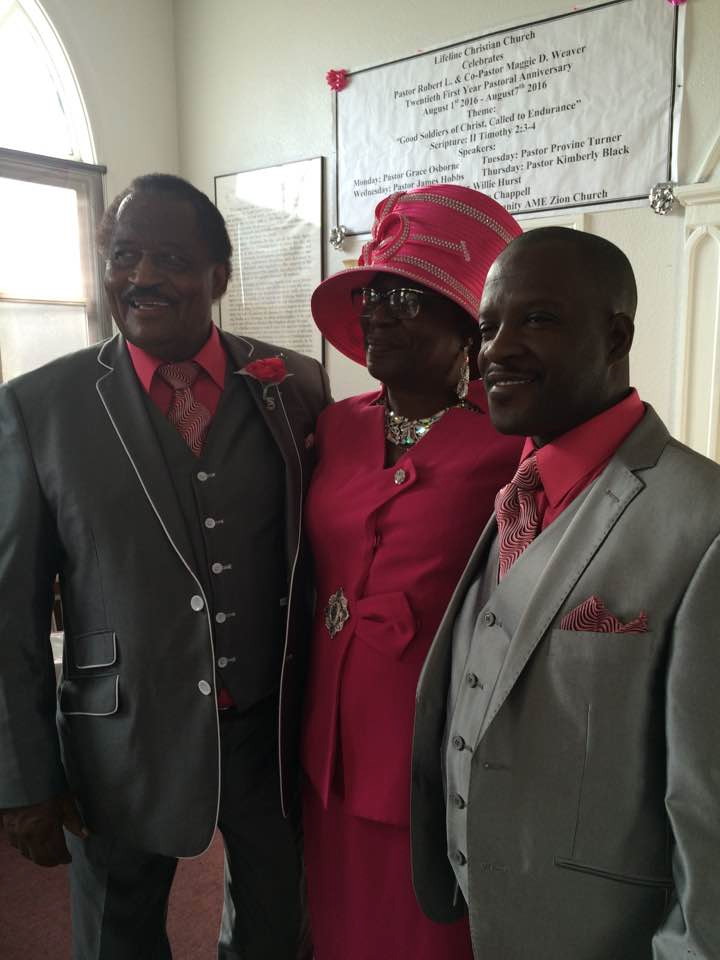 "My grandparents are two of the most selfless people I know and for the last 10 years they have graciously and humbly taken care of my grandmother's youngest brother Jimmy, who has special needs. My grandmother Maggie, who is the oldest of eight children, took him in without the blink of an eye when he wasn't doing well in a group home. They did so so selflessly and quietly that I didn't even know what had happened and one day he was just there and hasn't left since. 
Since then, my grandfather Robert, who is a full-time pastor and probably the kindest and most patient human I've ever experienced, has nurtured Jimmy far more than any medicine or doctor ever could, in my opinion. He makes him laugh until he cries on a daily basis, challenges him, and most importantly allows him to dream. Dream of all the possibilities that fill Jimmy's imaginative mind and know that anything is possible that he sets his sights to.  
Both my grandparents have encountered several life challenges over the years, including my 'granny,' as I call her, being diagnosed with (and beating) breast cancer twice. But even throughout those experiences, they never once thought of Jimmy as too much or as a burden. Instead they daily sing his praises and express thankfulness of how he helps them. 
I can't think of a more deserving couple to be recognized and I hope you agree. Also, as a side note, even though my grandparents are caretakers in their personal life, two of my grandmother's sisters and three of my cousins are also full-time career caregivers. I'm blessed to have such an amazing family."
Mary Hendry, 59, has been caring for her mother for 13 years, and for her grandson since March.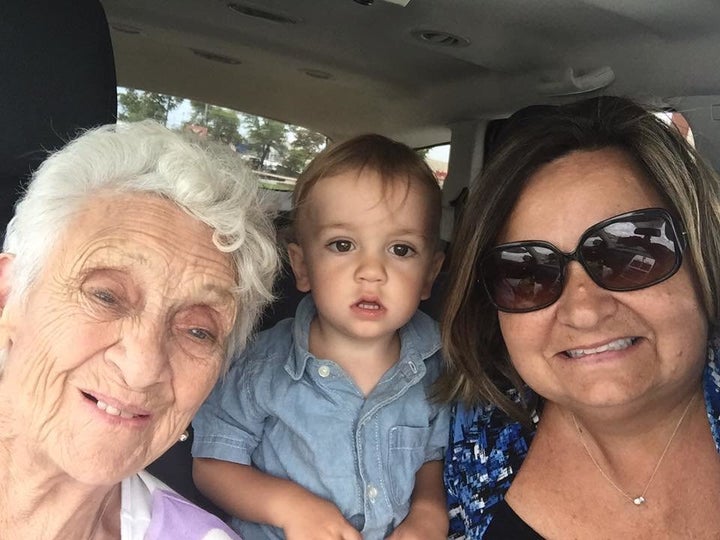 "My mom lives with and cares for her 95-year-old mother, and has been in that role for the last 13 years. I have a 19-month-old son who my mom started watching when I went back to work in March.
This woman wakes up, gets her mom up, dresses her, and comes to my house to care for my son as well.
While I do believe my mother truly lives for her role as a caregiver ― she still is very involved in my sister and my lives, and is always there to help us/text us/call us/visit ― I know it can't always be easy on her. I am so appreciative that she has the 'it takes a village' mentality and selflessly makes life the best she can for her family, which is her true passion.
My mom takes my grandma and my son to the park, for lunch, to visit other relatives, and it's a really wonderful thing to see such a spread of generations out and about, enjoying each other's company.
I've attached a photo that makes me smile – a 'selfie' my mom took of her, my grandma and my son on their way to some adventure or other. I know I am very, very lucky to have her and so are my grandma, my son, my sister and the rest of our family."
Brian Vines, 54, has been caring for his wife, Natalie, 45, since 2009.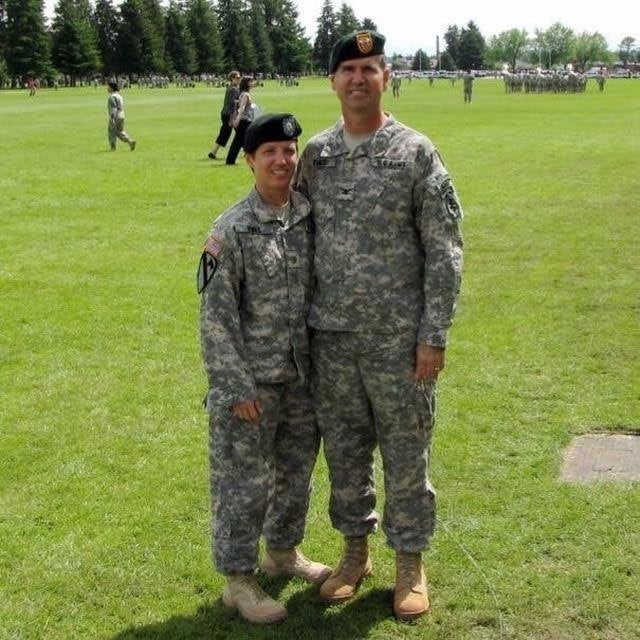 "Brian Vines is a Veteran Caregiver for his disabled wife, Natalie Vines. They have been married for 16 years. Both Brian and Natalie retired from the Army after distinguished and productive careers. Natalie was first injured in Iraq in 2005 by a blast injury and again in 2009. As a result, she suffers from a Traumatic Brain Injury (TBI), seizure disorder, severe migraine headaches, cognitive disorder, and severe Post Traumatic Stress Disorder (PTSD). She requires 24/7 care by Brian to administer medications, assist with balance issues, driving, providing a safe environment when at home and in public, and to manage the household.
After Natalie's second TBI in Iraq in 2009, she began presenting the symptoms of TBI and severe PTSD. Brian found himself totally unprepared to assume the duties and responsibilities of being Natalie's caregiver. In the absence of resources and access to other caregivers, he educated himself through the internet and began reaching out to organizations such as Wounded Warrior Project, Independence Fund, and Yellow Ribbon Fund for assistance. He eventually developed a support group of other caregivers and met a handful of male caregivers caring for their spouses. Brian retired from the Army in 2012 to become Natalie's full time caregiver. 
Brian has become a strong advocate for caregivers. He is a Fellow with the Elizabeth Dole Foundation, which exists to educate, empower, and provide resources to military and veteran caregivers. He also participates in other caregiver organizations such as Hearts of Valor and Hope For The Warriors. Brian knows the pitfalls of caregiver depression and caregiver fatigue. He is active in physical fitness and finds time to serve on the Board of Directors for the Special Operations Association and OASIS Group (a non-profit that assists Special Operations Forces with VA claims). 
Although Brian and Natalie are not living the active retirement life they had envisioned, they are making the best of it. They have moved to central Florida to aid in Natalie's VA health care and to be close to other veterans. Their faith and love for each other has kept them together and helped them deal with life's challenges."
REAL LIFE. REAL NEWS. REAL VOICES.
Help us tell more of the stories that matter from voices that too often remain unheard.
BEFORE YOU GO
PHOTO GALLERY
Tips For Choosing An Elderly Caregiver