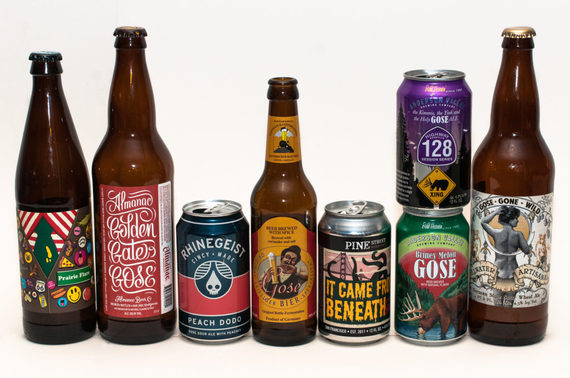 Over the past year or two, you may have noticed a style of beer called gose starting to appear with more regularity at your favorite beer bars, bottle shops, and breweries. Gose is pronounced gohz-uh, and is an old German style of beer experiencing a resurgence in the modern craft beer market.
What exactly is a gose beer?
First, to clear up any confusion over the name, gose is not
gueuze
, which is a
sour made from aged and fresh lambic. Instead, gose is a German-style
that is tart, fruity, and quite refreshing. The primary ingredients in gose beers are wheat, barley, coriander, and salt. Gose is fermented with top fermenting ale yeast as well as lactobacillus, which makes the beer sour. More than half of the gose beers on the market also have fruit, which works perfectly with the sour and salt flavors. The refreshing and tart qualities of a gose is one reason why this beer is so popular, especially as a summer seasonal.
There are many variations of gose beer, but in general a gose has a few common characteristics. The aroma usually has a light sourness and fruitiness, like smelling a fresh-cut lemon, accompanied with a very light grain or fresh bread quality. The salt sometimes gives it a hint of a clean sea breeze. It is typically not a hoppy smelling beer. The flavor has very little bitterness and a light to moderate sourness, which should be noticeable. The flavor of the sourness should be clean, simple, and fruit-like, not "complex" like a Belgian sour. The intensity of the sourness may be balanced by some malty sweetness but should not be overly sweet. A gose should be a crisp, refreshing beer and not something that is overly sugary and cloying. The salt flavors vary from barely noticeable to moderate but never overly salty. Similar to how it affects a sports drink, the salt imparts a refreshing quality and helps enhance the other flavors of the beer. The salt is particularly effective with fruit gose, accentuating the fruit flavors, especially when most of the fruit sugar has been fermented away. Many times a gose is quite effervescent, almost like champagne. Gose is not a strong beer; the alcohol by volume (ABV) is usually under 5% and sometimes as low as 4.2%.
You may be wondering, with salt and coriander in this beer, doesn't that violate the reinheitsgebot, or German Beer Purity Law? It turns out that due to the historical nature of this beer, gose was one of the few styles given an exception to the law.
History of Gose
Originating in the small mining town of Goslar, Germany, gose is a beer style that is hundreds of years old. The salt content of the original Goslar beer was likely due to the presence of salt in the aquifers that fed the breweries, and the sourness was likely due to spontaneous fermentation. There are conflicting reports on the age of this style of beer, but evidence seems to point somewhere between 1181 and 1470. As the popularity of gose declined in Goslar, the style gained popularity over 100 miles to the Southeast in Leipzig, where the first known occurrence of gose dates to 1738. With as many as 80 gose houses by 1900, Leipzig eventually became and still is known as the gose capital of the world. Due to World War II and the Cold War, gose disappeared from Leipzig in 1945, 1966, and again in 1988. After the reunification of Germany in 1989, Leipzig once again started producing gose, with at least two breweries still producing this beer style. In Germany, gose, like
Berliner weisse
, can be served with a dash of raspberry or woodruff syrup or even a liqueur like Curaçao, cherry, or caraway. Alternatively, you can get it
ohne Schuss
, without syrup.
American-made gose beers
With the German tradition of gose and sweet syrup and the American tradition of experimental craft beer, it is no surprise that many American-made gose beers are made with fruit, herbs, and spices. The fruit's flavor is accentuated by salt, and its tartness makes it refreshing and delightful. Modern Times in San Diego has an entire series of fruit gose beers called Fruitlands, featuring apricot, cherry, and passionfruit with guava. Pine Street in San Francisco has a perfectly crafted gose with grapefruit called It Came From Beneath. Rhinegeist in Cincinnati uses peaches in its Peach Dodo. Anderson Valley Brewing from Northern California has a wonderful gose with watermelon called Briney Melon. And the list goes on.
If you're looking for a few good gose beers to try, here's a handful of suggestions:
Leipziger Gose by Gasthaus & Gosebrauerei Bayerischer Bahnhof
This beer comes from Leipzig and is canonical of the style. The aroma has notes of citrus, lemon, pilsner malt, earth, hay, and spicy aroma with a touch of sea breeze. The flavor has a moderate but noticeably amount of sourness with just the right amount of malty sweetness to balance it out. The salt enhances the flavors but is not overwhelming. Refreshing and great on a warm summer day.
The Kimmie, The Yink & The Holy Gose Ale by Anderson Valley Brewing Company
This beer starts with aromas of sweet barley sugar and wheat followed by wafts of lemon, table grapes, wood, and slight salinity. The flavor has a lemon-like tartness but is tempered
by some residual sweetness. The coriander gives it a slight spice quality with enough salt to
bring it all together. It is almost like a refreshing sour lemonade with a pinch or two of salt.
Prairie Flare by Prairie Artisan Ales
This beer is brewed with oranges and the traditional ingredients of coriander and salt. The aroma has notes of spicy coriander, lemons, tangy oranges, and saltwater. The flavor has lemon-like tart acidity and is primarily sour, secondarily salty, with just a tinge of sweetness. A savory quality helps enhance the flavors of the citrus. This beer has an almost champagne-like effervescence that makes it enjoyable to drink.
Golden Gate Gose by Almanac Beer Co.
This gose is made with coriander, lemon verbena, and bay sea salt. This beer has a light lemon scent with a wonderful, almost honey-like floral quality. The flavor has a citrus acidity and a crisp sourness with some residual sweetness and a touch of salt. Golden Gate Gose has a nice balance of flavors that complement the floral and citrus aromas.
It Came from Beneath by Pine Street Brewing
This gose is made with grapefruit, and is a great example of balance between the fruit profile and the traditional gose flavors. The aroma has notes of lemon, pomelo, grapefruit oil, and a touch of clean sea breeze. The flavor is noticeably tart, crisp, and refreshing with a little maltiness and a pinch of residual sweetness to balance the sourness. The salt is noticeable but helps enhance the grapefruit and pomelo flavors. The fizzy effervescence enhances the refreshing quality making it quite quaffable.
Gose Gone Wild by Stillwater Artisanal Beer
Stillwater pushed the limits of the style and created a great beer. It starts with the gose recipe from Westbrook (which I was not able to try), and adds
Brettanomyces
to sour the beer further, making it funky and musky. Finally, the beer is dry hopped to give it more citrus and pine aromas. It may not smell like a salty beer, but it has a moderate amount of saltiness to compliment the tart, lemon-like flavors. It is both refreshing and complex.
Special thanks to the following breweries for providing samples: Rhinegeist, Pine Street, and Anderson Valley.
Related