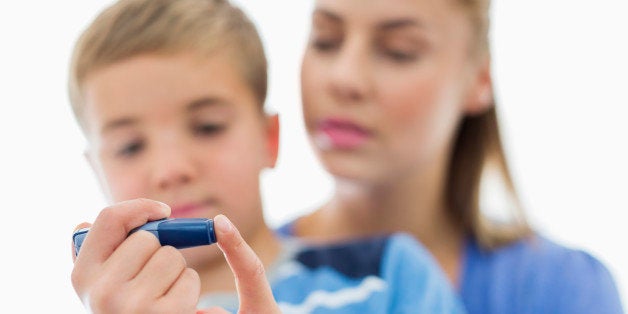 A report released this month highlights a disturbing trend: More and more children and young adults are developing type 2 diabetes, a disease that was previously virtually nonexistent in these age groups -- and one that is linked to unhealthy weight gain.
Nearly every day another report warns us about the consequences of failing to prevent diseases that cost the nation billions in health care costs and lost productivity -- not to mention their toll in human suffering.
As the president of the George Washington University and dean of the Milken Institute School of Public Health, we believe that our nation and the world can no longer afford to pay the high price of treating established diseases and must shift to a more sustainable paradigm -- one focused on keeping people healthy right from the start.
The World Health Organization estimates that 2.8 million people die each year because they are overweight or obese. More than half of all Americans could suffer from obesity by the year 2030, according to a 2012 report. That same report warns that if nothing is done the crisis will lead to millions of new cases of obesity-related diseases, costing the nation a staggering $500 billion in lost economic productivity.
As it stands now, only 3 percent of our health care spending is focused on prevention, yet roughly 75 percent of our health care costs are due to obesity, smoking-related diseases and other preventable conditions, according to a 2012 report.And a 2010 white paper suggests our per capita health care spending is more than twice the average spent by other countries.This despite the fact that for the first time in history, our children face the very real possibility of living shorter, sicker lives than their parents.
Prevention of obesity and other chronic diseases means changing not just our health care system but also our environment to one that promotes wellness and health. We can invest more in solutions that help people ward off diseases and stay healthy at an early age. We can, for example, make nutritious foods readily available in schools; create safe places for both children and adults to get out and move; and launch proven prevention programs such as toll-free phone lines for smokers who want to quit.
Investing now in such programs will not only save lives but save money in the long run. According to one analysis, an investment of just $10 per person per year in programs aimed at tackling obesity or the prevention of tobacco use could save the nation more than $16 billion over a five-year period. That's a healthy return on the investment -- and one that we can't afford not to make.
At the George Washington University,we recently received an $80 million donation from the Milken Institute, the Sumner M. Redstone Charitable Foundation and the Milken Family Fund -- donors who recognize the vital importance of shifting the paradigm from curing diseases to preventing them.
Thanks to those extraordinary investments, we are dramatically expanding our commitment to research aimed at health promotion. We have established the Sumner M. Redstone Global Center for Prevention and Wellness, a hub of national and global expertise dedicated to finding ways to prevent obesity and other chronic conditions that have reached near epidemic levels in the United States and around the world.
To make inroads into obesity, chronic diseases and other surging public health threats, we will need to work on these issues collectively. Universities must devote their talent to identifying new pathways to wellness. Governments must continue to fund new research and adopt policies that put the best research findings into practice. And, increasingly, private philanthropists will have to form partnerships in order to marshal the resources that will be needed to create a healthier, more sustainable world.
We must start working together today if we are to leave a legacy of good health for our children and grandchildren.
REAL LIFE. REAL NEWS. REAL VOICES.
Help us tell more of the stories that matter from voices that too often remain unheard.