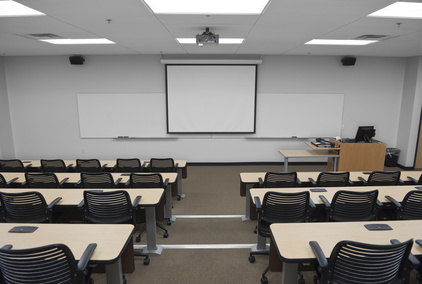 When someone thinks about Masters in Business Administration (MBA) programs thoughts of Harvard, Yale, and Princeton come to mind. For most, I imagine, the image of a young man or woman in a smart suit and perhaps carrying a laptop to class is standard. This is not one of those types of stories.
While already a mainstay in the prisoner college correspondence arena, Adams State University (1)
a Colorado-based school which for years has offered prisoners the opportunity of earning a college undergraduate degree from behind bars, has stepped out as the only regionally accredited correspondence program in the country that offers graduate degrees to their incarcerated students. Now the realm of legitimate, rigorous graduate-level study is available to prisoners housed across the United States. This is no small step or opportunity as it has changed the landscape of prison education by leaps and bounds.
According to the program's prospectus, "Adams State University Master of Business Administration will provide access and opportunity for local, national and international students to further their education by improving their professional management, leadership, and analytical skills, thus enhancing their career and earning potential. . . . The Master of Business Administration program will provide high quality courses that are rigorous, transferable at the graduate level, and provided at a reasonable cost."
While college correspondence courses are nothing new, and stalwarts such as Ohio University and Colorado State University at Pueblo have also long offered courses to prisoners, the idea of a regionally accredited graduate degree program that prisoners can complete is quite remarkable and is gathering interest from prisoners and non-prisoners alike.
According to Ifeoma Ajunwa (2) assistant professor of law at the University of the District of Columbia, "in an increasingly credentialist society, where a college degree is now the equivalent of what a high school diploma was years ago, it is imperative that the government remove the barriers that would impede formerly incarcerated individuals from signaling their job readiness through a college degree."
Chris Messer, Colorado State University at Pueblo sociology professor, agrees, stating(3), "[i]f we want inmates to be better citizens once they get out, it only makes sense that we have to somehow provide those opportunities to make them better now. Quite honestly, education is critical to that. . . . We know how important it is for kids, we know how important it is for teenagers, we know how important it is for young adults. There's no reason that it wouldn't be just as important for inmates."
While programs such as ASU's Prison College Program exist, they also highlight one of the greatest flaws in the prison education system: they require students to pay for each course, which can amount to around $500 at the least. While not a fault of such correspondence programs, correctional agencies have not stepped up to the plate to either fund such programs or create comparable educational programs in-house. And to put it plainly, prisoners, and their families alike, often don't have the funds for telephone calls home, much less $500 for a single college correspondence course.
The history of funding for collegiate prisoner education dates back to 1965, when the federal Higher Education Act created the need-based Pell Grants, which prisoners, along with free world students, could use to fund their educations. It was a time of expansion, with Ohio University leading the way. But with the 'tough on crime' 1980s came a period of measures designed to highlight the punitive element of incarceration, and on September 13, 1994, President Bill Clinton signed into law the Violence Crime Control and Law Enforcement Act and the Higher Education Reauthorization Act which first scaled back, then barred prisoner eligibility for federal financial student aid. Since then there has been a dearth of college-level programs available to prisoners at little or no cost. This legislation effectively chained shut the school doors, leaving prisoners to fend for themselves, mostly unsuccessfully. Only recently has the Obama administration and the U.S. Department of Education, through their Second Chance Pell Pilot Program (4) , started pushing to use government funds to once again support prison college programs.
While no prison system has yet been willing to agree to fully support prison college programs, seeing educational providers such as Adams State University step up to the plate with new degree offerings is a promising start. Can a single school out of Colorado fix what is wrong with prison education funding and institutional policies the country over? No. But by at least offering a regionally accredited MBA degree program to those who can scrape together the funds to participate adds a certain element of hope and possibility. And many prisoners have survived on less than that to get them through.
Calling all HuffPost superfans!
Sign up for membership to become a founding member and help shape HuffPost's next chapter