Professional athletes are faced with a unique challenge when it comes to entrepreneurship. Most organizations create marketing plans that can only hope to rise to the notoriety and status that professional athletes achieve. However, most professional athletes have already reached that status. Where it gets tricky is leveraging their existing platform so that it translates into real sales.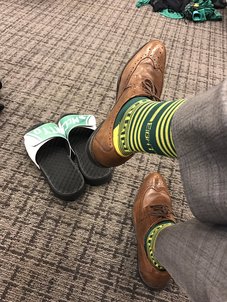 That's just what Walter McCarty was able to do. I sat down with the former NBA player and current assistant coach for the Boston Celtics to get the inside scoop on the recent launch of his new line of socks earlier this year.
"There aren't many statements we can make with our wardrobe when it comes to business professional attire," says McCarty. "As a coach, nobody's really looking at your suit -- but since you're sitting down the whole game, everybody sees your socks," McCarty explains, pointing out the amount of sock that shows as I sit down courtside with the 6'10" mega-athlete and entrepreneur.
"I've always worn socks that stand out, and as I was getting more and more compliments on my socks. Each time there's a game, my socks are shown on national, live TV. As I continued to get more buzz about my socks, I thought, 'Why should I promote someone else's brand when I could be promoting my own'." McCarty explains was the inspiration behind creating a sock line of his own.
The line of socks, called 8ty2 -- named after the fact that there are 82 games in an NBA season -- are designed to be upscale and stylish. Since launching 8ty2 only a few short months ago, McCarty has seen exponential growth, despite that they're available only online and in one boutique retailer, Bodega. The socks can be seen all over social media rocked by celebrities from professional golfers to NBA greats to sports anchors.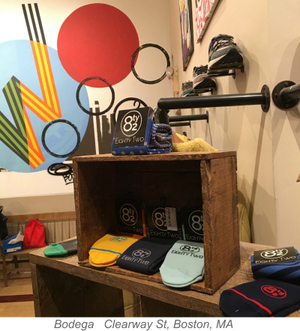 But his explosive growth hasn't been the result of an onslaught of marketing campaigns and advertising efforts. Instead, McCarty has been precise and calculated about promoting his brand: in his own words, he wanted to "do it right." First and foremost, he attributes his growth to strategically leveraging his extensive network of athletes. "Each game I choose a different game day sock to feature. I decide before each game what players from the opposing team I'm going to give my socks to. They end up loving the socks, and posting about them on social media," says McCarty.
"These aren't just another pair of socks, thrown together with a pattern printed on them. Every detail counts, from the way they feel on, to how they hold up throughout the day. Even the patterns are woven into the sock, versus have the design printed," adds McCarty.
Curious if he could see a clear picture of what running a successful business would look like, and if he envisioned having his product in the hands of elite athletes, I asked him how he planned for his business' future. He explained that his strategy has been to focus on the present, instead of the future: "I'm more in the moment. Even as a kid, I never thought about looking forward to playing in the NBA. I always enjoyed my 6th, 7th and 8th grade teams, and always took care of the moment."
Still, he plans to add a philanthropic bend to his entrepreneurial endeavors in the future. With the money he's earned from 8ty2, he's going to work with charitable organizations to help people in need. That way, his socks will have a tangibly positive impact on the world -- in addition to adding style and elegance to people's wardrobes.
What is McCarty's advice for other aspiring entrepreneurs? "Take care of today, then there will be a tomorrow -- and tomorrow is going to be better," concludes McCarty. With a successful career in the NBA under his belt and as one of the top coaches for the Boston Celtics, it's hard not to take such simple advice lightly.
Getting caught up in the planning and vision of a business can indeed halt growth and pause momentum. If we stay focused on taking care of the needs of our business today, we're always taking action, and by doing so, we inevitably keep the momentum going.
Calling all HuffPost superfans!
Sign up for membership to become a founding member and help shape HuffPost's next chapter