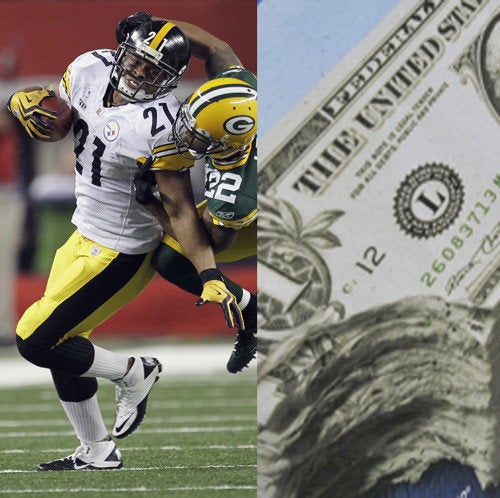 The cancellation of next year's NFL season would be the final knockout punch for many small businesses like mine. It would top off a list of recent jabs at our profits, including lower overall revenues because of rising expenses, higher costs of goods sold and fines from vague laws and regulations.
Keep in mind that this is all happening at a time when owners in my industry cannot increase their prices to customers due to a flat economy.
I currently own four bars named Village Pourhouse in the New York Tri-State area as well as another sports bar named sideBAR. There are thousands of other sports bar owners waiting breathlessly for an NFL agreement to be made, as our livelihood hinges on this decision. So what's at stake here for people like myself who live and die by business from the NFL?
A canceled NFL season could mean zero profits. I will use one of my venues, sideBAR, as the experimental guinea pig.
Out of 365 days, the NFL season represents 21 Sundays (don't forget additional revenue from Monday Night Football, a few Thursdays and Saturdays.)
My total revenue for the year is approximately $3.5 million. $300,000 of this revenue -- or 8 percent of my total revenue -- was generated by these 21 NFL football Sundays. Last year my profit was this amount. So there you go: my profit will be largely wiped out if an NFL lockout occurs.
Here's how it works out. Without football, Sundays average only about $2,000 in revenue. With football during the regular season, we average a whopping 600 percent more or approximately $12,000 on any given Sunday. Add $2,000 for playoffs without a home team playing, or at least another $5,000 with a home team, totaling approximately $14,000-$17,000 for playoffs, which take place for three weeks. Depending on who is playing, the Super Bowl can range from $20,000-$30,000. The difference is staggering. Multiply the difference by 8.875% and you'll figure out how much in sales tax is wiped away.
The number of staff changes drastically on NFL Sundays. The total number of staff that works a non-sports Sunday shift is about seven, including bartenders, waitresses, porters, bar-backs, cooks, dishwasher, and a manager. An average Sunday will employ almost 30 people. Keep in mind, 23 additional staff pay a lot more income tax than seven do.
My vendors are next to be affected. Twenty-five percent is my approximate cost of goods sold, meaning, without football, I spend approximately $10,000 on food, beverage and bar supplies based on a period of 21 Sundays at $2,000 each Sunday. With NFL games on, the 21 Sundays will see about $75,000 spent on vendors.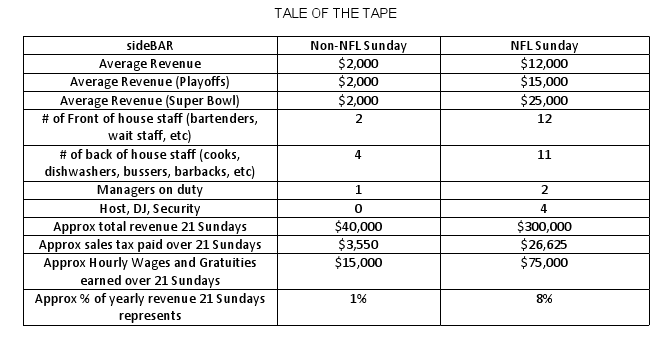 Now take into account the staff, the lost sales for vendors, and the lost tax dollars. And take into account the thousands of other sports bars, and we're talking about hundreds of millions in lost revenue, and the resulting taxes, expenses and profits that help the economy.
Yes, the NFL's millionaires (the players) and billionaires (the owners) would suffer from a lockout. But it seems those who will be hurt the most by an NFL lockout will be the small business owners, also known as the "thousandaires." I beg both sides to work something out and avoid further crippling this economy. The fans supply enough green for each gang to cut up so please think about the bigger picture. Please meet in the middle so we can continue to root for the Gang Green every Sunday. Go Jets!
Support HuffPost
The Stakes Have Never Been Higher
Related
Popular in the Community