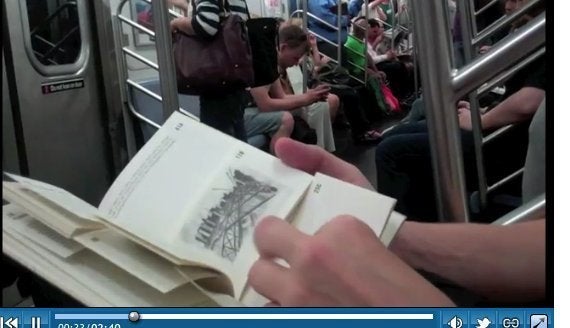 The Italian art house publishing group Log607 is testing conventional wisdom that guidebooks should be fact-based with a series of fictional-narrative guides that force tourists to go on treasure hunts. These "WhaiWhai" guides have been popular in Italy for a few years now, but had not been released for any city outside the boot until this week when New York: The Pegleg hit bookstores.
The book concerns the legend of a magical pegleg that once belonged to Peter Stuyvesant, and asks readers -- who might better be described as participants -- to go to different Manhattan landmarks in search for "secrets." Each page of each guidebook is cut into thirds and participants are given codes that tell them how to put a page together whenever they correctly solve a puzzle by identifying a detail about New York (a la the number of women depicted on a Broadway Theater's facade).
In an effort to determine whether treasure hunt-style guidebooks might become a fad, HuffPost Travel editors Paul Brady and Andrew Burmon took to the streets and tried to uncover the secrets of the pegleg. The experiment went swimmingly, providing our stand-in travelers with an excellent excuse to get out of the office and wander around downtown Manhattan. They made some interesting discoveries along the way, but also found this creative guidebook model a bit of an uneasy compromise.
The book is clearly intended to create opportunities for serendipity and exploration while also being very opinionated about where travelers should go next.
Check them out on their tour below.