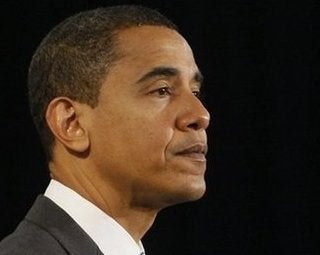 What do you get a President-elect for the holidays who will soon have the weight of the world on his shoulders? Advice books, energy food, sports gear? It's a predicament.
After January 20, Barack Obama will be in official gift land. He will have to declare almost all gifts from friends and foreign governments, as will his family. This December 25 will be the Obama's last normal family Christmas for years. How to help him celebrate?
Proud of its alum, Occidental College has already sent the Obama family a gift package of Oxy merchandise, including Snoopy/Oxy t-shirts, pom-poms, Oxy teddy bears for Malia and Sasha, Oxy hoodie sweatshirts, Oxy basketball shorts, and an Oxy basketball t-shirt for Barack. The Oxy basketball coach, Brian Newhall, who played pick-up ball with "Barry" Obama in the 80s, is sending an official team jersey with the number one on it and Obama's name on back. Obama played basketball informally at Oxy, but did not make the team. As Oxy professor Eric Newhall says: "The greatest contribution Occidental has made to American democracy was to help Barack Obama decide that his future wasn't in basketball."
Not only has Occidental sent this gift package, including an Oxy leash for the new First Puppy. The campus store will soon be marketing a line called "BarOxyWear." These Obama approved items will include Oxy/Obama caps, "Yes We Can" logo tank tops signed by Barack Obama, Oxy '83, t-shirts reading "Barack Rocks", an infant diaper cover saying "Change We Need", Hope and Change themed shirts and hoodies, a classic t-shirt in Oxy black and orange with the quote: "Everything Barack needs to know as President, he learned at Oxy."
Of course, the school will make sure that the Obama family receives an ample selection from the "BarOxyWear" line. His Cabinet members and White House staffers would no doubt want their own cool Oxy shirts and hats. You can order gifts for them--and for the Obamanauts in your own family--online:www.oxy.edu Go to bookstore on site. Items will be on the website next week, available until the store closes on December 18, and again when it reopens on January 5.
WHITE HOUSE STIMULUS PACKAGE
Beyond the b-ball outfits for White House pick-up games, President Obama and his team will need a constant supply of munchies for meetings, and to share with important Congressional visitors and foreign officials. The Mars company traditionally supplies M&Ms candies to the new President, packaged in boxes with the White House logo and the President's name. Visitors to the White House mess covet them. No doubt the tradition will continue with Obama, but there are other energy treats that are needed:
+Jackie & Eddie's Cookies -- These are the best ginger and brownie cookies made in America, and they come packed in eco-boxes printed on recycled paper, using soy inks. The entire package is 100% compostable, including the shrink wrap. Jackie and Eddie grew up near Occidental where their dad studied, and they baked these cookies as kids with their mom. During the Clinton administration, these were a staple of the White House kitchen (Don Henley of the Eagles first hooked President Clinton on them). In the spirit of Democratic continuity--and because they are so darn good--White House chief of staff Rahm Emanuel should make sure that the supply never runs out. Even those who don't get jobs in the Obama White House, can order them for the holidays online at: www.jackieandeddies.com
+Fran's Chocolates -- On the campaign trail, Barack was introduced to the killer smoked salt chocolate caramels produced by Fran's Chocolates of Seattle. He is said to be addicted. Help him share his good taste by making sure that the White House never runs out. You can also share his habit with Obama supporters on your holiday gift list by ordering online: www.franschocolates.com
+Sees Candy -- This confectionary company is one of the first companies purchased by Warren Buffet, the billionaire Obama advisor and supporter. Growing up in Culver City, California, I toured the factory and regularly ate the product. As an ambassador, I had my mother regularly ship me cases of Sees soft center chocolates to serve at official dinners and give as gifts to diplomats. I hope that Warren Buffet will see his way to providing the Obama family and the Obama White House with a supply of Sees, and perhaps even donate cases to new ambassadors who will represent Obama and the US abroad. You can engage in chocolate diplomacy this season at: www.sees.com
One of the privileges of being President is that you can ask just about any entertainer in America to perform at a White House event. President Obama will have his choice of live entertainment, but what should he and his Cabinet have on their I-Pods? My vote is for tunes by progressive artists. Last week, I attended a concert given by Jackson Browne and his friends to benefit the relief organization Operation USA. Jackson is one of my heroes. He is always there for good causes; he writes and sings great music (and he has an honorary doctorate from Occidental). My first music choice for an Obama stocking stuffer is "The Very Best of Jackson Browne." Also at the concert was Ry Cooder, a fantastic musician and musicologist. Into the stocking goes Ry's latest on Rhino Records, "The Ry Cooder Anthology: The UFO Has Landed." Joining Ry and Jackson on stage at the Santa Monica Civic was Bonnie Raitt, the greatest slide-guitar player of her generation. Bonnie has been on the forefront of progressive causes, and she has been generous in working with neglected black musicians. On to the Presidential I-Pod should go her album, "The Best of Bonnie Raitt." Jackson also brought on stage 39 year old Ben Harper, a multi-talented songwriter/singer/musician, adept at the blues, gospel, folk and rock. Like Obama, Harper comes from racially mixed parentage. I can see him performing gospel songs at the White House from his album, "There Will Be Light," then singing a folk duet with Bonnie Raitt as he did at the Civic. Any of his albums would be good stocking gifts for the Obama household.
You can share the joys of good music with your Obama friends by giving these albums as holiday gifts--and you can tell President Obama that we hope to see these progressive artists performing at the White House in 2009, and perhaps receiving honors at the Kennedy Center during his tenure.
It is a pleasure to have a President-elect who reads books and cares about ideas. Bill Clinton, of course, was a voracious reader. During the '92 campaign, I had to hustle to keep him supplied with serious tomes on economics and with good mysteries. I don't know about Obama's taste in detective fiction, but we do know that he read some weighty books on the campaign trail. His interest in Doris Kearns Goodwin's history, Team of Rivals, about the Lincoln Presidency has become a frequent topic of pundits. Obama also mentioned that he had perused Jonathan Alter's book, The Defining Moment: FDR's First 100 Days, and Jean Smith's history of FDR. The New York Times reported that on his final days of the campaign Obama was reading Ghost Wars:The Secret History of the CIA, Afghanistan, and Bin Laden -- written by his Oxy classmate, award-winning journalist Steve Coll.
As President, Barack will have less time than during the campaign to read books. Mainly, there will be endless briefing papers. Therefore, I am suggesting only two books to go under the Obama family tree this Christmas for him:
+The Liberal Hour: Washington and the Politics of Change in the 1960s, by two Colby College professors, G. Calvin Mackenzie and Robert Weisbrot. The experience of Presidents Kennedy and Johnson is perhaps more relevant to Obama's situation than the New Deal. The book describes how an incredible amount of progressive legislation was passed by Congress in the 1960s--an achievement made possible by progressive elected officials working closely with liberal Presidents, spured on by progressive social movements and social critics like Rachel Carson, Michael Harrington, and Betty Freidan. I have given a copy to another of my local heroes, Congressman Henry Waxman. I hope that President-elect Obama might read it, and share it with his Cabinet and with Democrats in Congress.
+Bound Together by Nayan Chanda, an Indian journalist and publications director at Yale's Center for the Study of Globalization. Chanda tells the story of humankind through the lense of globalization, and explains that it is not a new occurence; it is the human condition. We all share a common African heritage (Obama's is more recent), and in the 21st Century we are reconnecting via the internet, CNN, jet travel, global commerce, and sadly, terrorism. Chanda's book is inspiring, based on deep historical research and careful analysis. It should be the emblem for the Obama administration--a perfect gift to give every foreign visitor to the White House.
As President, Obama will also need books for relaxation. President Kennedy was a fan of Ian Fleming, and helped to popularize James Bond. I won't press my favorites on Obama, other than to recommend the Soho Crime series. All of the books are well written and set in different locales around the world. One of his friends in Chicago might give him a selection for Christmas. If it turns out that the President-elect doesn't favor mysteries, there is always the historical novel. In that genre, few American writers can compete with Gore Vidal. His novel Lincoln, part of his history series, is a pleasure to read and instructive about the burdens of power. A complete set of Vidal's historical novels might fit nicely in an upstairs bedroom at the White House.
I hope that members of Obama's Cabinet will receive The Liberal House and Bound Together as holiday gifts, along with their Transition briefing books. For the national security/foreign policy team, I recommend two books: What Terrorists Want by Harvard professor Louise Richardson, the single best book on terrorism, its forms, purposes, and how best to respond to it--and The Ayatollah Begs to Differ: The Paradox of Modern Iran by Hooman Majd, a Tehran-born journalist who has traveled the country and had access to many of its leaders. Madj's book provides a "feel" for the country lacking in academic and think tank studies, and explains the complexities that will face the Obama team in working out any rapprochement with the Iranian government--no easy task.
For Obama's economic team, I suggest receiving The Predator State by James K. Galbraith, a progressive economist at the University of Texas. Not an Ivory tower academic, Galbraith worked as a Congressional staffer on the financial rescue of New York City and the bailout of Chrysler Corporation in the '70s. He is also an expert on the Federal Reserve. His book is a reminder that the philosophy behind the deregulation of financial markets runs deep in the American polity, and that only genuine reform of the financial system will prevent future meltdowns. Even if Galbraith is not called upon by President Obama to advise him, at the very least his book should be gifted to Treasury Secretary Tim Geithner and White House economic advisor Larry Summers.
For the Secretaries of Labor, Education, Health, Housing, Transportation, and White House staffers on domestic policy, a highly useful gift would be: The Measure of America: The American Development Report 2008-2009, by Sarah Burd-Sharps, Kristen Lewis and Eduardo Borgers-Martins. This study applies the statistical and analytical methods of the UN Development Reports to the United States. It contains a host of data on economic, social, political and environmental issues while highlighting comparative rankings in three core areas of human welfare: living a long and healthy life, having access to knowledge, and enjoying a decent standard of living. The US, sad to say, is not number one in most categories. The report also discusses government policies that can improve the American quality of life. It should sit on the desk of all domestic officials and serve as both a benchmark and a roadmap for progressive reforms in the Obama administration.

FLICkS AND POLITICS
The US film industry is a global business. Movies are a leading export. Talented directors, writers and actors from around the world aspire to success in Hollywood. Almost all modern American Presidents have been movie fans. There is a screening room in the White House and the studios provide the President with first-run movies to show his family, friends, and political supporters. An invitation to Bill Clinton's Friday night movies at the White House (complete with pop corn and soda) was a much desired thing. No doubt, President Obama will continue the tradition--but before he has to host "official" movie parties, I hope that he has the chance for one or two date nights in Chicago with Michelle (even if the Secret Service has to tag along). If he can get away, I first recommend Slumdog Millionaire, the best movie of the year, and an exemplar of the global film. It sports local Indian actors, a Scottish director, a plot out of Dickens constructed around the Indian version of an American game show, and it's set in Mombai. Then, he and Michelle might catch Australia-the movie--a sprawling, kitschy epic narrated by an Aboriginal boy in which the good guys endure hardship and win in the end. The motto of the film might be: Yes We Can.
As for DVD gifts, we know that Barack likes the acclaimed HBO series The Wire, and a friend should make sure that he has a complete set to take with him to the White House. I also hope that he is given the other great HBO series Deadwood. One of the producers and directors is Davis Guggenheim, the Academy Award winning filmmaker who made the bio-pic for Obama shown at the Democratic Convention. Deadwood is a parable on the importance of government in taming unfettered and lawless capitalism. For the Obama stocking, I would select Advise and Consent, one of the best movies about American politics and a reminder that Congress expects to be consulted; Wall Street, Oliver Stone's best non-war movie--is the only movie that comes close to showing the relationship between making money, ethics and the impact of financiers on Main Street. Finally, our family favorite, the space western, Serenity. The message of this sci fi classic is that people aren't perfect, and that social systems must allow for human frailty and foibles--for the good and the bad in human nature. It illustrates the law of unintended consequences, and the danger of idealogues in power.
The Obama campaign team is trying to find ways to use its data base of over 10 million emails and its cadre of volunteers. There are house parties for Obama organizers scheduled this month to disuss issues and future activities. I would hope that the Obama folks simply ask their supporters to donate some time or money to an NGO. Everyone who voted for Barack Obama might make a small donation this holiday season to an organization that they are certain delivers goods or services to those who are hurting. My personal choice is the relief organization Operation USA (www.opusa.org). There are many others.
God Bless President-elect Obama, his family, and his team--and Holiday Greetings to all of the readers of the Huffington Post.