It's fitting to describe you as an ode, an Ancient Greek word glorifying an event or individual, or in my case a small splendor of a hotel. I poetically connected with you during my short stint in Miami, Florida, and darling, I thank you for that.
After spending a week shuttling across the Aegean Sea then the Atlantic Ocean with multiple stops in cities for meetings along the way, I was determined to reach you to embrace myself in the comforts that you offer. I tepidly touched ground of the iconic Ocean Drive in Miami Beach with a sweet balmy breeze undertone sweeping me off my feet. Your presence was enchanting yet firmly distinctive from the row of beachside Art Deco havens dotting the strip. I was enamored to see you. One of the last few Georgian-style hotels predominately poised with a grace of yesteryear, I was comforted to finally be here with you, The Betsy Hotel.
Seeking style and culture in all of my travels, I applaud The Betsy Hotel for maintaining its vintage glamour complemented with inspirational design. Named after Betsy Ross and coined as a distinguished historic landmark hotel, The Betsy Hotel has kept its timeless elegance paralleled with a cool sensibility of its tropical location. The interior décor -- absolutely divine. My room, one of the hotel's 61 guest rooms and suites, was passionately low-key but exquisite with well-thought-out details from dark walnut hardwood flooring to white lacquered, bespoke cabinetry and from fine in-room amenities to the latest in technology gadgets. Marbled bathroom boasting a rain shower, and oh my, a bar! Perfect to sip on libations as I apply more of my Tom Ford Lip Color Shine in Bare. And the bedroom... as much as I wanted to slip under the plush covers of my four-post bed, I was curious to see more.
Like Alice in her Wonderland, I traipsed along a short corridor only to be hypnotized into the 60s as I admired the rare black and white photographs of the Rolling Stones and Beatles lined up like a hall of rock leading to the lobby. In my hypnotic wander, I was humming a Beatles tune "It won't be long, yeah, yeah, yeah, 'til I belong to you..." Be patient, Betsy. I need my apéritif first.
I ventured on until an attentive and courteous employee ushered me into an underground hideaway known as the private-to-guests B Bar, a small yet beautiful 21st century speakeasy event space (perfect for a private dinner), slightly seductive in its own right. After an hour imbibing a couple of perfectly made martinis, it was hard to leave the swanky atmosphere, but I had to whet my appetite at Chef Laurent Tourondel's BLT Steak - recognized in South Beach for its fine dining and local ingredient-driven fare.
Of course, I indulged in the signature Gruyere Cheese Popovers to start then had the Tuna Tartare with avocado, drizzled in a soy-lime dressing. Although a personal choice to cut back on red meat, their interpretation of a modern American steakhouse holds true with its variety of beef options on the menu including USDA Prime, Wagyu and Certified Black Angus.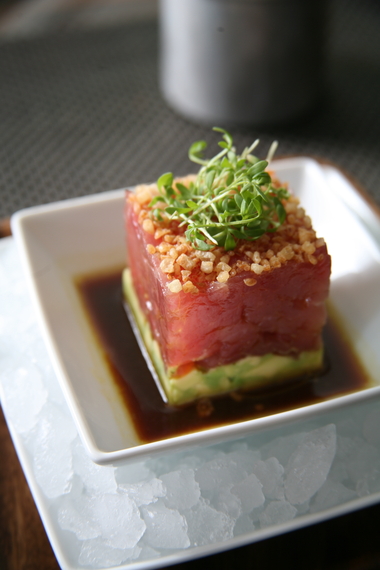 Tuna Tartare with Avocado Soy Lime Dressing at BLT Steak
My digestif and sweeping views of the Atlantic Ocean were calling me at the rooftop bar, which I absolutely loved. Chic. Cozy. Creative. Effortlessly encouraging to socialize or share secrets among old friends, the rooftop bar is the perfect place to end a star-filled evening.
My morning at The Betsy Hotel started as I opened the plantation-shuttered windows to let the sun shine through. My urge to wander ignited once again. Curious to experience more of the amenities and offerings before catching another flight that evening, off I went for breakfast at BLT Steak (Breakfast with Betsy package available and includes complimentary breakfast for two). I enjoyed the scenery as I sunbathed poolside in an intimate, tranquil courtyard setting. The Miami heat led me to the Wellness Garden and Spa, overlooking the ocean on The Roof Deck at The Betsy. Playing host to many spa treatments, including one of my favorite body wraps with Africology products, I was welcomed with a raw earth foot-bath, where minerals of malachite, sandalwood and calendula oils softened my soles preparing me for my next adventure.
I wanted to linger on, but alas, it was time for me to bid adieu and wish you well. I'll be back though. In the words of John Lennon and Sir Paul McCartney, "I belong to you... "
The Betsy Hotel is conveniently located at 1440 Ocean Drive, Miami Beach, FL 33139.
Images courtesy of The Betsy Hotel