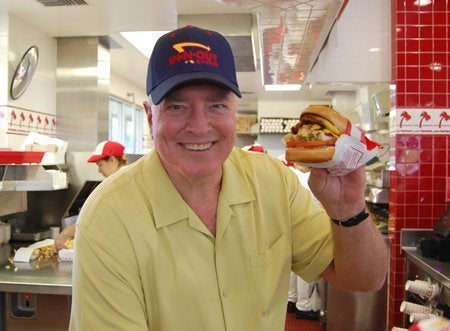 I grew up on Huell Howser, following him from Nashville, where I watched him on the local news, to Los Angeles where he opened a whole new world for me with his reports on California's treasures. Once I met him in Lucy's El Adobe, a Hollywood eatery with the kind of history that Howser loved. He was surrounded by adoring fans sharing memories of their favorite episodes of California's Gold with him. When I told him that I was a fan from Nashville, he beamed, gathered me up in his Marine-buff arms, and made me feel golden. I am sad he is gone too soon, but he will not be forgotten, and his shows are timeless. Here is my tribute to the legendary Huell Howser.
(To the Tune of "Country Sunshine" by Dottie West)
He grew up on country sunshine
He was happy with the little things
WSM, country songs, and the joy that the Blue Bird brings.
Nashville loved him, but it was too invitin'
To go where life was more excitin'
And Huell was made for Cali Sunshine.
(To the tune of" The Ballad of Jed Clampett," The Beverly Hillbillies Theme Song)
So listen to the story of a man named Huell,
Disarmed us with his charm, made the everyday seem cool
With a smile so bright, he went where he had to be
From the sticks of Tennessee to the Hills of Beverly....
(spoken) Cali- for -ni- yeah that is, Hollywood, Palm Springs, Yosemite...
Traveled up and down the state, never missed a fair,
With a heart as big as a Cali Grizzly Bear
'Cause he was meant to mine for California's Gold,
And out of his mind came stories yet untold:
(spoken) Cacti, Slab City, Amaaaazing Avocados, Jacarandaaaaaa
(To the tune of John Denver's Thank God I'm a Country Boy)
Well he had his own style, you could almost hear the fiddle
He was nice to everyone, rich, poor or in the middle
He just kept on diggin' till the end, he never diddled
Thank God for our Cali County Boy!
Thank God for our Cali Country Boy!
(spoken) Sure will miss him, Won't be another, He WAS California's Gold...
Related
Popular in the Community