Whenever I meet someone new--at a party, on a plane, in a salon--and the conversation winds its way to the standard question, "What do you do?", I say that I'm an editor and writer of the Little Golden Books. I know to stop talking then, and wait for a pause--a sudden brightness in the eye--the grin of delighted recognition--before the inevitable "Awwwww!"
At this point, my new acquaintance wears a faraway expression while telling me which Little Golden Books he or she had as a child. (If you've seen the classic Orson Welles film "Citizen Kane," you know why I could call this the "Rosebud" moment.) This is when a shinier, sweeter person emerges, cooing about "The Shy Little Kitten" or "Scuffy the Tugboat" (often mispronounced as "Scruffy") or the undisputed mascot of Little Golden Books and star of the bestselling picture book of all time, "The Poky Little Puppy." It's almost always these three titles that are so dearly remembered and quoted from ("...and--um--'down they went to see, roly-poly, pell-mell, tumble-bumble'...right?"), as we spray our nails or buckle our seat belts. If the person is of a certain generation--between 30 and 35, I think--then the favorite is usually "The Monster at the End of This Book," starring Sesame Street's Grover.
My mom always says that when I was little, all she had to do to make me happy was read to me. We had many Little and Big Golden Books in our house. Some came from Santa, others from our local A&P supermarket, purchased as a treat or because I think Mom was just as captivated by the cheerful colors and quirky characters on those shiny covers as I was.
Mom was a high-achieving homemaker who bustled ceaselessly about our suburban colonial home in black Capris. In my pre-kindergarten days, while my older brother was at school, I would watch her cheerfully hanging wallpaper, sewing, baking bread, or tending to my infant brother, a mysterious invader who evidently had come to live with us forever. I cherished the time of day when she could take a break from all of that, and I'd cuddle next to her and listen to her read in her special story-time voice.
As I stared at pictures of Richard Scarry bunnies blowing noisemakers and drinking punch, or a boy standing in shallow ocean water, or children dressed in smart plaid jumpers and caps boarding a school bus, I began to realize that there was a big world out there, not far from where I was living. There would be beaches and farms and mountains and cities for me to discover, and soon birthday parties and friends and my own school days. In one Golden Book, I even saw that a new baby had suddenly appeared in the house of a boy named Mike, and everything worked out just fine.
Mom tells me that during those story-time sessions, I would tell her that when I grew up, I would "make books like these." And she always adds that she knew I would, too...but it's amazing to me that I did grow up to edit and write Little Golden Books.
Here's a peek at some Little Golden Books old and new: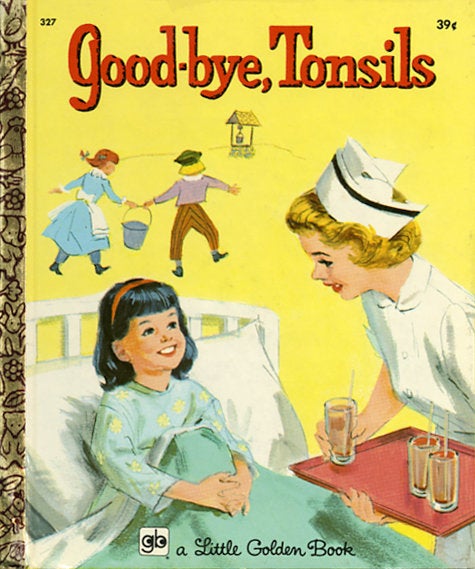 Little Golden Books
Related
Popular in the Community