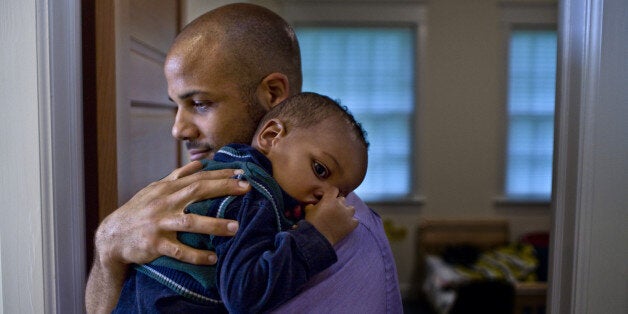 My husband is the breadwinner in our household. He dutifully reports to work eight hours a day, five days a week. He also bakes bread sometimes. I particularly like his no-knead-Dutch-oven-crusty-bread, made with only four ingredients!
He cooks dinner for our family every single night. He bonds with our daughter and he knows the details of her milestones. He takes pride in babywearing her when we go out. He can even identify which carriers are safe and ergonomic.
Fatherhood has never looked so appealing.
The modern father is interested and invested. He is a partner who can take over the reins when mommy needs an hour (or a day) of rest. He understands the joy of seeing his baby stand up for the first time. He is a confidant who doesn't judge when his stay-at-home wife says she's tired.
He graciously accepts his default chores like driving the family around on weekends and taking out the trash every night. He makes it to all the doctor's appointments, and he knows the pediatrician's name. How can he not? During labor, he was right up where the action was, front and center.
To a mother like me, it is comforting to know that fatherhood has evolved. In the past decades, much attention has been given to mothers, perhaps too much. Thankfully, with the changes in our cultural landscape, fathers are now given the attention and consideration they need.
It's nice to see fathers who are active in parenting -- like they should be. They now understand the struggles of finding the perfect balance between raising a child and building a career. They are now fighting for longer paternity leaves because they have a deep desire to spend time with their babies. It is very likely that fathers of the past generations were just as loving as the ones we now see. But unfortunately, gender stereotypes discouraged them from being so involved in the lives of their kids.
Oh, the faces of modern fatherhood are so diverse and so interesting!
He is the sole provider who has given up practically all forms of recreational activity just so he can rush home to his kids as soon as the clock hits five. He is the stay-at-home dad who can seamlessly weave his daughter's hair into a fine fishtail braid just like Queen Elsa's. He is the single dad who regularly attends PTA meetings and soccer practices. He is part of a two-father family who prepares the most amazing bento boxes for his son who dislikes eating vegetables.
I don't know where the movement started, but as a mother, I am very appreciative of this change. Fathers have so much to give and so much to teach. It's wonderful that they are making their presence felt.
To his children, a father who is proactive can make all the difference in the world. To sons, he can easily set an example of how to be strong and responsible, yet compassionate and emotional. To daughters, he can show the importance of being confident and independent, yet graceful and loving.
So this is a celebration of how fathers are now embracing their roles in raising children! Thank you for getting your hands -- and arms and shirts and jeans -- dirty. You are making a huge difference!