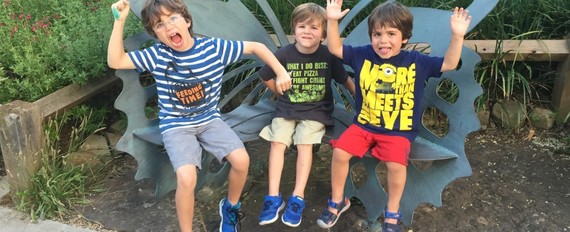 by Michelle Muller-Marinis
Any of my close friends will tell you that I absolutely love raising my children in New York City. Life sure is busy, but it is filled with culture, amazing food, colorful characters and plenty of activity. I love every single dirty, grimy, loud minute of it.
Back in the spring, with the end of school quickly approaching, I was working on lining up summer camps and activities for my three boys. I realized that all of the camps I was researching involved the boys being transported up to two hours into nature for the day and then returning to the city at night. All this coordination seemed to be overwhelming just to get them outdoors playing on grass.
Then, a light bulb went off: I decided to take my boys out of the city for eight weeks and transplant them to Texas where my extended family lives. The boys would attend summer camps in the morning and in the afternoons, we would have a pool to swim in, creeks and nature paths to explore and a big backyard to romp in.
But would I really be able to survive out of the city for eight weeks? Guess what. I'm halfway through and could not be happier. While it might not be for us year round, we are pretty thrilled with all suburbia has to offer during the summer. I can certainly see why the 'burbs have stolen the hearts of so many of my city friends.
I am protected from the elements at all times. I don't have to schlep in the rain, snow or crazy winds that I deal with almost daily in Manhattan.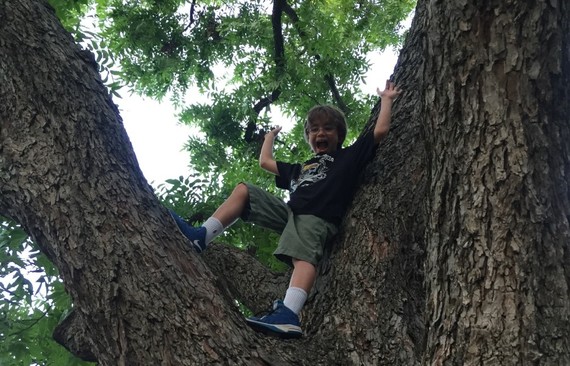 Do I really need to explain this one? If my kids are bouncing off the walls I can say "go play in the backyard." If I'm making dinner I can say "go play in the backyard." If a friend drops by for a glass of wine and grown up chat I can say "go play in the backyard." I don't have to make the boys put on shoes, hold hands or cross streets. They can just open the back door and play in the backyard. It is a remarkable concept for this city mama.
Built in kid-centric social calendar
The suburbs are all about kids. It seems like the only items up on the community social calendar revolve around kids, which is awesome when you have them. Saturday night live music at the zoo...check. Parade on 4th of July...check. I could get used to the lack of planning needed from me for weekend and holiday fun.
Most people move to the burbs for the space. Well, let me tell you that is a darn good reason to move. With each boy in their own bedroom at bedtime, they actually fall asleep within 15 minutes. When they share a room, the banter goes on for well over an hour before they pass out. The separate bedrooms coupled with how hard they play during the day (in that fabulous backyard) make for a super simple bedtime.
Once the kids are in bed, they stay there. No sirens, no screaming fights and no drunken people singing "New York, New York" waking them from angelic slumbers. Oh happy day!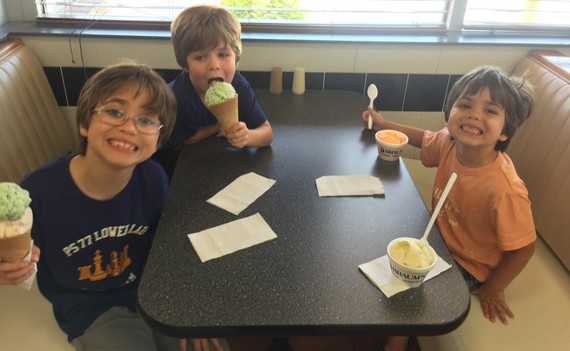 Turns out, ice cream is expensive as hell in Manhattan. In suburbia, not so much. At the boys' favorite gelato place on Barrow Street in Manhattan, one small sugar cone with one scoop of gelato will set me back $5.75. So each and every time I buy ice cream for the boys, I'm out almost $20 for three delicious but dinky ice cream cones. When did this become the norm? I recently took the boys to a local Texas ice cream shop. All three enjoyed their own large waffle cone with two flavor scoops for $4.25 total. The reverse sticker shock isn't just with ice cream. It extends over many goods and services in suburbia except, unfortunately manicures and pedicures. Sigh.
Those colorful NYC characters and their equally if not more colorful language is not something I have to worry about in suburbia. Since we spend our transportation time in our own vehicle as opposed to public transportation or walking on the street, we miss quite a bit in the suburbs and that's not really a bad thing. Out here I don't have to deflect questions about homelessness, drugs, schizophrenia or hunger and that is a big relief.
What about you? Is there something you love about the suburbs that you can't find in a big old city? Share your thoughts with us!
Photo courtesy of Michelle Muller-Marinis