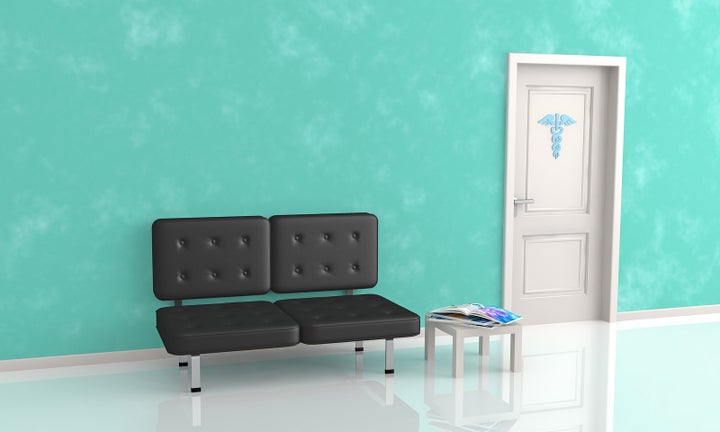 I Promise to Be and Active Participant in the Patient-Doctor Relationship
A visit to the doctor's office is like a symphony. Many players have to be working together as a team to create a melodious, harmonious, well-received result. And you, as the patient, are just as much a part of the symphony experience as the doctors and their staff of nurses, secretaries, and medical assistants. It's not all about you, although we would like it to be.
Before reading further, I challenge you to have an open mind… an interconnected mind… I want you to consider a different perspective and point of view of why you may have a wait when you go to see your doctor. And consider the possibility that your physician is really trying to help every patient in a timely fashion. Being on time is everyone's goal.
I've had days where many unexpected things are happening in my gynecologic practice. This is the norm and not the exception. We are dealing with very private aspects of people's lives, and appointments often take more time than allotted. My motto in caring for women is "one patient at one time." We have appropriate emergency appointments that are often added into the schedule. One must consider how they would feel if an issue arises and you were sent to wait in the emergency room for hours, incurring large copays?
We are also caring for patients with different levels of need, disabilities, and expectations. The schedule can easily fall behind. It just takes one individual who can't tolerate a procedure or exam to require more time. I have patients almost faint after procedures. I cannot run out of the room and inform the patient, "your 30-minute slot is up! I have to move on to the next."
I've walked into a room to discuss menopausal hot flashes and my patient is depressed and suicidal while in the next room I have to inform someone her biopsy results returned and she has endometrial cancer.
I've entered a room to perform a post-surgery follow-up exam and instead found a patient struggling emotionally with a sudden death of a spouse.
I've expected to walk into a room to find a familiar upbeat face ready to review a pelvic ultrasound report; however, in her place I discovered a woman wanting advice on how to repair things falling apart after an extra-marital affair.
I often have women who've never had a speculum exam present for care, or women who've been victims of sexual assault.
I have patients with special needs such as chronic medical conditions that affect their ability to tolerate positioning on the exam table.
I also have patients with genetic disorders that require more attention.
Some people need more time to understand their conditions, and some need less. And rarely do patients arrive before their appointment time. Often, by the time you are checked in and in the room, we're already behind schedule. Five minutes here, 10 minutes there, it all adds up.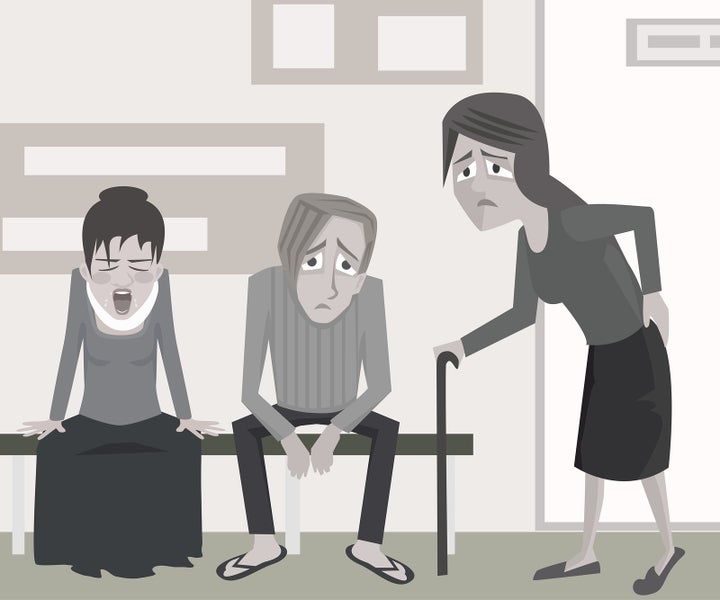 I recently went to an Adele concert in Chicago and stood in the security line for one hour and 40 minutes. I was amazed as I looked around… everyone was ecstatic, giddy, snapping selfies, laughing, and anticipating the fun they would have. Now, clearly receiving medical care is not as exciting as an Adele concert. But it's more important and should be something for which you are prepared and willing to wait.
When I find myself frustrated, I've taken note of the things I wait for such as standing in line to pay for groceries, pump gas, and easily the 15-45 minutes at the hair or nail salon. If I added up all the time I have had to wait at the banks in Boston when I need assistance, I'd need counseling. Once I stood in line at Fenway Park for over 30 minutes to buy a dreaded hot dog for my hungry son. I didn't hear one person complaining. Likewise, every year when I go apple picking, we wait in line for over 30-45 minutes for apple cider donuts. I find myself marveling at the line… Everyone joyful…. You don't hear a single complaint. And what about waiting for a table at a restaurant? Reservation or no reservation… It's typical. Individuals wait happily, anticipating a good meal. But yet, the thought of waiting at the doctor's office sends most people over the edge, even if they have been waiting 10-15 minutes.
Truth be told, waiting is unfortunately a part of life. And just like anything you find yourself waiting for, there is usually a reason. Patients expect to be seen right on time. Instead you should plan on leaving flexibility in your schedule in case your appointment runs late. In fact, expect to wait, or at least, don't be surprised if you do. I understand the expectation; when I see my doctors I prefer to be seen in a timely fashion as well. But so much is going on behind closed doors that may leave you waiting for longer than you find acceptable. And often it's not the physician's intention. Consider the nature of medicine and all the other patients that are simultaneously scheduled that day. Most physicians are not in their back office Internet shopping; they are working and working hard. There are many aspects of completing a patient visit that is not visible to you. We are actively engaged in our work day entering orders, coordinating care with other offices, contemplating a difficult disease process or management plan, writing prescriptions, or fielding questions from other patients, phone calls and staff.
I have pondered ways to minimize patient wait times. As a doctor and a patient I empathize with the annoyances that come along with waiting. Obviously I'm also privileged to see behind the scenes. By becoming a doctor and caring for patients, I know the dedication that is required is real and the path a long, highlighted by an intention to serve. The amount of time needed to serve each patient is unique and often difficult to predict or fit into the 15- or 30-minute slot.
To Join the Health Mindfulness Movement and to explore more informed topics visit healthvows.org