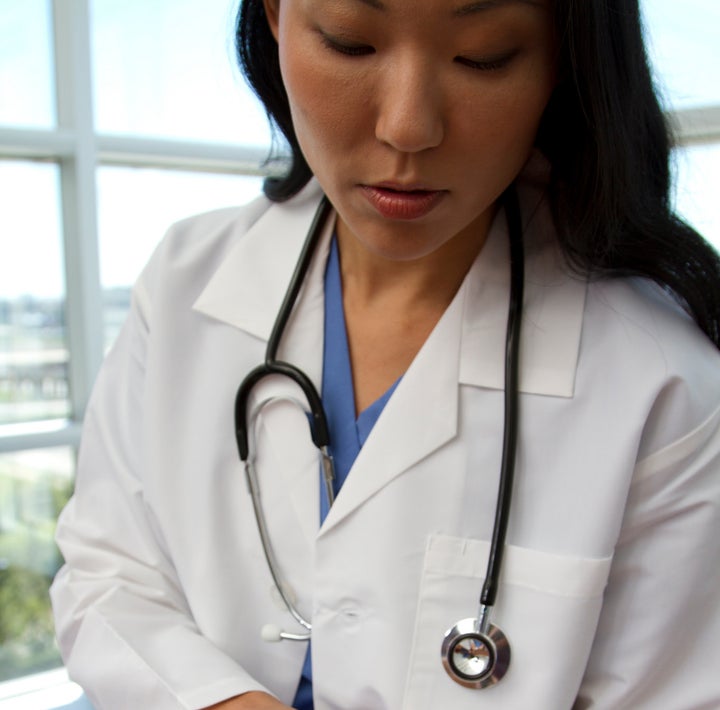 Let's face it; gender bias still exists in medicine. You might disagree if you sit in a medical school classroom where the American Association of Medical Colleges says you'll find that very close to half the students are women. However, if you take a walk to the suites where the department chairs keep their offices or anywhere else in the medical school where physician leaders gather, you'll find that men dominate. A paltry 22% of tenured professors and 15% of department chairs are women.
Honestly though, I wasn't really thinking about any of this when I joined my women physicians' group. I was recently out of residency training, working part-time, and juggling care for our first child. A colleague from clinic invited me to join a journal club as an easy way to keep up with evidenced-based medicine, and I agreed. I joined the group of women on a Wednesday evening at one of their homes. I don't remember the article we discussed, but I do remember how the other women were not only incredibly smart, but also supportive. I was surprised. This was a group of accomplished women physicians and yet, the competitive tension I usually experienced with women colleagues in medicine was largely absent; instead, I found acceptance and nurturing. Several of the women acknowledged how hard it was to get out of the house in the evening with young children at home. Some of them shared their own search for work-life balance.
Over time, our group members have shared personal and professional struggles such as grief over the loss of a parent, conflict with a teenage child, or difficult clinical situations. Recently, we've talked more about our career ambitions. Many of us have now established ourselves clinically and have also contributed leadership, research, and teaching in our field. Yet, the path to promotion has been challenging. While gender bias is not overt like it was a few decades ago, we have come to feel that there is still an "old boys' club" to compete with. We observe more frequent celebration of male colleagues' accomplishments, promotion of male colleagues to leadership positions, and senior physicians seem to who overlook our ideas.
Another way to think about this is from the perspective of mentorship. For a variety of reasons, women physicians have a harder time finding mentors who will support and promote their work, hence the feeling that the men have an exclusive "club." A Swiss academic research study from 2010 showed that, across specialties in medicine, women reported having a mentor far less frequently than their male counterparts.
However, even without senior mentors, women can still benefit from peer support. In my women physicians' group, in addition to providing emotional sustenance, we have begun to offer each other tangible career promotion as well. One of the women in the group calls this our "old girls' network". When one of us published a book recently, others in the group attended her book reading at the campus bookstore. Last summer, when I wrote a grant application, one of the other women in the group read my draft and gave feedback. We also now take every opportunity to praise each other's accomplishments to the higher ups.
This is not a novel approach. Drawing from an article also about a "Good Old Girls' Network," Facebook COO, Sheryl Sandberg, talks about the power of women sponsoring other women in her book Lean In.
The more women help one another, the more we help ourselves. Acting like a coalition truly does produce results. In 2004, four female executives at Merrill Lynch started having lunch together once a month...After the lunches, they would all go back to their offices and tout one another's achievements. They couldn't brag about themselves, but they could do it easily for their colleagues. Their careers flourished and each rose up the ranks to reach managing director and executive officer levels. [1]
An article in the Washington Post about women in the White House during the Obama administration describes a similar effort. Using a technique they referred to as "amplification," female aides in the West Wing would restate important points made by other women and give them appropriate credit. Over time, they observed that President Obama invited more women to contribute to policy discussions. "Amplification" not only successfully presented a counter-point to the gender bias, but perhaps also began to undermine the gender bias altogether.
My women physicians' group doesn't have a way to measure the real impact of all of our efforts yet, but I'm convinced that I wouldn't have my current professional leadership role without the help of my female colleagues. There are many other factors as well, of course. Sandberg also talks about the importance of having a supportive partner, and it's not lost on me that my husband was the one who introduced me to Lean In, nor that on a difficult day, he sends me texts that say fight, fight, fight (à la Tom Hanks to Meg Ryan in the 1998 movie, You've got Mail). In addition, I have many male colleagues who acknowledge gender bias and actively support the promotion of women. Some medical schools have also developed programs to assist women faculty with career advancement. All of these efforts are significant and important. Nevertheless, we women can and should also promote each other.
[1] Sandberg, S. (2013). Lean in: Women, work, and the will to lead (First edition). New York: Alfred A. Knopf. pp 164-165.
For more narratives and perspectives on women in medicine, check out this piece and a curated collection by Jessica Gold, MD MS.