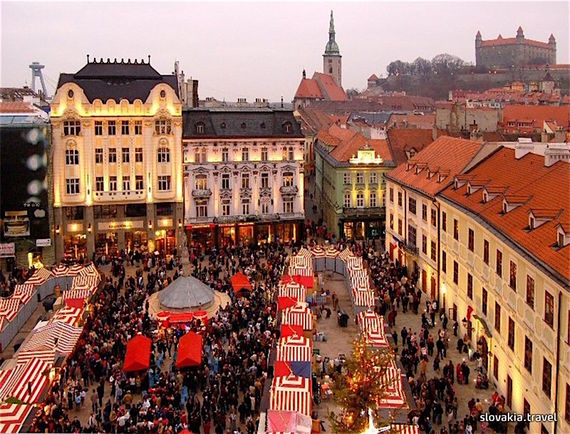 There's no denying that Bratislava, Slovakia, is a convenient way stop between Vienna, Prague and Budapest, all far larger cities. But Bratislava shares with all those a legacy of cross-culturization, Baroque, Austro-Hungarian, Secessionist and Art Deco architecture and a devotion to large public squares that makes it an ideal two-day trip. And during the Christmas holidays the town lights up, makeshift markets are assembled, the spiced wines perfume the frigid air, hot pastries, and pretzels are displayed, and the townspeople take their time strolling through and enjoying it all in the car-free Old Town of the city.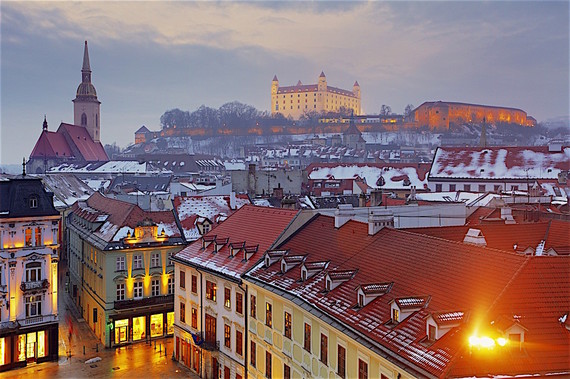 Over the centuries Austrians, Croats, Czechs, Germans, Hungarians, Jews, and Serbs all brought their own cultures to Bratislava, which was the capital of the Kingdom of Hungary in the 18th century. As of World War I Slovakia was united with what is now the Czech Republic, as Czechoslovakia, and after occupation by the Germans in World War II, it was taken by Soviet troops and became part of the Soviet Union. On the outskirts of Bratislava you can still see the never-varying, tick-tacky box apartments the Soviets built by the thousands. In 1993 Slovakia and the Czech Republic separated amicably.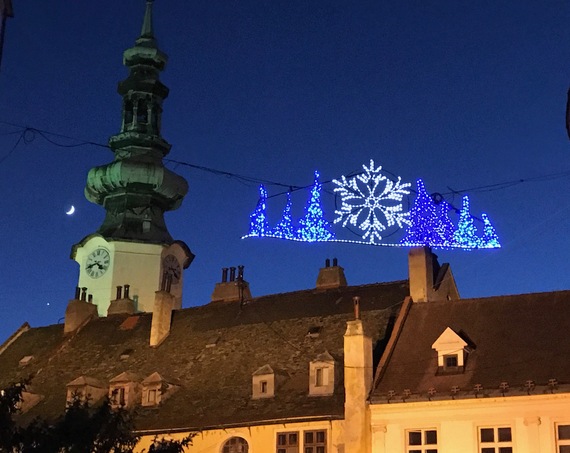 Today the Old Town is marvelously restored. Its scrubbed-clean attached façades and tidy red roofs glow in the sun, its fountains flow, and you can still pass through Michael's Gate that in the Middle Ages was part of the walled fortifications. The Gothic St. Michael's Cathedral is remarkably well preserved, its rococo interior cleaned and well lighted.
The impressively rococo-baroque Grasakovic presidential palace dating to 1760, sprawls along Hodžovo Námestie, and there are 50 museums in the city, including the National Gallery in a huge castle perched above the city, originally Gothic but reconfigured in the baroque style.
The Old Town and shopping streets, and the Main Square of Halve Námestie fills up with the traditional Christmas markets. There is always music playing and a set-up ice rink, and the dozens of colorful stalls sell everything from tree ornaments and toys to Slovakian sausages and waffles.
By the way, English is widely spoken everywhere in Bratislava, especially among those under 35 years of age, who learn the language very early in grammar school. Russian was abandoned by most into the dustbin of the city's history.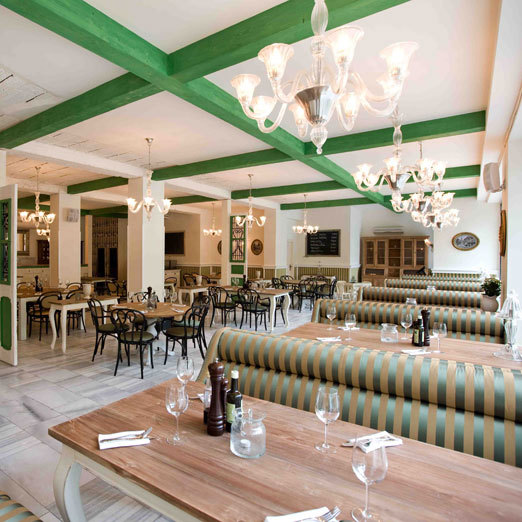 Restaurants tend towards traditional Slovakian food, which is, shall we say, very hearty, similar to German, Austrian and Hungarian fare. One of the most charming spots, right on the Market Square, is Zylinder, whose charming Old World look of pea green ceiling beams, crystal chandeliers, cream-colored furniture and striped booths, along with outside tables that are ideal in good weather, is a complement to the refined style of cooking.
You might begin with a sampler of starters ($12) that include beef tartare, home-made jelly with shallot vinegar, duck liver pâté, and smoked specialties. I loved the rich, tangy sheep's cheese soup with smoky bacon "demikát" ($4), and the bright red stuffed peppers that come with round bread dumplings the size of hockey pucks with which to soak up all the delicious tomato sauce ($9).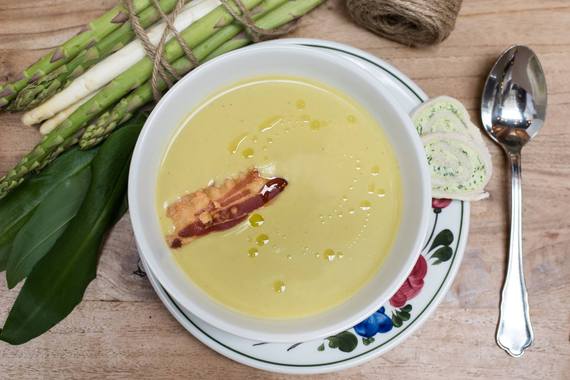 Here the tafelspitz of boiled beef ($16.50) comes first as a marrow bone with grilled bread, followed by a hefty beef broth full of chopped vegetables and meat, then generous slabs of the juice-riddled boiled beef itself accompanied by creamed spinach, roasted Austrian grated potatoes, and a chive sauce with applesauce and horseradish.
Far more Old School is the curiously named Bratíslavská Reštaurácia Flagship, located within an old movie house set on two floors, with grand staircases and what used to be a stage and screen. It looks like a place where Quentin Tarantino would film a bloody fight scene for a movie set in eastern Europe. This is a huge room, always packed with patrons who come the housemade draft beers and for the rich cooking, like the pungent garlic soup served inside a sliced-open round loaf of bread ($3.75), whose interior mixes with the soup to form savory clumps. Sauerkraut soup ($2.25) was also good, and the goulash here is more soup than stew ($6).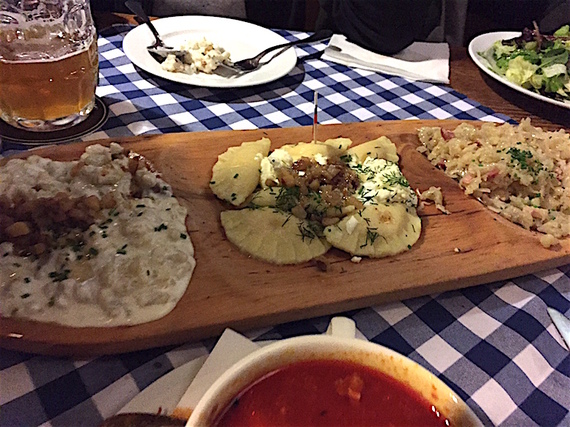 Order the three kinds of dumplings, served on a wooden board--a pirohy, stuffed like ravioli with potato, another a kind of spaetzle with sauerkraut, and the last egg noodles in a rich creamy bacon sauce ($12.50)--that easily feeds two or three people.
Everything at Flagship is unbelievably cheap, the young waiters extremely amiable and the service fast, as it should be in a café with so much history on its side--definitely a unique place and a must visit in Bratislava.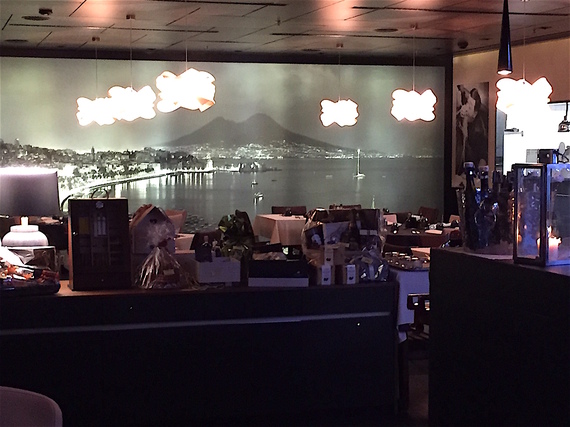 Far more modern and quite out of the ordinary is Massimo (Dvořakovo Nábreẑie 4), which is set overlooking the Danube River. Back in 2005 owner-chef Massimo Atanasio decided Bratislava was ready for a first-rate, upscale Italian restaurant and he's given the city a romantically lighted, glass-walled interior and bar --with outdoor tables in summer--with a backdrop of a photo of the Bay of Naples, where he was born. Here you'll find modern and traditional cucina Italiana, starting off with very good bread and olive oil.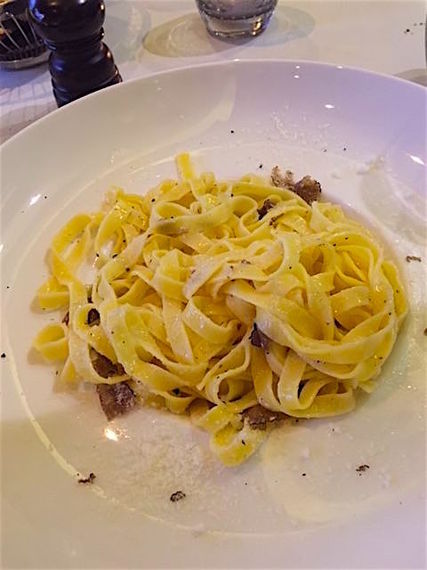 There's a carpaccio of beets with a cheese sauce drizzle ($14), and the misticanza of salad greens ($6.25) is very welcome after the heavy food of Slovakia; the housemade tagliatelle with black truffles and quail egg--"cooked to 63 degrees C"--(market price) will put you in mind of the best in Tuscany (right). Massimo also knows how to handle fish, demonstrated by a branzino fillet served atop bright carrot-ginger puree ($24). For dessert have the dense dark chocolate torta di caprese. And to top it off, Massimo carries a first-rate wine list with Italian and other European bottlings at fair mark-ups. Cocktails run a very genial $6.25.