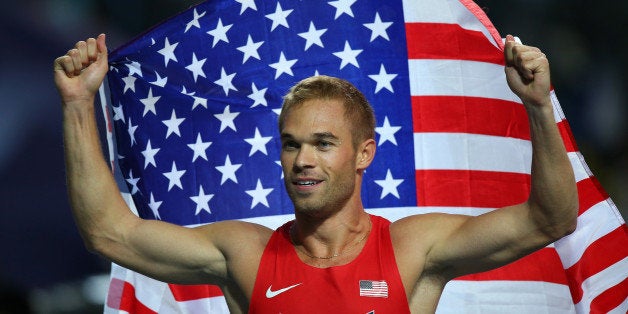 Will Nick Symmonds join Curt Flood, John Mackey, Ed O'Bannon, Spencer Haywood and others as seminal figures standing up for the rights of fellow athletes? Though only receiving a fraction of the media attention that Deflategate receives in just an hour on social media, Symmonds' recent actions are likely to have substantial ramifications for Olympic athletes in our country.
A two-time Olympian, Symmonds won the 800 meters at the U.S. Trials this past weekend. His efforts earned him a spot on the U.S. World Championship team which heads to Beijing later this month -- a stepping stone to a spot on the 2016 USA Olympic Team. However, before representing his country in Beijing, Symmonds was provided with a "Statement of Conditions" by USA Track & Field (USATF) that required his approval. One clause raised concern for Symmonds which declares all athletes must wear "designated team uniforms at official team functions" yet fails to define what constitutes an official team function.
USATF uniforms are emblazoned with a Nike swoosh, thanks to a 23-year deal the company struck with USATF, which pays the non-profit organization an average of $20 million a year through 2040. In the letter sent to USATF World Championship team qualifiers (posted by Nick Symmonds on his Instagram account) USATF states:
You are required to wear the Nike Team USA apparel... at all team functions throughout the trip, including at the athlete hotel, during training, press conferences, competition, and award ceremonies. Accordingly, please pack ONLY Team USA, Nike or non-branded apparel and be sure to bring your Team USA gear
Here's the wrinkle: like many track and field stars who don't receive a salary from a league, Symmonds survives, in part, from personal endorsement deals, like his with Brooks Running. As Symmonds sees it, by broadening the scope of Nike's exclusivity, USATF has usurped the endorsement value track and field athletes attain when they reach the pinnacle of their sport. And in doing so, USATF and Nike have completely undermined the value of his endorsement deal with Brooks -- presently, but also for future deals if these restrictions remain in place.
Symmonds recognizes he's bound to wear USATF gear in competitions, but extending the requirement to include training and travel seems excessive. Thus, as he sought clarification from the USATF about the parameters of his apparel obligations, he didn't sign the "USATF Statement of Conditions." Unfortunately for Symmonds, this requirement was deemed non-negotiable and USATF decided to replace him on their World Championship team -- ostensibly removing him from Olympic team consideration as well -- and sent him notification declaring:
Without you having submitted a fully executed USATF Statement of Conditions for the 2015 IAAF World Championships, I am disappointed to have to inform you that you will not be named to the U.S. Team in the men's 800m event.
USATF blames the International Association of Athletics Federations (IAAF), which serves as an international world governing body for track and field for imposing these tight apparel restrictions, but that's just passing the buck. The bottom line is that the USATF is happy to collect significant operating revenue from Nike, and in return, place restrictions on its athletes, even if it prevents them from seeking fair market endorsement deals.
And, unlike players in the MLB, NBA, NFL or NHL, there are no labor unions protecting the rights of track and field athletes. The opportunity for union representation has a major impact on the ability of athletes to collectively negotiate for greater rights, especially financially. For example, in each of the four major domestic leagues, the players receive roughly 50 percent of the revenues generated by the sport. By contrast, in track and field, the USATF shares only approximately 8 percent of its gross revenues with its athletes.
Thus, Symmonds works as an independent contractor, left on his own to fight against outdated regulations that are handed down from a governing body that answers to no one other than a commercial sponsor. One can only hope that Symmonds' recent stance reverberates through the Olympic athlete network as others recognize that a system which restricts their ability to obtain fair market compensation for their skills must be abolished.