For three weeks this month, the attention of much of the world will be focused on the Russian city of Sochi and the XXII Olympic Winter Games. Stellar athletes from nations large and small will awe us with their ability to swoosh, fly, soar, twirl and jump. I am willing to guess that many of those athletes were introduced to sports when they were very young and used that passion to distinguish themselves in their communities. Not only is sport a way to channel a child's energy and talent, but it can also be a catalyst for leadership development, conflict resolution and increased safety in dangerous situations.
At The Global Fund for Children (GFC), we see on a daily basis how participating in sports and recreational activities can serve as a springboard to happier, more educated, healthier children, particularly in the poorest parts of the world. Some of them may even participate in Olympic Games one day.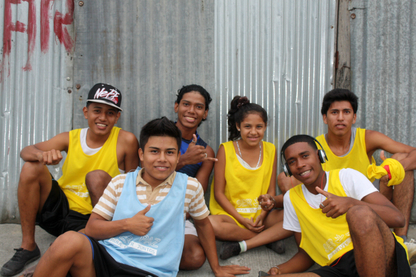 In Guayaquil, Ecuador, Ser Paz (Being Peace) is a small, community-based grassroots organization that works with boys and young men from the city's 14 major gangs to promote peace and provide constructive alternatives to gang violence and crime. Its "Red Card for Violence" program uses street soccer to teach conflict prevention to children and youth in neighborhoods with high levels of gang activity. Stories of transformation are present in every neighborhood where Ser Paz works, and rates of violent crime have plummeted across the city following Ser Paz's interventions. The street soccer program organizes community events in the most vulnerable areas of the city, and the games take place in public spaces at night, partnering with local businesses and community groups to encourage citizens to reclaim the streets. Points are awarded not only for scoring goals but also for demonstrating fair play, encouraging the opposing team, enthusiastic fan support and creative goal celebrations.
Founded in 2006, the Sports and Leadership Training Academy (SALT) in Battambang, Cambodia, develops young leaders through a community-based soccer league. It incorporates life skills lessons, vocational training and community engagement. The organization has a particular focus on promoting the empowerment of girls through sports. Executive director Sam Schweingruber is a former Swiss soccer player who recognizes that soccer has the power to combat trafficking, drug use and gang membership. The program challenges gender norms that contribute to the low status and high vulnerability of young women by providing training and promoting excellence in soccer, a traditionally male-dominated sport, and by providing strong female role models.
These programs, along with many others supported by GFC, are using sports as an alternative to dangerous activities, while helping children and young people work toward brighter futures. GFC has invested more than $30 million in small, agile, community-based organizations that are developing innovative programs to directly address the needs of children in their communities. Many of these disenfranchised children who are engaged in sports-based programs are unlikely to watch the Olympics on television this month. But, as with many things in life, what happens on the local level can be as important as what plays out on the national stage. For hundreds of thousands of children and young people around the world, the rewards they reap from playing sports are just as important as a gold medal.
Calling all HuffPost superfans!
Sign up for membership to become a founding member and help shape HuffPost's next chapter