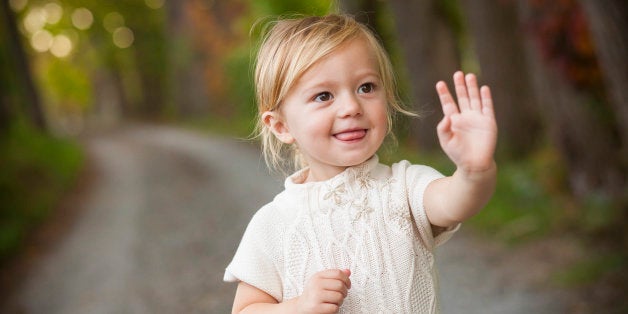 "This must change. As a society we need to create policies that champion all parents, enabling the American family to thrive," you recently spoke these ever poignant words that echoed throughout millions of families' homes.
But as you and your father are very well aware, our country is behind the rest of the world. The United States and Papua New Guinea are the only two industrialized countries who don't guarantee paid leave.
This is both heart-wrenching and incredibly mind boggling for American families to not only wrap their heads around, but continue to be able to accept.
As I look back upon the past few years, I try to recall where and when I personally hit my rock bottom from not having access to paid family leave as a teacher.
Was my low point going from room to room in my house, searching for any item that I could sell?
As frustrating and painful as this was, no, this wasn't my low point.
Was my rock bottom walking to the mail box each day, with a pit in my stomach, wondering what over due bill or notice I was going to receive that day?
No, this wasn't it either.
Was my rock bottom carrying a baby on my chest, walking into a court room to explain the validated reasons as to why I couldn't pay my bills?
No, as humbling of a day as this was, this was not my rock bottom.
Was it going into each of my babies' rooms and emptying their piggy banks in order to purchase groceries for the week?
The pain that this caused me still was not my rock bottom; it continued to go even deeper.
Was my low point holding a baby in my arms as I had a toddler wrapped around each of my legs, watching through the window as our vehicle was taken away?
As humiliating and anxiety causing as this situation was, no, this was not my low point.
You see, my rock bottom was when I had to push my daughter away, unwrap her arms from around my neck when she was sick with the stomach flu, and I had to hand over a crying baby who only wanted her Mommy. It was probably the "hundredth some" morning that I painfully walked out of the door, as my heart was breaking, while I had to hurry off to a classroom full of second-graders waiting for me to love, educate, and inspire them.
As I went through all of the above, as millions of other families continue to go through every single day in the United States, I was a full time elementary teacher. I was also taking six grad classes in order to keep my teaching credential current. I tried to learn about photography and booked sessions on the side in my free time to attempt to make ends meet but unfortunately, due to astronomical childcare costs and school loans, I still couldn't break even. I was also writing and decided to started my own business from home, while I had three young children and our fourth baby on the way.
I remember as I was in labor with my fourth baby, I was trying to close two deals. Yes, just as I was about to bring my sweet baby into this world, I still felt anxious over what I needed to be doing in order to stay afloat. Do I want pity? No. Do I wish I could have a do over? No, I'm not trying to live in the past, yet just trying to make a better future for my children. I'm a hustler, and my work depends upon our family's livelihood, and you know, I'm absolutely fine with that.
A respectable, working woman herself, can absolutely relate.
But what I'm not fine with is, alongside millions of other hard working Americans, still coming up short, still having to max out credit cards and drowning in debt due to not having any paid family leave. Emotionally, physically, and financially trying to recover from, for some, lifetime scarring.
As our United States Secretary of Labor remind us, "We're making people choose between the family they love and the job they need. No other nation on the planet is
making these choices."
It is not uncommon for women to return to work within days of delivering a baby in order to keep their job. Forty percent of mothers are returning to work within 10 days of giving birth -- the thought alone is truly unfathomable.
We are finding that more and more families across the United States are being forced to choose between caring for a spouse or parent due to an unexpected medical emergency or keeping the safety net of their income and insurance.
It is our moral obligation, our duty, to begin putting family first in this country. Not only is this an economic benefit, but also the best way to maintain the talent within your business and level the playing field.
So I ask you Ivanka, join me in helping us to begin to make America great again, by standing beside me on November 30th at the Game Changer Awards in Washington, D.C. There I will be doing a LIVE FB interview, addressing Americans' questions in order to start to transform our country for its number one priority, our families.
It's about time we caught up with the rest of the world, don't you think?