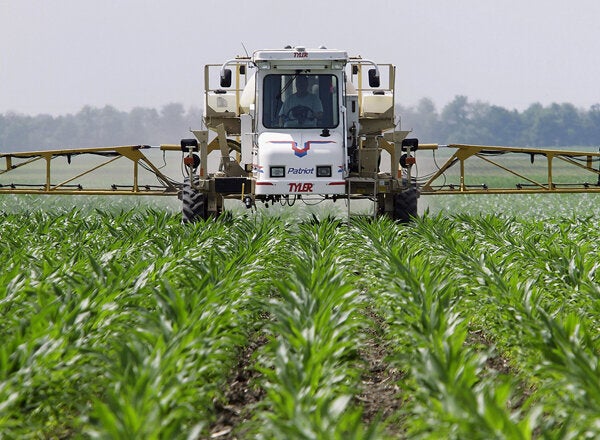 By Peter Costantini ~ Seattle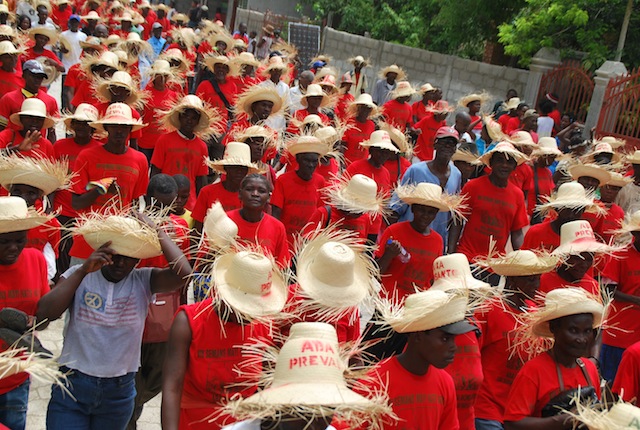 Mouvman Peyizan Papay demonstrators at Hinche June 4, 2010. Photo credit: La Via Campesina
To: Hugh Grant, President and CEO, Monsanto
As you are no doubt aware, your offer to donate hybrid corn and vegetable seeds has stirred up quite a controversy in Haiti.
I'd like to call your attention to an article I wrote on this issue recently for Inter Press Service. While I was in Haiti for the month of May, I had a conversation with Chavannes Jean-Baptiste, the head of a major Haitian peasant organization and a leader of the international confederation La Via Campesina. He criticized your donation from a perspective on seeds and agriculture based on a very different world view that might be worth your time to understand.
Your company blog says that the idea to donate seeds to Haiti came to you and Executive Vice President Jerry Steiner at the World Economic Forum in Davos, Switzerland. As you worked the crowd at that upscale ski resort, the place must have been crawling with Corporate Masters of the Universe and Brilliant Thinkers, who congregate yearly there to deliberate on the world's problems and how to solve them. But -- going out on a limb here -- I'm guessing there were not many Haitian Peasant Farmers.
While I'm sure some of the ideas on Haiti discussed there are worth pursuing, if you want to understand what Haiti's farmers need in the wake of the January 12 earthquake and the hurricanes of two years ago, I highly recommend going to Haiti to talk to some of them and to people who work closely with them. Travel in most rural areas is excruciatingly difficult on the ground, which is a reality farmers have to live with, but you could always rent a helicopter. I expect you would encounter a very different range of perspectives.
Your communications people say you did contact the Haitian Ministry of Agriculture and got their approval to donate seeds. That's a good first step, but it doesn't take a Macarthur Grant to figure out that even the best-intentioned people behind the desks in a ministry, especially one that has just suffered heavy losses in an earthquake, might not always represent the final word on what impoverished farmers deep in the countryside are thinking. And perhaps they wouldn't want to offend a corporation as wealthy and powerful as yours.
The U.S. Agency for International Development says they are going to use the seeds for a project called WINNER. They may have some interesting ideas on how to use them. Perhaps they have found some Haitian farmers who are willing to try them. But they are an arm of the U.S. State Department, and they ultimately represent the interests of the U.S. government, not Haitians.
Fortunately, though, it's not hard to find a wide range of opinion in the Haitian countryside. During my time in Haiti, I encountered large, sophisticated organizations of peasant farmers there that were very happy to talk to me. And there are plenty of smart, experienced Haitian agronomists and economists who are in intimate contact with realities in the fields. I spent a week outside of Port-au-Prince and more time in the city interviewing farmers, agronomists and others. I'd be glad to put you in touch with some of them.
Even if your travel budget is a little thin after those outrageously overpriced hotel rooms in Davos, I want to reassure you that right on the Internet you can find some excellent information from these people and organizations.
Jean-Baptiste's group, Mouvman Peyizan Papay (MPP - Peasant Movement of Papaye), is one of the biggest peasant organizations and has a web site that talks about its philosophies and practices. Having survived decades of political violence and the recent destruction by the 2008 hurricanes and the January earthquake, groups such as the MPP and Tèt Kole Ti Peyizan Ayisyen (Heads Together Small Haitian Farmers) remain among the strongest democratic grassroots organizations in the country.
A non-profit that has long worked closely with small farmers' groups, Grassroots International, has done a sad but compelling documentary on the destruction of Creole pigs at the behest of the United States and international financial institutions in the 80s: Haiti's Piggy Bank. You should really watch it if you're interested in avoiding the mistakes made back then that helped to cripple Haitian agriculture.
For a thoughtful outline of agricultural policies that would benefit the majority of Haitians, read: A Future for Agriculture, a Future for Haiti by Beverly Bell of Other Worlds, who has decades of experience with Haitian popular organizations.
A macroeconomic and historical perspective on how to correct some past mistakes is offered by Tim Wise, the Deputy Director of the Global Development and Environment Institute at Tufts University in Medford, MA, in Aiding Haiti: Let's get it right this time.
And if you're looking for a model of how to do a detailed on-the-ground study of agricultural needs, try Edward Walters & Dina Brick's study, A Rapid Seed Assessment in the Southern Department of Haiti. It's the kind of data you should have collected before deciding to make a donation of seeds.
Bill Clinton recently apologized before the U.S. Senate for the U.S. trade and aid policies that led to the destruction of Haiti's capacity to feed itself. Monsanto is a charter member of the industrial-agricultural complex that has long driven those policies in the U.S. government and international institutions, exploiting every opening to break down local agriculture and open the floodgates for subsidized U.S. products and technologies. The large-scale export agriculture model imposed on Haiti then seems to be exactly what you are promoting with the donation of hybrid seeds. Or can you propose a way Haitian farmers could use them that would not ultimately end up costing most of them more than they can afford and driving them off the land?
Unfortunately, Monsanto's own corporate history doesn't inspire a lot of trust, and Haitian farmers are not alone in their skepticism of your model and embrace of alternatives.
Beginning with its production of the carcinogenic defoliant Agent Orange during the Vietnam War, Monsanto has been a lightning rod for criticisms by environmental, agricultural and public-health groups. In a more recent example, your company reportedly provided the potent herbicide Roundup Ultra to the U.S. government for anti-drug fumigation efforts in Colombia, drawing criticism from community and human rights groups there that the chemical destroys their food crops, poisons their water, and has led to increases in cancer and birth defects.
Your lawsuits against small farmers who protest that their fields have been contaminated by neighboring Roundup Ready GMO crops have not made you a lot of friends. Monsanto's genetically modified alfalfa has been challenged all the way to the U.S. Supreme Court in Monsanto v. Geertson Seed Farms, with mixed results, and will no doubt face further opposition.
Perhaps you'd like to put all this behind you. So would small farmers around the world, who can't afford to forget that history because it frequently comes back to bite them.
The question is not ultimately how productive your hybrid corn seeds are, whether they can be used without manufactured fertilizers and pesticides, or whether they can be saved and reused under some circumstances. You are not, as your donation suggests you believe, sending those seeds into a vacuum full of ignorant, benighted people looking for any kind of help you decide to offer them.
Most of the Haitian countryside was not directly damaged by the earthquake, but rather has been ruined and impoverished over decades by human practices and human-made disasters, many of them imported. Haitian farmers, along with small farmers in neighbor countries like Mexico, have a deeply rooted culture of peasant agriculture. They have agronomists and scientists to back their efforts with research, and they have networks to share knowledge and best practices around the Haitian countryside and across the globe.
The peasant organizations at the demonstration in Hinche weren't simply rejecting your model of agriculture: they are proposing an integrated one of their own. After burning the batch of Monsanto seeds, they handed out native Creole seeds to the farmers there.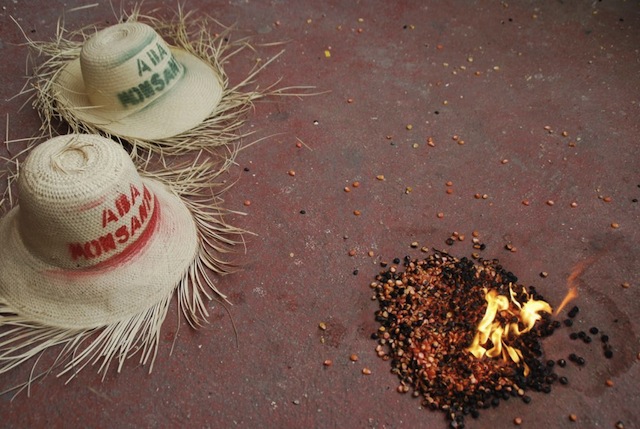 Straw hats and burning hybrid seeds. Photo credit: La Via Campesina
Haitian small farmers have centuries of experience breeding and saving seeds that grow well in the Haitian climate and their own local ecosystems. To measure their value, you have to take into account the environmental, economic and social externalities that imported hybrid seeds, synthetic fertilizers and pesticides often introduce.
To increase their productivity, Haitian farmers need virtually everything except imported seeds: hand tools, locally produced fertilizer, machinery, livestock, irrigation, storage and processing facilities, roads to get their products to market, and reforestation to reduce flooding. From a macroeconomic point of view, Haiti desperately needs to grow its domestic markets and suppliers, not import new products, such as your seeds, that they previously produced themselves.
Volny Paultre, the chief agronomist of the Food and Agriculture Organization of the United Nations in Haiti, could offer you the benefit of decades of knowledge of these issues at a scientific and policy level. I did an interview with him in May. The FAO has been working effectively all over rural Haiti for years, and many of their representatives are Haitian agronomists. Before trying to do anything to help Haitian farmers, you should talk to them at length about their programs.
The deep roots of peasant agriculture are not restricted to Haiti. In a recent article in The Nation, Retreat to Subsistence, Peter Canby describes how the indigenous small farmers of Oaxaca, Mexico are defending their ancient corn culture and the biodiversity of their seeds and milpas, and resisting being driven off the land. Sister cultures survive in many parts of the world, but many others are also endangered.
Beyond places with strong indigenous peasant cultures, alternative models of agriculture are attracting interest around the world. Just in the past few months, two important academic studies have been published that provide some data on the value of organic, small-scale farming methods.
A study of potato farming published in Nature by Washington State University scientists found that organic methods did a better job of reducing pests and increasing plant size than conventional ones using pesticides. In another paper published in the Proceedings of the National Academy of Sciences, researchers from the University of Michigan found that in tropical regions, small-scale family agriculture can be equally or more productive than industrial farming, while doing a better job of preserving biodiversity in the face of deforestation.
As you also may have learned, the protests against your seed donation weren't limited to Hinche. In cities across Haiti, the U.S., the Dominican Republic and Brazil, supporters of the Haitian farmers, including international environmental groups such as Greenpeace and the Organic Consumers Association, reportedly demonstrated in solidarity.
"With their deadly gift ... Monsanto and its accomplices are worsening the situation of the Haitian peasantry. This is a new earthquake," declared La Via Campesina, a confederation of peasant organizations in 70 countries to which the march organizers belong. "While this move comes at a time of dire need in Haiti, many feel it will undermine rather than bolster the country's food security," the group said in a public statement. Clearly, if you go ahead with your current policies you will have a tough row to hoe with this movement and its supporters.
If Bill Clinton can apologize for his role in destroying the capacity of Haiti to feed itself, can you take a cue from him and reverse your course in Haiti before Monsanto compounds the damage?
Calling all HuffPost superfans!
Sign up for membership to become a founding member and help shape HuffPost's next chapter