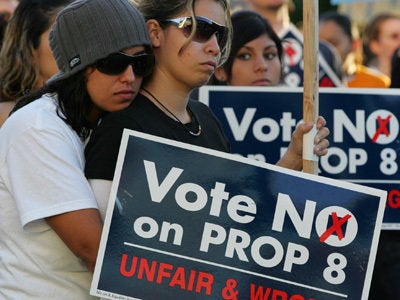 Somebody posted a link to this letter on my recent post about the racially characterized attacks against blacks by some in the gay community for what CNN exit polls said was a 70% vote in favor of Proposition 8.
The letter is from Kathryn Kolbert, President of People For the American Way Foundation. Among other things, it called the accusatory rhetoric of gay activists towards African Americans, "deeply wrong and offensive." And she added--as I stated in my original piece--it was counter productive. And since Ms. Kolbert (a HuffPo blogger) hasn't posted this yet, I took the liberty to. In the letter, she is eloquent and impassioned. But, more importantly, she's accurate about the facts. I just hope people put down the pitchforks long enough to listen.
The public letter, in its entirety, can be found here. But here is an excerpt.
Nov. 7 -- The past 72 hours have brought an extraordinary range of emotions -- great joy at the election of Barack Obama and defeat of John McCain, and sadness and anger at the passage of anti-gay initiatives in Florida, Arizona, Arkansas, and California. That sadness has turned to outrage at the speed with which some white gay activists began blaming African Americans -- sometimes in appallingly racist ways -- for the defeat of Proposition 8. This is inexcusable.

As a mother who has raised two children in a 30-year relationship with another woman, I fully understand the depth of hurt and anger at voters' rejection of our families' equality. But responding to that hurt by lashing out at African Americans is deeply wrong and offensive -- not to mention destructive to the goal of advancing equality.

Before we give Religious Right leaders more reasons to rejoice by deepening the divisions they have worked so hard to create between African Americans and the broader progressive community, let's be clear about who is responsible for gay couples in California losing the right to get married, and let's think strategically about a way forward that broadens and strengthens support for equality.
Calling all HuffPost superfans!
Sign up for membership to become a founding member and help shape HuffPost's next chapter