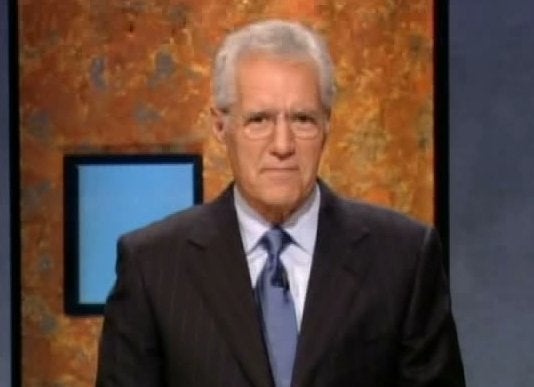 J.R. getting shot. Chris Daughtry being sent home early. Paul Orndorff turning on Hulk Hogan. Throughout the history of television, there have been shocking twists and turns that have left us awestruck, saddened, and speechless. While the aforementioned examples resonate even today, all of them pale in comparison to the boldest and most disturbing plot twist of all: the day Alex Trebek showed up to the "Jeopardy!" set sans mustache.
A longtime television treasure and arguably the best Canadian ever (next to the immortal Rick Moranis and ballad machine Bryan Adams), Trebek turned his back on his fanbase by shaving his Trebek trim last decade and, worst of all, he's left it off ever since. Even Cheech Marin has dabbled with putting his East L.A. fur back on his face from time to time. What gives? Seeing Trebek without his mustache is like spotting Flavor Flav without a clock around his neck or Al B. Sure with a Top 40 single currently on the charts. It's just not right.
Decades later, the wounds aren't healed. I think back to the good ol' days, when I was in elementary school, middle school, and even high school when I sat down at 7 p.m. EST to watch "Jeopardy!" with my mother. The two of us bonded over questions we didn't have the answers to and a mustache that -- even in its simplicity -- matched even cricket legend David Boon's patch of fuzz.
It's not a coincidence that we both stopped watching the game show together after Trebek shaved his 'stache without any warning. Perhaps me entering college played into it, but I doubt it. Would you watch Sajak without Vanna?
Over a decade later, I ask myself: Was he ashamed of his pushbroom? Did Trebek sense it was out of style? Did he trim his trim because he thought it'd make him look younger? It only made him look more Canadian.
Only Trebek knows the answers, and at some point, he's going to have to form them in a phrase of a question. Mr. Trebek, it's time to grow back your trademark mustache. Bert Convey never dumped his wonderous Caucasian 'fro. Why did you have to turn your back on your best friend?
At a time when movie stars are sprouting mustaches again (kudos to Brad Pitt and George Clooney, to name two), it's time Trebek returns to his roots, and -- for the first time since Tommy Lasorda Baseball landed on Sega Genesis -- grows a hairy pickle under his nose again. I'll take sweet stache for $500, Alex.
Popular in the Community