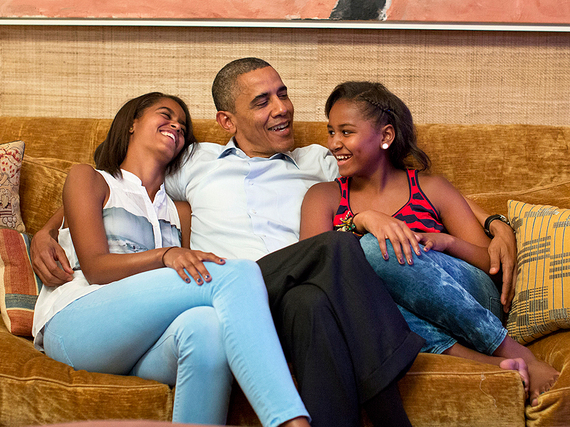 I am writing to you in sadness over the horrible comments posted on the article about your daughter choosing to go to Harvard. I hope you don't mind me writing to you and addressing you by your first name since we don't know each other, but I am reaching out from one dad to another.
I don't care that you're the president, and I don't care that you're a Democrat, I'm writing to you because you are a dad. Although I too am all three of those things!
I'm appalled at what people had to say about your daughter and your family. I'm oddly embarrassed, I'm totally ashamed, and I'm completely horrified. I'm also angry that there are people in this world with such negative energy about the most wonderful job in the world... raising children. The nerve to say something about our children!
I'm angry that there are people who would not only denigrate the work you've done as a dad, but also use hateful words when addressing your two lovely daughters. It's not right and I want to reverse the negativity somehow, in my own way. Because I've been there too, my friend.
You are clearly a good dad, as am I. You've worked hard to prepare your children to tackle their own lives, as have I. You've just finished the college selection process with much success, as did I a few years ago.
That process isn't easy, I don't care who you are. It wasn't easy for me, I can tell you that, and despite your stature I'm sure it wasn't a piece of cake for you.
Fatherhood is a lot of work, no matter who you are.
You should be relishing in this moment, like I did with my daughter when she got into Penn State and then with my son a few years ago when he got into IUP outside of Pittsburgh.
Getting your kids into college is perhaps one of the most shining moments of fatherhood and you should enjoy it. You should be beaming with joy. My daughter has now moved onto graduate school and my son will be a senior next year. I couldn't be prouder of each of their accomplishments, of which there have been many.
You'll soon see what it feels like to have successful college students as children too. I hope you get the same exhilaration that I did.
So despite the hatred that has been posted, I'd like to congratulate you and shake your hand. You're a great dad, and it shows. It shows in your children's happiness, it shows in how they carry themselves, and it shows in the looks on their faces when they are with you.
Their smiles are yet another shining moment in fatherhood for you.
As a fellow dad, what I'd really like to do is to pat you on the back and say "well done!" Only because that's what my dad has done for me and that's what dads should do for each other. Correction, that's what parents should do for each other.
I am sure, like me, that you know your children's success is more meaningful than your own. But I'd say you've scored well on both accounts.