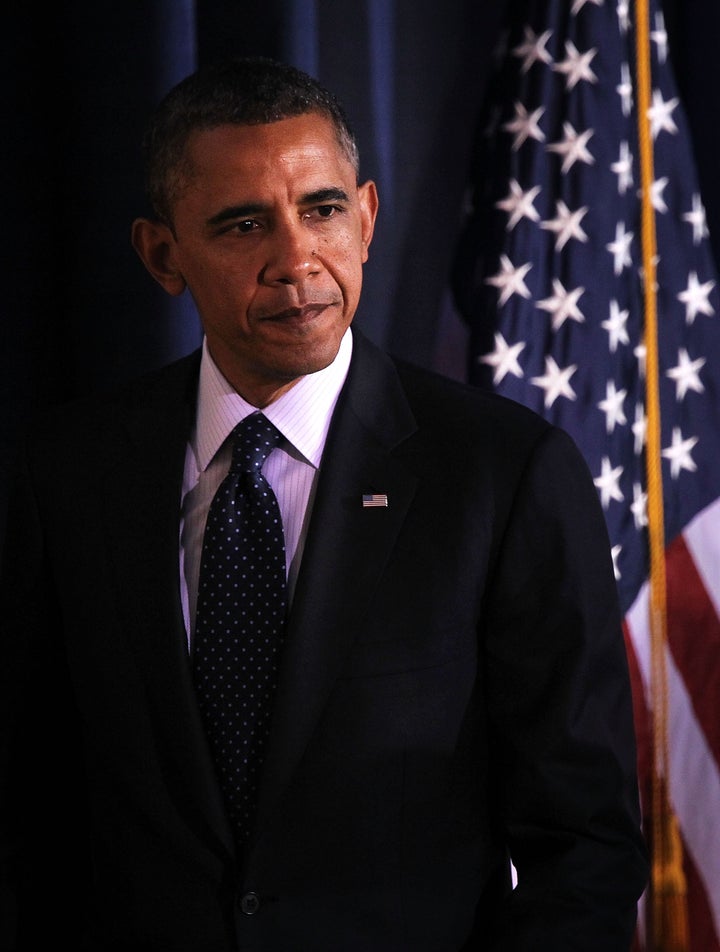 My Name is Kumi Naidoo, I am the Executive Director of Greenpeace International, I also serve as President of the Global Campaign for Climate Action (www.tcktcktck.org) and serve as Global Ambassador of the Global Call to Action Against Poverty (www.whiteband.org). But, today I write to you as an African, as a person from the developing world and as a parent.
The world needs your leadership now -- and for the first time you have immense popular support, with a majority of Americans believing that climate change is a real threat.
In 2009, you received the Nobel Prize for Peace in the run-up to the Copenhagen climate summit. There was a strong expectation that you would lead multilateral efforts to combat global warming. Everyone hoped that you would not make the same mistakes as your predecessor, George W. Bush, who ignored the CIA's and Pentagon's warning that climate change is the biggest threat to geopolitical stability, security and peace.
In your victory speech after being re-elected to a second term, you inspired hope once again to people around the world who care about global climate disruption and want to ensure a habitable planet for future generations. You said: "We want our children to live in an America that is not burdened by debt, that is not weakened by inequality, that is not threatened by the destructive power of a warming planet." This hope rose when in a press conference on November 14th 2012 you called for "a conversation across the country..." to see "how we can shape an agenda that garners bipartisan support and helps move this agenda forward... and... be an international leader" on climate change.
A stark contrast exists between what you have said and what your negotiators in Doha are doing. Your negotiators on climate change continue to undermine hope that the U.S. will be an ambitious global citizen on climate. With all due respect, Mr. President, your negotiators' view does not resonate either with the majority of the people in the world, nor with a growing number of voices of informed public opinion within the U.S. itself.
Although the Special Envoy for Climate Change Todd Stern, and Deputy Special Envoy Jonathan Pershing, say the United States has a "strong and solid" position, they have consistently delivered the opposite. They have continued to block negotiations on developing common rules for accounting for pollution reduction efforts, which are necessary to understanding if global efforts are sufficient. Although they have said U.S. climate finance for developing countries will be maintained, they will not commit to increasing it through 2020 despite it being nowhere near the 'fair share' of $100 billion that you agreed in Copenhagen. Obviously, the Congress is in a fiscal crisis, but your negotiators have stalled discussions about how to raise climate finance through innovative sources like a very small levy on shipping or global financial transactions. As the Secretary General of the United Nations Ban Ki Moon said yesterday, developed countries with large historical emissions have a clear responsibility to come up with funding to help poor countries adapt to climate impacts.
Mr. President, a lack of leadership by the U.S. in the climate treaty talks in Doha puts the survival of millions of people on the African continent and the globe at risk. In the past five years, the growth in coal use has caused over two-thirds of the increase in global CO2 emissions, pushing greenhouse gas emissions to a record high. In recent weeks, the World Bank, the CIA and the UNEP have each warned about the consequences of unchecked climate change. Statements by your negotiators that the U.S. is making 'enormous efforts' is contradicted by their lack of leadership in calling for enforceable reductions in CO2 and other greenhouse gases.
The U.S. position here in Doha betrays people who lost their lives during hurricane Sandy. It betrays people who are facing the effects of intense drought in the U.S. It betrays the aspirations of a growing number of young Americans, some of whom I have met here in Doha, who want the U.S. to recover from eight years of President Bush's climate denialism that delayed progress in climate negotiations. I feel a responsibility to inform you that this lack of leadership has profoundly disappointed many of the same people who were so energized by your promise of hope and your pledges to rejoin the international community.
Here in Doha, we continue to hear disturbing or unfounded claims by your negotiators. One example is the claim that the U.S. 2020 target of cutting global warming pollution by 17 percent compared to 2005 is based on science, when the world leading climate scientists calls for much higher targets for industrialized countries and a new United Nations Environmental Programme study shows a widening gap between existing commitments and what is required to prevent the worst catastrophic impacts of climate change. Your envoys here overstate U.S. commitments to finance global climate initiatives while the U.S. Export-Import Bank alone is spending five times more on fossil fuel subsidies that will only hasten catastrophic climate change.
Frankly, the tone of your Special Envoy and Deputy Special Envoy also has undermined U.S. credibility. In recent weeks, the World Bank and the CIA have each warned about the consequences of unchecked climate change. In this context, your negotiators claiming that the U.S. is making 'enormous efforts' rather than accepting the need for enforceable pollution reductions backed by a consensus of the world's scientists threatens to sabotage these climate negotiations. Every day with no change of course from your negotiating team, the problem is getting worse.
This year has already seen devastating storms, droughts and floods causing significant loss of life and damage to important infrastructure, including not only in your country, but also in China, India, Africa and Europe. This was yet another warning signal and a test of whether governments will protect their people. In the aftermath of Superstorm Sandy, and the drought, wildfires and other extreme weather events that have afflicted the American people over the last year, it is time to bring climate politics in line with scientific reality, both nationally and internationally.

Climate change is no longer some distant future threat. At the end of a year that has seen the impacts of climate change devastate homes and families in your country and around the world, it is the perfect time to refute the discredited claims of politicians underwritten by polluters who profit from inaction.
Mr. President, we need you to deliver bold leadership relative to what is actually necessary to reduce the threat of global warming to the U.S. and the world. This must include backing a revolution in energy policy based on clean renewables and energy efficiency in the U.S. and worldwide. It also means ending fossil fuel subsidies and the export of publicly owned coal, rejecting the Keystone XL pipeline, drilling for oil in Arctic waters and making the prevention of climate catastrophes a centrepiece of U.S. foreign policy.
You have to decide whether negotiators you sent here to Doha advocate for your position. If the world is to trust the U.S, it needs to see the bold leadership that ensures that global temperatures do not exceed levels that science has warned will wreak disaster for our planet. This essential goal is only possible with leadership from the U.S. today.
From one father to another, let me close by appealing to you, that what is at stake here is our very children and their children's future. As someone who was so inspired by your election in 2008 as U.S. President, please allow me to evoke three phrases you used in that campaign in conclusion: "A planet in peril," "The fierce urgency of now" and "Yes We Can." I believe strongly, that your message in 2008 was absolutely right and I believe if we recognize the fierce urgency of now, we can address the challenge of a planet in peril and ensure that the spirit of optimism imbued by the words "Yes we can" should now reign supreme.
Sincerely,
Kumi Naidoo
Executive Director
Greenpeace International
Related
Popular in the Community