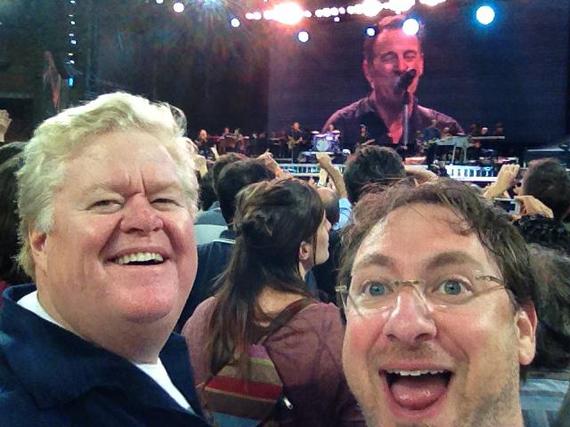 You were magnificent the other night -- performing with U2 for World AIDS Day -- and further establishing yourself as the ultimate "guest" lead singer/band leader. And congratulations on another productive and fulfilling year. You turned 65 and kept your foot on the gas. After wrapping up another worldwide tour with the E Street Band in May, you released -- an illustrated book (Outlaw Pete), a short film in which you directed and acted (Hunter of Invisible Game), a re-mastered box set spanning your first 7 albums, more official live downloads, and made your acting debut in a TV series (Lilyhammer). You also continued your unwavering support for Veterans with honorable performances at Stand-Up for Heroes and The Concert for Valor. And to close out last month, you lent your hand to another worthwhile cause -- the New Jersey Hall of Fame. Thanks for inducting fellow Jersey boy Brian Williams and reminding everyone down the shore, everything's all right.
So, what's next for you my friend? What spark will light the Freehold Fireball's fire? With no publicly confirmed plans for 2015, all that's out in the street amongst us tramps is abundant speculation. The latest report reveals Brad Pitt wants to play you in a biopic. Personally, I could use a reason to believe that one. However, if there is some truth to that story, give me a call -- I've already written the script. More plausible rumors that continue to swirl in the land of hope of dreams center on an upcoming River box set, a new solo album and a possible spring/summer tour. With regard to the tour, the word from Radio Nowhere revolves around a non-E Street incarnation -- be it a trio, or something entirely different.
Seeing you perform live is one of the greatest joys in my life -- well, that's not really true. It is the single greatest thing in my life -- and I'm pretty sure I'm not alone when I say that. Acclaim for your spirited performance on a cold, rainy night in Times Square confirm the streets do indeed have a name -- its name is B-R-U-C-E. Whatever you decide your next stage adventure shall be, I'll be there. That was not always the case.
My first realistic chance to see you play came in 1992 when you toured with the "other band." No offense, but I did not think my introductory experience should be Without You and the E Street Band. To me, it was sacred- - E Street Band or Nothing At All. It wasn't until the Reunion Tour that I caught you for the first time. And I'm honestly glad I waited. Like Little Steven stated at the Rock & Roll Hall of Fame Induction, "The legend is the band."
Sure, I've seen you solo (at Stand-up for Heroes and to open some E Street shows); I've seen you lead "other" bands (The Seeger Sessions, Joe Grushecky and the Houserockers); I've seen you jam with musicians at various benefits and guest at many other shows -- I can even recall your epic 1993 appearance on Late Night with David Letterman where you rocked a rousing "Glory Days" alongside Paul Schaffer and the Late Night Orchestra -- all of these performance were awesome. Every time you take the stage, it's magical. When you're at the mic, one and one, do indeed, make three.
I also know you're great friend's with Sting -- and maybe his penchant for the solo outing rubs off on you more than you care to admit. And that's OK. I get it. Artists need the freedom to present themselves, however they wish - and if your forthcoming presentation is solo, or otherwise, I respect your decision. If you need to play small clubs or theaters or in a completely new genre of music -- I'm with you. You can do country, folk, jazz, rap, even sing nursery rhymes -- I'll be there. I'll follow your dream to the promised land and beyond. But, let me tell you my dream.
My dream begins and ends with the heart-stopping, pants-dropping, house-rocking, earth-quaking, booty-shaking, Viagra taking, love-making, le-gend-ary E Street Band!
Be your own opening act. Be a stripped down E Street Band. Be acoustic. Be electric. Be in a small, intimate venue, on a street corner or in a massive stadium. Just whatever you do, please do it with the E Street Band. These guys are your blood brothers, your souls of the departed and tougher than the rest. You know "the mighty power of the E Street Band." Fuck! -- You coined the phrase! You admitted the band makes you "dream in CinemaScope."
So, Bruce, for us, for the greatest fans in rock and roll, do your hair up pretty, and meet us tonight, and night after night, with the band that wasn't just born to run; but was built to last. Remember, it was your original consigliere, Mr. Van Zandt, and not Sting, who said, "Rock and roll, it's a band thing."
If you're here, and we're here, then they're here.

With infinite love and loyalty,
Steve Matoren
Calling all HuffPost superfans!
Sign up for membership to become a founding member and help shape HuffPost's next chapter