In a few weeks, you will be starting one of the greatest adventures of your life. Congratulations! All those countless hours prepping for the SATs and packing your schedule with AP courses and those exhausting trips visiting numerous college campuses before finding the one that fit - they all finally paid off.
So while you finish clocking the remaining hours at your summer job and finalize your list of what you absolutely, positively need to bring to your new dorm with you, allow a recent college grad to take a little trip down memory lane with you, because before you know it, you will hear the opening chords of Pomp & Circumstance, and you'll be walking down the aisle at your commencement ceremony, as I did not three months ago.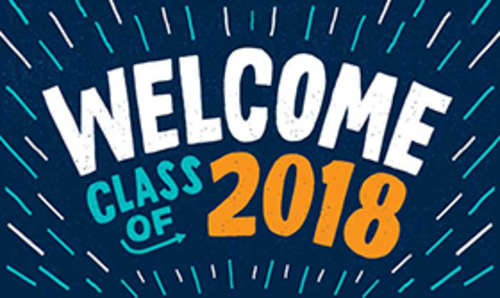 Right now you're probably feeling nostalgic about the end of high school, but there is no time for that. One of the greatest journeys of your life is right on the horizon. So remember all of your high school friends and experiences, but don't get too caught up in all of that that you actually forget to take in the sights and sounds of this new experience that is at your doorstep.
Your first semester is probably jam-packed with requirements, but power through it, and know that you'll have tons of options open to you in no time. You might go into college knowing exactly what you want to study or what you want to do with the rest of your life, or you might be excited about the prospect of taking a cornucopia of different classes. Wherever you lie on that scale, be sure to take courses in subjects that you might not normally think that you will be interested in. I know you've heard it a million times before: don't just stick to your major. But I really can't stress how important that is. Odds are, you'll try to forge a future career in the same industry as your major, so now is your opportunity to explore other topics and benefit from all of those extra, elective course credits that you have.
Take advantage of all of the opportunities that present themselves to you. And better yet, don't just wait for opportunities to come along, make them yourself and go out there and look for them. I knew exactly where I hoped to intern before I even started college, and with a lot of persistence, passion and determination, I was able to check all of those off of my college bucket list before graduating. If you know what you want to do, go out there and do it, and don't be afraid of failure. You are only in college once, so stop worrying about applying for that internship and never hearing back or asking that professor for a research opportunity for fear they'll turn you away. The second you let fear creep into your life, it will take complete control of you. College is the time to be your own boss and seek out whatever you most want; so take full and complete advantage of that. College is the safety net in your own personal circus of life. There will be times when you try something and realize that you don't like it or that you would rather be doing something else, and you have the privilege, luxury even, of being able to bounce back and up onto that trapeze swing again and try something new, knowing that your net is still safe and sound under you.
And I think it goes without saying that there is more to college than just academics. Sure, you want to graduate with the highest GPA that you possibly can, but there is a whole other world in university life than just your semesterly 16 credits (contrary to what your parents or high school guidance counselors may have told you...). Join clubs and get involved in extracurriculars. In college, there are organizations on virtually every topic or subject imaginable from philanthropic clubs to intramural sports, the student newspaper or an a cappella group, and just like in high school, clubs are a great way to dabble in an area that you have no prior experience in or to ascend to leadership roles in ones that you are more passionate about. Plus, if you do not have a ton of work experience already, prospective employers will love to see that you took on those leading positions in organizations that fit into line with what you may want to do or where you may want to work.
Live in the moment. That is the biggest thing I can tell you. I'm sure that there will be moments, very many of them probably, in which you'll wish that college was all said and done already and that you were out in the "real world," not having to worry about homework and grades and assignments you may or may not want to be doing. But don't rush it. College flies by. It just does. These next four years of your life will be gone in what will seem like a blink of an eye. And then one day you will wake up and see your diploma hanging on the wall and the leftover pile of textbooks you couldn't bring yourself to sell back to your bookstore for one cent each, and your endless pile of essays, papers and theses, and realize that it is all over and you are no longer an undergraduate. If you're lucky, like I was, you'll meet the best friends of your life and have some of the most incredible and rewarding experiences between now and May 2018. So get ready, class of 2018, because you are in for one amazing ride. Have fun. Don't look back and wish that you could take the U-turn to do it all over again. Stay in your lane, and enjoy the breezes, the speed bumps and the free open space of the highway as you go along, just as much as where you'll inevitably wind up at the end.