I love you. I do. You have taught my child to "Keep trying, You'll Get Better!" which successfully stopped her from turning into the Incredible Hulk that one time when she couldn't get her underpants on in the right direction.
And your advice to count to four, "When You Feel So Bad You Want To Roar"? Pure genius. I've used this technique myself many times. I would even say that, in the hours between my older child getting home from school and my kids' bedtime, I'm either counting to four or rocking in a corner somewhere.
I do have some concerns that I would like to talk to you about, however. First off, why is your mom the only one wearing pants on your show? Truthfully, the pants-less thing is a pretty accurate depiction of my own home, but I think you, as a role-model, should be demonstrating pants-wearing. It really would make my life easier.
And the songs. They are catchy, I'll give you that. But, oh my god, the songs. They are the ear worms that I can never get out of my head. They follow me everywhere. And people really do look at me strange when I start singing to my child in the grocery store, "Germs, Germs Go Away" as I wipe the cart down. This is both because I am a terrible singer and because it's pretty lame to sing to your kid in the grocery store. But I can't seem to stop because the songs are ALWAYS there.
To survive your songs, I find myself occasionally making up new words to them when my children aren't around. These lyrics are usually inappropriate, and because you are a preschooler, I won't share them with you. Lets just say there are a lot of things that rhyme with Duck, and the song, "Give a Squeeze Nice and Slow" can be a grown-up song too.
I enjoy your show, I do. It gives me many minutes of freedom, probably more minutes than the American Academy of Pediatrics recommends. These minutes allow me time to indulge in my own interests, like bathing and using the bathroom. And, on occasion, I feel like you are doing a better job at raising my kids than me. But right now, my daughter won't ever actually use her words unless I sing the song, "Use Your Words," and this is just making my life harder. And that's not we want, right Daniel?
Because "Friends Help Each Other, Yes They Do," I just want to remind you that the kid from Super Why? is a pretty consistent pants-wearer and Dinosaur Train is breathing down your little red sweatshirt with all those dinosaurs and... trains.
So let's throw some pants on and take the songs down a notch m'kay? Thanks.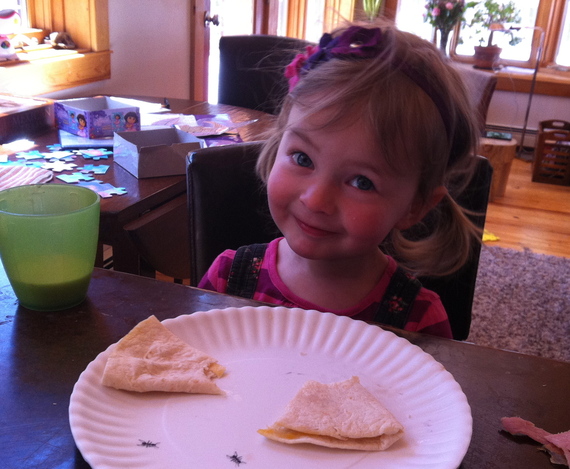 Popular in the Community