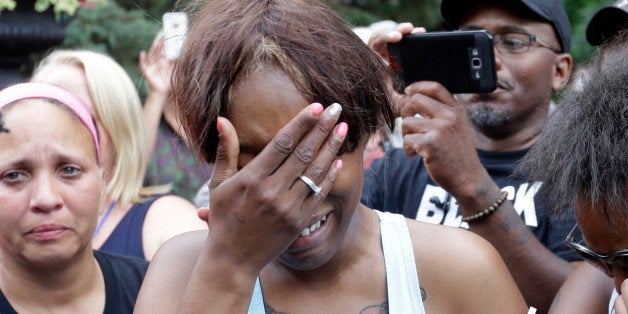 Perugia, Italy
July 11, 2016
Diamond without your live video, following the killing of your partner, Philando Castile, the world would not know the horror you and your daughter suffered. Your video offered powerful evidence, demonstrating how women have suffered, during racial profiling police stops--while their children are buckled in the car. The world would not have seen the aftermath of an officer shooting Philando several times, while still buckled into his seat belt, body bloodied, limp, and swelling without the aid of paramedics.
You live-streamed the incident, using quick wit and composure. Diamond, the world saw your calm and poise as you wanted to deescalate the violence directed at you and your daughter. How many mothers gasped and cried, while watching, because the officer maintained his weapon on your dying partner as his life expired right next to you? We listened and saw the gun. You told us what transpired, giving Americans and people around the world the only video thus seen from this terrifying encounter. The officer did not dispute your telling of events. No dash cam videos have been released. No videos from the officer, although lawyers say the videos will be forthcoming. What we now know is that there was no busted light.
Your video evidence and witnessing, what some have called "reporting," much in the way that Harriet Tubman reported during the Civil War, disrupted the closeted space of the car, where your observations would otherwise be subjected to stringent, unremitting scrutiny. Sympathizers might nonetheless have queried whether your recollections could have been correct? Would an officer really shoot a man still buckled in his seat belt? Would an officer really shoot several times into a vehicle with a little girl present in the car? What had you or Philando done to provoke the officer? Even with your video, some reporters still ask these question as if the video is not clear. They say, that Philando had a gun, ignoring the fact that it wasn't fired, he had a license to carry, that Minnesota actually allows permit holders to carry guns openly, and the only gun we see in the video is the officer's. That an officer continued to point a gun at a dying man who was clearly not a threat, while traumatizing you and your daughter is difficult for people to comprehend.
But, here's what I know. When my daughter was four years old--the same age as your brave little girl--we were pulled over by an unmarked car, late at night. A white light was flashed on my car: no red and blues. His car looked like something out of a television show. I was concerned: Is this a police car? If I don't stop, will he shoot into my car and possible strike my daughter? I drove a Volvo for safety, but even it couldn't provide protection from gunfire.
When the officer came to my car--dressed in civilian wear--I asked to see his badge and whether he was a police officer. I told him that I would drive off if he was not an officer; he grabbed his flashlight and began beating with tremendous force on my car, shouting "NIGGER, I'M A POLICE OFFICER! NIGGER, I'M A POLICE OFFICER! NIGGER, I'M A POLICE OFFICER" At that point, my friend, whose seat was fully reclined woke up and screamed. Strangely, this seemed to calm the officer. He saw that my friend, a psychotherapist, is white.
I was fearful for our lives. My friend screamed for me to drive off. We were in two worlds, in one car.
As a white woman, it made total sense for my friend to flee from a man who had seemingly lost his mind, who placed us in danger, who beat on my car so hard that the windows could crack, and who caused fear and terror. To speed off into the dark was rational--for her. She could feel reasonably assured that her life was less in danger if we sped off. Yet, I feared bullets spraying at the car if I drove off. What if a bullet hit the car seat and killed my child? And, although I could not be sure that the man--later identified as an officer--would not shoot anyway, I had to stay calm and follow the lessons instilled by my grandmother: deescalate, be above and beyond reproach...
Like you, I used my cellphone--only this was not in the days of video cameras. I called the police on the police. I did my best to describe the dark highway outside of Chicago spanning to Madison, Wisconsin where we were headed. What landmarks? What could I remember?
Weeks later, an investigator with the Chicago police department phoned me. My friend had filed a complaint. I admit that I had not. Her dignity had been trampled--and certainly mine too. Investigators listened to her...The investigating officer was stunned. He told me that the department calculated the officer had followed me over 30 miles that night; they counted the number of tolls and a prior incident that evening involving the officer. I'll never know what he intended to do to me that night. The investigator explained that the case was so chilling to him that he admonished his wife if such a thing every happened to her, "just drive off." He repeated that to me--"just drive off." Sadly, it's not that easy or reasonable.
Diamond you likely saved your life and that of your daughter's that day. I'm alive to tell this story too. Here's what I worried about: Tyisha Shenee Miller, a Black teenager who was killed only weeks before my encounter, shot 12 times, four to the head, while waiting in her car. Her parents had actually called police for help as she might have been suffering from carbon monoxide poisoning or a seizure after a flat tire--that was December of 1998 and barely four weeks later, officers fired 41 shots at Amadou Diallo, a Black immigrant, landing 19 as he reached for his wallet. Both Tyisha and Amadou died. If I drove off, what would happen to my daughter?
Across the United States, other Black mothers know a bit about what you've gone through and why you videotaped that encounter. Mothers who have been stopped after picking kids up from school, taking their children to extra-curricular activities, or a family night out only to be harassed or stopped on pretexts. They fear for their children's safety, even when their babies should be safe with their moms. This has become such a glaring issue that the ACLU filed a lawsuit in federal court last year after investigating Black women in Mississippi being stopped for all sorts of pretexts and then being arrested and subjected to inordinate bail demands, many losing jobs and their homes in the process. Sometimes their children ending up in foster care.
Diamond, our stories are similar, but yours has a level of stinging indignity that I did not suffer. You were forced from your car and with guns drawn, and your daughter watching, forced to kneel, and place your hands behind your back, and then handcuffed, and ultimately placed in the back of a squad car as if you did something wrong. Perhaps because my friend was in the car, I was told to "go, just leave." There is a collateral damage to this inhumanity and stigmatization. It is what our children see.
I hurt for the children who suffered last week in the wake of gun violence and brutality in the U.S. Alton Sterling's children, your daughter, and the sons and daughters of slain officers and wounded civilians in Dallas. My hope is that we now begin a dialogue in earnest, not just about what adults endure, but what children suffer through these horrific and sometimes fatal encounters.
Before your video ends, and as you cry, your daughter can be heard saying that "it's ok, mommy, I'm here with you." What incredible poise and bravery on her part too.
Related
Popular in the Community