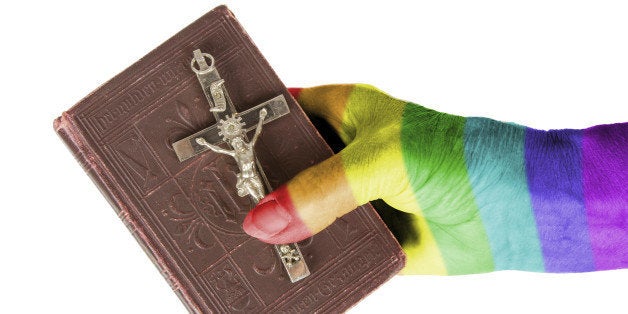 Over the past year, you've warned us that marriage equality will bring judgment on America and lead to the persecution of Christians. You've urged Christians to boycott gay-friendly businesses. You've called LGBTQ people purveyors of an immoral agenda and the enemy.
Now you've shown more compassion for four armed scofflaw holdouts on the Malheur National Wildlife Refuge than you've ever shown for the millions of LGBTQ people who've done nothing more than try to live authentic lives in the face of hatred, violence, and discrimination.
LGBTQ people do not deserve civil rights, you have said. You even quoted another preacher who said the freedom train doesn't stop at Sodom and Gomorrah. Have you actually read the story of Sodom closely, Franklin? That story is not about homosexuality. What the violent men of Sodom threaten is rape. The norm that is violated in that culture is not one of sexuality but one of hospitality. They did not offer welcome to the stranger. That sounds more like what you have done, Franklin. Even Jesus in Luke 10 identifies the sin of Sodom with inhospitality. And you are inhospitable.
Father John McNeill notes the irony of using the Sodom story to condemn LGBTQ people:
For thousands of years in the Christian West the homosexual has been the victim of inhospitable treatment. Condemned by the Church, [the homosexual] has been the victim of persecution, torture, and even death. In the name of a mistaken understanding of Sodom and Gomorrah, the true crime of Sodom and Gomorrah has been and continues to be repeated every day (The Church and the Homosexual. 4th ed. Boston: Beacon Press, 1993).
The sin of Sodom is not the sexual or gender identity of LGBTQ people. It's the inhospitality, verbal and physical violence, discrimination, and condemnation people like you heap on God's LGBTQ people.
And, yes, LGBTQ people are God's people too. You said that the enemy has come into the churches because the churches have let LGBTQ people in. But we are the church too. You may say that we cannot call ourselves gay and Christian, but we do, and we are, and you are not the arbiter of anyone else's relationship with God. You do not define who is Christian, and you do not define who is the church.
What you do is create harm. For LGBTQ people who are damaged by your hateful words. You may imagine your words are a call to repentance, but they are only the harmful ravings of bigotry. For LGBTQ people who are wounded by actions you advocate. For families and friends of LGBTQ people who must witness the devastation you wreak. For open and affirming churches that you condemn. For non-Christians who think you represent Christian belief and practice. For Christianity itself, for you create harm by besmirching the Gospel as you use it as a weapon of hatred rather than love.
My denomination, the United Church of Christ, says all people are welcome, no matter who they are. The UCC was the first Christian denomination to advocate for LGBTQ civil rights beginning in the 1960s, to welcome LGBTQ members, to ordain LGBTQ people called by God to ministry, and to bless same sex unions.
You are not the spokesperson for Christianity, which is more diverse, welcoming, and vibrant than you can imagine.
And so I ask, stop what you're doing. Stop harming us. Stop harming the church. Open your own heart and mind to the God who is still speaking, as the UCC puts it. We are not your enemy, though I fear you may always see yourself as ours.
Calling all HuffPost superfans!
Sign up for membership to become a founding member and help shape HuffPost's next chapter