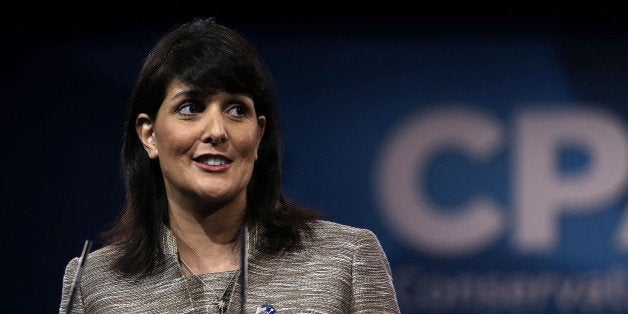 To Gov. Nimrata "Nikki" Haley and the South Carolina House of Representatives:
"We are loyal sons and daughters
Proud to own the name we bear
For the truth that thou has taught us
Ready all to do and dare
--South Carolina State University alma mater
In 1872, seven years after the Civil War, South Carolina Agricultural and Mechanical Institute was founded in Orangeburg, South Carolina. This institution would later become the Colored Normal Industrial Agricultural and Mechanical College of South Carolina in 1896 after the 1890 second Morrill Land-Grant Act created separate land-grant colleges for African Americans in the Southern United States. The initial Morrill Act led to the founding of white agricultural institutions; however, potential African-American collegians were barred from entering those colleges and universities.
Since 1896, according to the university's mission, South Carolina State University (SCSU) has committed to "providing affordable and accessible quality baccalaureate programs" and preparing "highly skilled, competent, and socially aware graduates." Additionally, South Carolina State University is the sole historically Black university in the South Carolina state college system, and it is the alma mater of noted historian Benjamin Elijah Mays and longtime U.S. Congressman James Clyburn.
Judging by yesterday's decision to close South Carolina State on July 1, 2015, for at least one year, subcommittee members Jim Merrill and Kenny Bingham are obviously unaware of this history and legacy of service to the state of South Carolina. Bingham was quoted by WYFF Greenville as saying, "I'm not supporting more money going to SC State University until they learn to live within their means." It seems the financial issues plaguing South Carolina State exasperate Rep. Bingham. This is ironic considering historically Black colleges and universities (HBCUs) have been underfunded since their inclusion into the fabric of the American educational system.
From the time of their founding to the present day, HBCUs continue to struggle for adequate attention, funding, resources, opportunities, and respect from their state governing bodies.
It seems South Carolina's legislature is no exception.
We members of the HBCU community are watching the debacle that has become the South Carolina State proviso with bated breath and knowing eyes. We have seen this conversation happen far too many times about far too many of our institutions.
For one university, a legislature recommends merging the historically Black college with a predominately white university. For another university, the suggestion is for the college to become a community college instead of a four-year institution. For still another historically Black college, the recommendation is to close university programs while offering those same programs at neighboring predominately white institutions. Still another suggestion is to "temporarily" suspend operations in order to repair financial or administrative issues.
In each of these cases, those who claim to have the university's best interests at heart undermine the historical value of the HBCU.
Usually, these "thoughtful" commentators have no connection to the university or its mission, purpose, objective, or values, for if they did, they would never suggest anything as insulting as limiting the university's academic potential.
South Carolina State University might currently be experiencing financial issues, and the university does need a sustainability plan to lead them into the next 100 years of collegiate education, but closing the university is akin to needing a new roof and deciding to demolish the house instead. South Carolina State will not be served well by closure. In fact, closure will strip the university of its accreditation, which means current and prospective students will not be eligible for federal financial aid -- a necessary resource for many first-in-family college students.
Closure would be a death knell for South Carolina State, and any legislator who believes differently is blinded by willful ignorance.
HBCUs are not only colleges; HBCUs are relics of American history, harkening back to the time when this nation failed at reconstructing itself after the Civil War. HBCUs are the tangible reminder of what men can do when their hearts are united and purposed for a common goal. HBCUs are the soil in which freed and former slaves planted their hopes and dreams for American improvement. HBCUs are the places in which Black, brown, and white students can study in an environment conducive to each of their own needs and learning styles. HBCUs are purveyors of our history and time capsules of our culture. HBCUs are repositories of gifted Blackness, sites of resistance and struggle against oppression. HBCUs are the balm in Gilead, the city upon a hill, the light in darkness, the mountaintop, and the mecca.
HBCUs are not, however, political tools used to usurp power and flex strength.
In closing, Gov. Haley and South Carolina State House of Representatives, discard the existing proviso language calling for the closure of South Carolina State University and work with the university to develop a plan that ensures that this jewel of South Carolina continues to educate, prepare, empower, and develop public intellectuals into the next century and beyond.
Rondrea Mathis
HBCU Alumna
Rev. Herron K. Gaston, M.Div.
HBCU Alumnus
Rondrea Mathis is a 2008 and 2010 graduate of Florida Agricultural and Mechanical University in English and Secondary Education with a concentration in English, respectively, and she is currently a doctoral candidate in English literature at the University of South Florida, where she is completing her dissertation on HBCU alumna Toni Morrison. Rondrea is an advocate of historically Black colleges and universities and is a proponent of quality education for all students regardless of race, sex, religion, gender, or class.
Herron Gaston is a 2008 and 2009 graduate of Florida Agricultural and Mechanical University in Political Science and Public Administration with a concentration in pre-law studies. He is a 2014 graduate of Yale University. Herron is a strong advocate of historically Black colleges and universities.
Collectively, we have garnered the signatures and support of more than 7,000 HBCU alumnus all across the country (and counting) since the recommendation was handed down by the state of South Carolina. As members of the HBCU community, we join our collective voices together to stand firmly against this measure. We encourage all who care about education to please sign the petition and make your voices heard if you haven't already. "South Carolina State University today, South Carolina State University tomorrow, South Carolina State University forever."
Popular in the Community