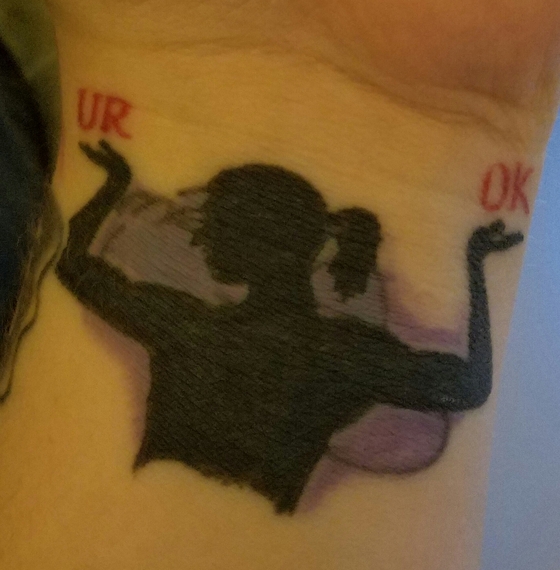 I remember I started following you on Twitter a few years ago because I thought you were funny, witty, and sarcastic: all things I love in a Twitter user. Then you started talking about mental health, just about the same time I was diagnosed with Bipolar disorder, severe depression, panic disorder, and the list goes on.
Though you seemed out of reach, being you were (and still are) in the entertainment industry, you still responded to my tweets and were friendlier than some of my IRL friends. I appreciated that.
I remember when you started ProjectUROK.org; I was so excited to see a website devoted to real people tackling real issues. As the CEO of a non-profit, I couldn't even imagine the work you were putting into it, while also still being you: hysterical, topical, and fun.
Project UROK, though intended for young adults (and I'm not quite in that range anymore), has helped me so much, I decided to get a tattoo on my wrist honoring the site. Some may say that's a little much; I mean, I don't even know you in person and I have NOTHING to do with the site itself, however, the phrase "UR OK" has helped me on down days when I didn't think I was "OK." I remembered, through you and the site, that I am OK and will be OK. I'm not alone, and I never will be. This mental health struggle is the hardest experience I've gone through, yet, I know I'll always have support of others going through similar problems.
Why am I writing this to you in an open letter? The world needs to know that you are an amazing human being, making a difference in people's lives. I wouldn't even want to wage a bet on how many lives have been impacted positively by your site, your tweets, and the tremendous work you put into Project UROK.
Jenny, thank you. Thank you for what you do, and thank you for being you. U ROK!
Calling all HuffPost superfans!
Sign up for membership to become a founding member and help shape HuffPost's next chapter