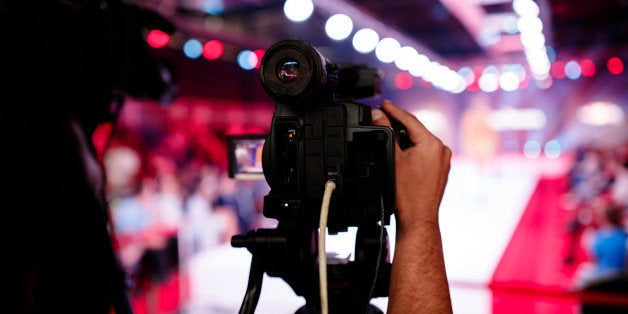 Like a mysterious and seductive lover, an ad appeared in the pages of September's Fall Fashion issue of Vogue. The silhouette of supple, curvaceous models posed artfully with the text #PlusIsEqual. It was soon revealed that this was an ad belonging to plus retailer Lane Bryant.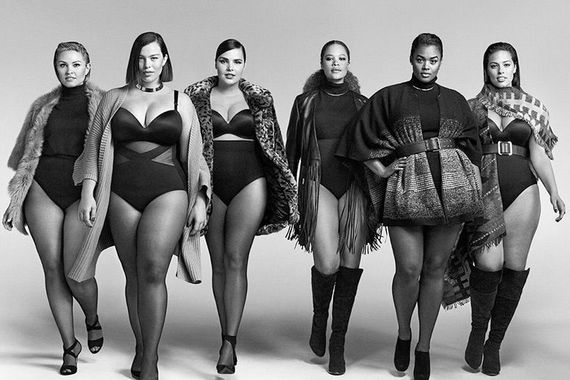 This ad was the first item in a campaign designed to empower plus size women: billboards, interactive website, magazine ads and social media strategy all crafted to create a battle cry to unite women, showing the world that plus size women demand to be seen, celebrated and represented in the media... bringing us to a Times Square takeover last Monday afternoon where hundreds of women gathered at the intersection of 46th and Broadway, holding signs, taking selfies and waiting in anticipation.
The negative reaction to the #PlusIsEqual campaign has been plastered over social media. So I'm going to skip an event recap and focus instead on five teachable lessons. Lessons I observe and share as a plus size woman, body positive blogger and seasoned marketing professional.
At the heart of this is a woman and consumer who approaches everything with hopeful optimism and a place of positivity, because that is how I choose to approach my own life. It is not my intention to pull any cheap shots. I am not mad at you, Lane Bryant. I think you had the best of intentions with your campaign. However, intention and execution don't always align and, in this case, I definitely felt the campaign had its challenges. At its heart, I TRULY believe you mean well. That being said, here's what I took from the day.
5 Things I Learned from the #PlusIsEqual Campaign
1) People are angry. While Lane Bryant deserves a bit of this anger, it's really a much bigger issue than this one single campaign.
Plus size women are tired and fed up. After decades of being discarded by the retail community, we've been left feeling like second-class citizens. We're ready for change. So, when a brand comes along and seduces us by speaking to the core of what we long for, and then falls short? We're left with frustration, intense disillusionment and, for many women, plain old anger.
Many women feel that Lane Bryant missed out on a real opportunity to push barriers. First, you played it safe (which one can expect from a large, corporate conglomerate brand) and second, you made some poor choices in campaign execution. You a have platform with incredible potential. Potential that unfortunately, was squandered in exchange for a few paltry media mentions and Instagram snaps.
2) "Corporate Brand + Social Change = Success" is a hard formula to pull off.
I'd like you to think back and try to recall a large retail brand that has been responsible for massive social change. Go ahead, I'll wait... Drawing a blank? There's a reason why. Brands are not machines that drive social change. People drive change. While brands themselves can participate in change, they are rarely the actual agents of this change. (Hey, I don't write the rules.)
Change is spurred on by brave people willing to stand up and demand. It comes from these individuals banding together to make a voice. That voice speaks and creates conversation. And change itself occurs when gatekeepers, governing bodies and brands, not only LISTEN to, but ACT in accordance with this conversation.
I left the #PlusIsEqual event not sure if I had just witnessed a social rally or a fashion event. If it was a fashion event, there was decidedly NO fashion on display that day (hell, the models of the campaign didn't even wear Lane Bryant when taking the stage!). If it was a rally, then it was a rally that failed to deliver on its initial promise.
As someone who has worked firsthand in plus fashion marketing, I can say this statement with 100 percent confidence. Smaller brands simply have more freedom; they have fewer resources but, at the same time, have less red tape and less corporate dogma to slog through. This is why we've seen progressive campaigns from the likes of Chubby Cartwheels and Domino Dollhouse, or emerging plus fashion powerhouse Eloquii. These brands also have a much smaller platform and voice with which to be heard. A large established brand such as Lane Bryant has more resources but, with that, is saddled with more red tape and layers of corporate restraint.
I do not expect Lane Bryant to be the leading voice of the body positive revolution. But I do expect you to make smart brand decisions that support progress.
I do not expect Lane Bryant to be the leading voice of the body positive revolution. But I do expect you to make smart brand decisions that support progress.
3) The people you party with say as much about you as the words you say yourself.
Any good intention that Lane Bryant had when putting this event together got sidetracked by your dubious choice of hosts.
In an intimate moment, I stood in a small semi-circle of bloggers around Lane Bryant CEO Linda Heasley, and the two event spokespersons - celebrity style guru Brad Goreski and talk show host Wendy Williams. Given the opportunity to ask questions, I held my Galaxy out with mounting confidence and asked the hosts questions that seemed like sound bites with slam-dunk potential. Except I got this...
When asked what message she would tell her teenage self about being body positive, Williams said:
"Honestly? Push back from the table, stop with the barbecue potato chips and stop with the junk food."
Wait, wait, wait. Did she not realize she was standing in a store for fat women, surrounded by fat women, at an event designed to EMPOWER fat women...and THAT was her answer? Surreptitiously to the side, CEO Heasley stood with a poised facade, under which I can't imagine what brewed...
Or this nugget of awesome, when Williams spoke of the challenges of being both tall and plus size as a teenager: "That is the worst combination. Because you're coming at people like a sub zero refrigerator." This was said standing directly in the face of stunning and sweet blogger Beck DeLude of Manfattan who, herself, stands over six feet tall.
"I see power," chimed in Heasley. But by then, the damage had been done. As it happens, that was also the day that news broke that Wendy Williams herself had come out in vocal support of the infamous "Dear Fat People" video by Nicole Arbour.
Lane Bryant, any credibility that you built for yourselves in doing this event was single-handedly torn down by having Wendy Williams as a spokesperson.
Lane Bryant, any credibility that you built for yourselves in doing this event was single-handedly torn down by having Wendy Williams as a spokesperson. Imagine us all witnessing the pure hypocrisy of Ms. Williams marching behind a banner with #PlusIsEqual slashed across the front.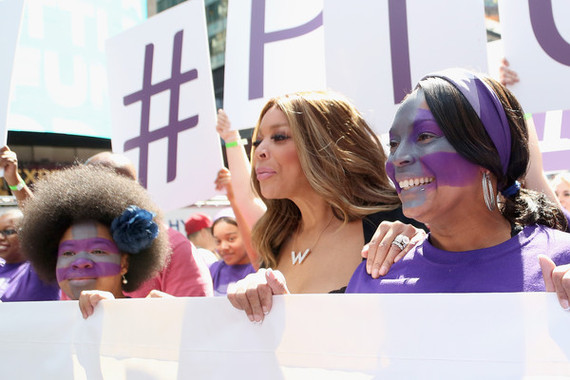 It should be noted, on the other hand, that Brad Goreski was a sincere and engaging spokesperson. While at first glance an unlikely choice, he embodied the #PlusIsEqual mantra that under our clothes are common insecurities that make us all equal.
I asked, "How do you embrace the things that others perceive as negative, and then turn that around and make it your own? How do you take the things that other people perceive as flaws and make them things that you are proud of?"
"God, that's been my whole everything," Goreski said with heartfelt purpose. "I think everything I looked at as my flaws, or things I wanted to change about myself, are my assets. And thank goodness [as a child] I had parents who were supportive and encouraging...I wore the weirdest stuff outside of the house every single day... and my family was just like 'go, go do your thing' and thank God I didn't get that quieted down. That's become my entire business - helping people find that part in themselves."
4) Put women of size front and center. If you want to show us we're visible, make sure we can identify with your team.
At the rally I spotted a small handful of size 18+ women - mostly in the crowd itself, though stylist Susan Moses did take the stage for a few minutes. Besides that? None. No women of substantial size were presented as role models. Models Ashley Graham and Candice Huffine shared genuine and personal stories of their journeys to self acceptance. But, where were the women who represented over half of the size range actually on sale at a Lane Bryant store? Pretty much non-existent.
Seriously though, I could list innumerable bloggers of size who would have gladly taken the stage to share their stories of body positive journey. Pioneers in self-acceptance! But, no. We got none. At the party later, I stood near the Lane Bryant banner and watched as women snapped pictures holding a #PlusIsEqual sign. I am ashamed to say that there was not one single larger woman of size formally representing the brand while holding that sign. Bloggers and customers? A few. But, actual brand representatives? None that I could see.
For a brief moment I felt isolated. I felt unwelcome. I said, "Wait, hold on, you're selling to me, but where am I?"
This is not about the professional models in the campaign, all of whom were pros that posed for pics, signed autographs and did so in style. This is about the fact that Lane Bryant had a real opportunity to celebrate women of a larger size by making sure we were NOT invisible... And you did not do it. You did what companies have always done...make us feel unwanted, back by the luggage, next to the pots and pans.
As a plus size woman, I can say that when a slender woman stands in front of you and utters your battle cry, your first reaction is usually a knee-jerk, "What? There is NO way you can understand me." However, though she may not be plus size herself, I absolutely believe that Linda Heasley cares about her customer. Whether this care comes from personal experience or simply real awareness of market needs I don't know, nor do I care. She sold me. And I'm a hard sell.
I absolutely believe that Linda Heasley cares about her customer. Whether this care comes from personal experience or simply real awareness of market needs I don't know, nor do I care. She sold me. And I'm a hard sell.
That being said, I sincerely hope that Lane Bryant learned a lesson here: if you want to celebrate and encourage the equality of plus size women, you must put us forward, right alongside our more slender and socially-embraced peers. In the same way that the size 0 model used in Fashion Week does not represent the majority of straight-size shoppers, the smaller plus size women on display here certainly could not equal the actual majority of Lane Bryant customers.
Last, but not least, I want to end with an overwhelming positive:
5) Change IS happening. So, let's give Lane Bryant props for being badass and trying something large scale.
It might not be fast enough for some people, but change is happening. When I was young growing up in NYC, plus-size professional women bought clothes at a store called The Forgotten Woman. Now, the brick and mortar options may still be few but they are increasing, and you can find plus size clothing at hundreds of stores online.
As an 18-year-old college freshman, I went through sorority rush in men's jeans, a white tee shirt and sweater vest from J.Crew. What would I have given, literally given, to have had Eloquii? Or CityChic? Or Forever21 or Asos? God, I would have felt like I belonged. I wouldn't have felt like I had to try as hard to prove myself to those Alpha Phi girls I wanted so badly to like me. So let's stop for a good long minute and realize how much progress has been made.
The first time I remember wearing clothes I could be proud of was at a Las Vegas red carpet event where I worked as a publicist. Clad in a feminine Kiyonna dress, while holding Ryan Seacrest's cellphone, I caught the eye of celebrity Sean Patrick Thomas, who was fresh off fame from the movie Save the Last Dance. "Great dress," he smiled and said as he passed by. And I remember feeling, for the first time, like I belonged, the same as everyone else.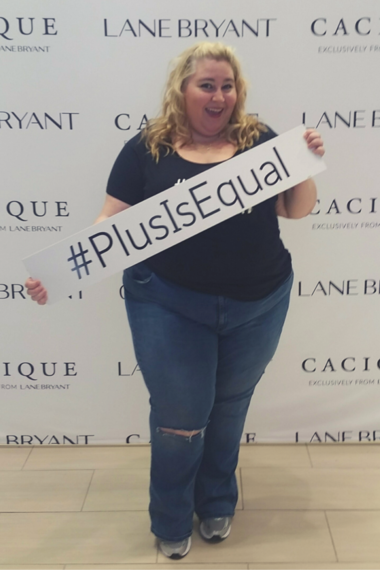 The Lane Bryant #PlusIsEqual ad was spectacular. It was beautiful. It was high fashion. It was strong. And it was in Vogue. In a commercial. On buses. Storming through social media. Well done, Lane Bryant, well done. With this ad alone you pushed us forward. And for that my 18-year-old self is so damn grateful.
Dear Lane Bryant, I love you. I love you because you have been around for generations and are still, in good faith, making an effort to keep growing and evolving. You may stumble and fall along the way, but you keep going. I love you because you are still sometimes the ONLY store that some women have in their neighborhood to find clothes. And I love you because you reach out to bloggers and industry people to ask their input. In short, I am your friend. And, like any friend, I want to see you wade through a cruddy time and stand up after the boxing match like Rocky Balboa and go on to win the fight. And if you want to win this fight, you must do one simple thing that has really, truly yet to happen--celebrate and honor your customer exactly as she is right now.
With affection,
Sarah Sapora
Popular in the Community