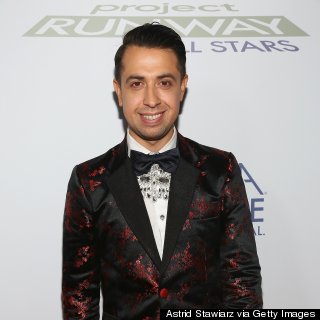 To my Friends, Family and Fans:
I'd like to thank you all for the continued support and concern over my health.
When I was approached to be on this current season of Project Runway: All Stars, I decided that this time, I wanted to be seen for who I truly am. For those who remember me during Project Runway, Season 9, I was very protective of my feelings and how I was portrayed on camera. Many thought I was just quiet, but in truth, I was just hiding from the world. This season, I wanted to let it all out and be myself. You've seen me laugh, cry and openly share my feelings, but I haven't shared everything -- until now. To complete this process with myself, and to truly feel free, I chose to reveal my HIV status. In doing this, I have come to accept the virus inside me, and I now know this little thing isn't going to stop me anymore.
I discovered that I was HIV positive about seven years ago, and so many feelings surfaced: terror, devastation, embarrassment, loneliness and shame. I woke up every morning crying and feared that death was right around the corner. It took me about three years to finally come to terms with what I was living with. I decided to go out and audition for Project Runway to prove that this won't stop me from accomplishing my dreams.
Today, HIV is completely different than its initial introduction into the world. Modern medicine is continually changing HIV into a virus that people live with, not die from. I find great comfort in the support and resources provided to people living with HIV and AIDS today. In retrospect, I realized the stigma of AIDS was making me feel worthless. Still, as far as we've come, there are still many people living with the HIV virus and AIDS, and there is still no known cure. The virus does not care if you are straight, gay, what skin color you are, or even if you are the sweetest person alive -- everyone who is sexually active is at risk, and it should not be classified as a "gay epidemic."
As a public figure, and as an "All Star," it was my duty to be one of the many people to show that you are not alone, and you can still follow your dreams. I've shared my status with my family and my partner, all who embraced me with love and open arms. It was like lifting a huge boulder off my shoulder, and I finally feel completely proud of the person I am. With this responsibility, I hope I can create an impact and open awareness to you, and to everyone else.
Remember, we are all one, and only as one can we truly make a difference.
Support HuffPost
Every Voice Matters
Popular in the Community