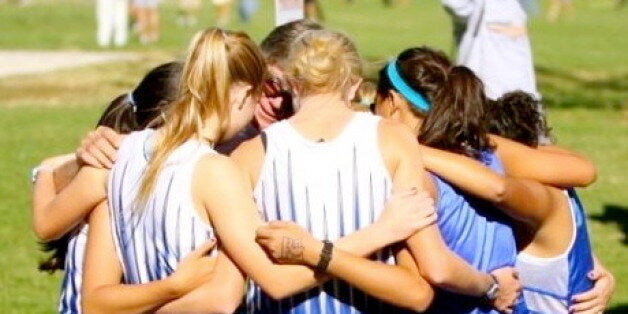 Yesterday, I was running at the beach. As I was plodding along the same tilted shoreline where we used to do hour-long runs, my trainers sinking and slipping into the soft wet sand, my thoughts drifted inevitably to high school cross-country practice.
I thought about how we used to shed our T-shirts and tuck them through the racer-back part of our sports bras as we hit the beach and the afternoon heat set in. I remembered all the times when you walked alongside us as we ran through the deepest and driest patches of sand during grueling interval repeats. Girls, this is strength training, you told us.
I can hear your voice even now. You park your truck on the side of the road, shout "come on girls, you got this," and hand us Dixie cups of chilled water as we sprint by. You stand at the top of the steep dirt hill we've had to run up over four times now and you repeat the words, "pump your arms, focus on your breath, pump your arms, focus on your breath."
You position yourself at the last curve before the finish line and you clap and tell us to kick it in as we come forward in a tight, controlled group. During tedious 400-meter intervals on the track, a group of kids throw muffins at our faces from behind the nearby fence and before we start crying from exhaustion and confusion, you yell and scare them off.
When we don't make it past CIF Finals my sophomore year, you squat down to join our circle of defeated, sweaty 16-year-olds splayed out on a blue tarp and you tell us you're proud of us anyway. Junior year, your voice cracks and I see a tear roll from beneath your sunglasses when you tell us we will run this race for Megan, the teammate we lost just one week earlier, the teammate you performed CPR on and stayed near until the ambulance arrived. One year later, at the State Championships, you lean in to the center of our varsity huddle and tell us this win is ours, that this is what we've worked for.
I'm often flooded with these memories -- memories of running drills on grass fields, memories of triumph and loss, memories of you rolling your eyes at our high-pitched rendition of Vanessa Carlton's "White Houses" during stretching.
Being back home, where my running career began, inspires intense, lingering nostalgia. Like a dog who has marked his territory, so every trail and beach path and long stretch of pavement I encounter is for me marked permanently with my sweat (and sometimes tears). Nothing is neutral.
Each corner of this city is rebranded as "the park where we did those legendary 18 hill repeats," "the street where Kylie ran into a pole," "the course where I got my PR (personal record)" or "the place where we considered getting hit by a car on purpose so we wouldn't have to finish the workout."
When I consider my life now -- over five years out of high school and still discovering my passions and ambitions -- I marvel at how my cross-country experience has shaped me into the person I've become. When I leave over an hour early for work each day just to ensure my timely arrival, I know it's because you instilled in me the importance of being prompt.
When I instinctively grab discarded water bottle caps and crumpled Doritos bags that lay tucked under algae at the beach, it's because you made us collect trash at every race, because you told us to always leave a place looking better than we found it.
When I suck it up and finish a task no matter how much I don't want to, I know it's because of the discipline and commitment you helped me foster through running.
When I congratulate a friend on her successes and feel genuine happiness, it's because you encouraged our team to be proud of one another, to celebrate each other's achievements as if they were our own.
I'm a far better person because I was a runner in high school. Because I was dedicated to a pursuit that valued and rewarded camaraderie, strength and willpower. Because I was part of a team that saw me at my best and my worst. Because I participated in a sport that taught me how to persevere no matter what obstacles lay ahead of me. Because I was surrounded by supportive, approachable coaches like you who motivated me, inspired me and managed to validate my feelings while still challenging me to push myself.
I am so grateful for the kindness and patience you showed us every day, Coach. You were an ever-present, always reliable source of comfort and encouragement in the years when we were impressionable and our self-esteem was fragile.
You will always be a voice in my head when things get rough, reassuring me that I have what it takes to push on.
I ended up finishing that beach run yesterday. I wanted to quit so much, to keel over and kick off my shoes -- but I didn't.
I kept going, all the while thinking how you'd be chanting at me never to give up. Thanks for that.
Related
Popular in the Community